As Indian Prime Minister Narendra Modi wrapped up his three-day visit to Israel, a visit to a beach with his Israeli counterpart Benjamin Netanyahu on Thursday made waves on social media after the two were pictured taking a barefoot stroll in the Mediterranean.
His trip, the first of its kind for an Indian premier, included new economic deals, and time spent with Netanyahu to deepen their relationship.
They ended the trip with a visit to Olga Beach in the northern coastal city of Haifa, strolling in the shallow water with a photographer and camera crew on hand.
Netanyahu, dressed in black, and Modi, clad in a pink shirt and camel pants, talked in the water fully-clothed before heading back to board a "mobile desalination buggy."
"There's nothing like going to the beach with friends," Netanyahu wrote on Twitter after the trip.
Modi tweeted: "Thank you my friend, PM @netanyahu for the signed photo, your kind words, amazing hospitality & passion towards #IndiaIsraelFriendship."
But others on social media thought the encounter to be awkward. A Twitter user called them, "The New Beach Boys," while another called it a "sad attempt to emulate the Macron-Trudeau bromance," referring to pictures that went viral of the French and Canadian leaders bonding at the G7 Summit in Sicily in May.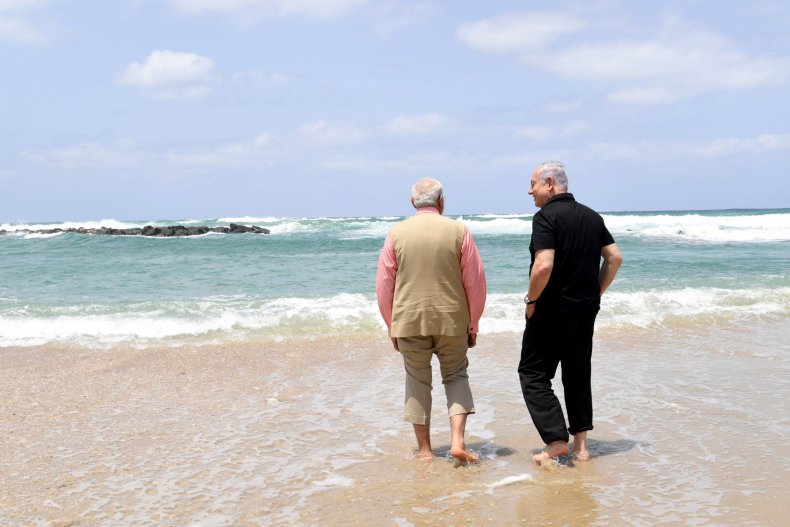 But the visit has been viewed positively in the Israeli and the Indian press. The pair spent much of the trip side-by-side showing strong relations after 25 years of diplomatic relations.
Modi visited Yad Vashem, Israel's national Holocaust museum, and, as Israel's foremost customer of arms and military technology, signed new defense contracts, on top of agreements of cooperation in areas of water, agriculture and satellite technology.
Meanwhile Palestinian leaders felt aggrieved by Modi's snub on the first visit to the region by a sitting Indian Prime Minister. A small demonstration took place outside the Indian representation in the West Bank city of Ramallah on Wednesday.
"We expected him to visit both Israel and Palestine," Palestinian Deputy Foreign Minister Tasir Jaradat said in an interview with Al Jazeera. He added that to "play an important role between the two sides and to be able to spread the message of peace, one should visit both."
Unlike Netanyahu, Palestinian President Mahmoud Abbas, even if Modi paid him a visit, would not have been able to take him for a photo opp at the beach. The only beaches or open-water access in the territories that the Palestinians seek for a future state lie in the Gaza Strip, which is controlled by militant group Hamas, at loggerheads with Abbas' Fatah party, and on the Dead Sea in the Jordan Valley, controlled by Israel.