Israel and Palestine: It's Time for John Kerry to Act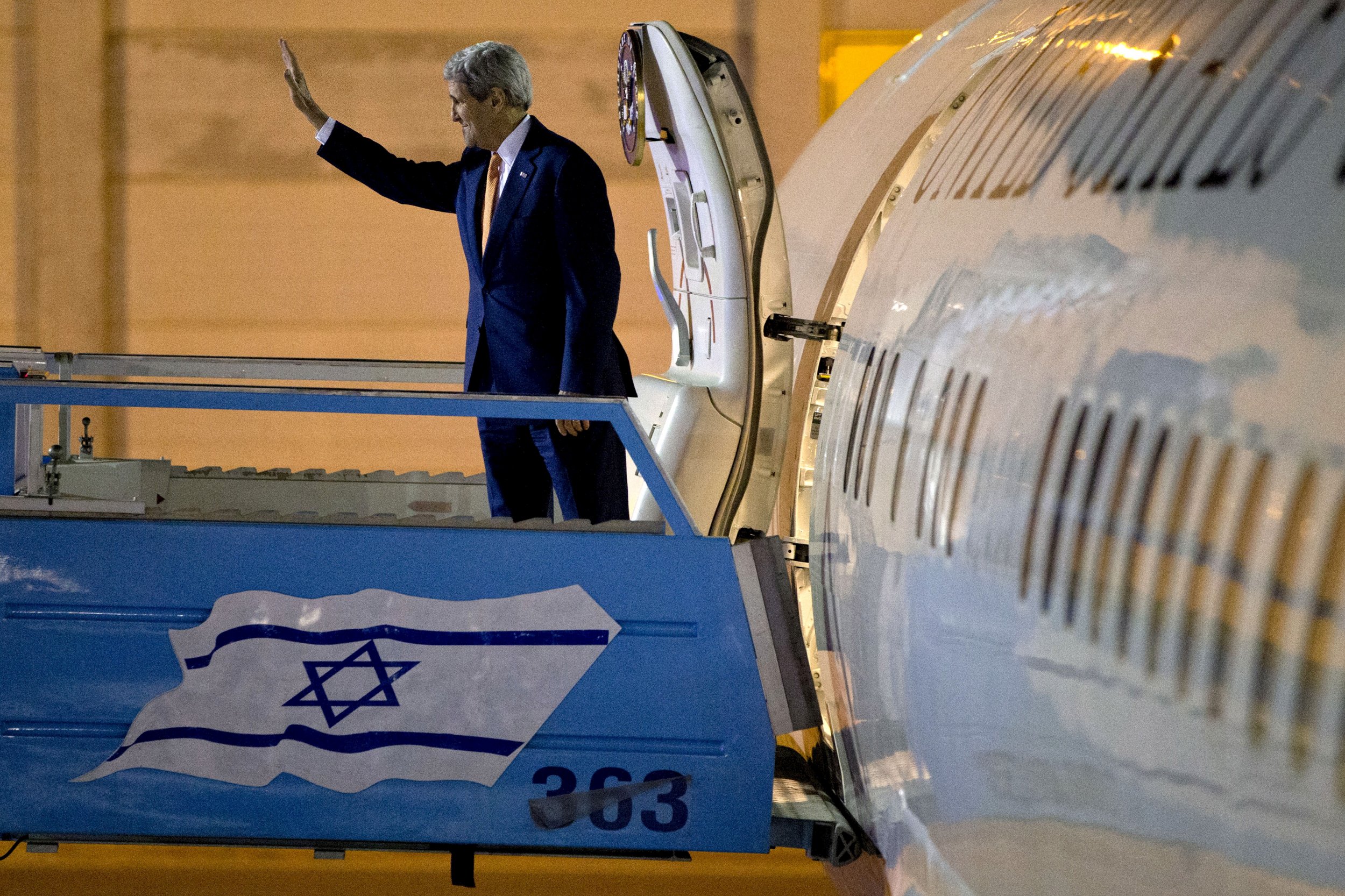 Secretary of State John Kerry returned to Israel this week for the first time in more than a year as the wave of attacks by Palestinians across Israel intensified.
Since its start at Jerusalem's Old City holy site revered by Jews as the Temple Mount and by Muslims as Al Aqsa, 20 Israelis have been murdered in an almost daily drumbeat of violence.
"Defending" Al Aqsa became a Palestinian rallying cry, nurtured by false accusations that Israel is violating the status quo on the holy site. A war over Jerusalem—fanned mainly by religious Muslim fanatics, media and clerical incitement and by extreme right-wing Jewish activists—threatens to speed up the transformation of the Israeli-Palestinian conflict from political into a Muslim-Jewish religious war.
That would bring an intolerable escalation of the carnage. With Islamist fanatics rampaging throughout the Middle East and now Europe and West Africa, there could not be a worse time for allowing religious extremists to have their way in this conflict.
This makes America's involvement as important as ever.
President Barack Obama and Prime Minister Benjamin Netanyahu rightfully spent much time during their meeting at the White House two weeks ago discussing a security agreement with Israel. However, Israelis will not have security if Palestinians do not feel hope —precisely the situation we now face in Israel. American and Israeli leaders must find a way to put security and hope into the Israeli-Palestinian dynamic, and, as the president said, to "lower tensions between Israelis and Palestinians." But they need a new approach. The old one, direct negotiations only, in which I participated, has failed, strengthening the rejectionists and extremists on both sides.
Moreover, the absence of movement toward a resolution of the conflict strengthens radical factions in the Middle East and weakens America's standing internationally. It is also moving Israel closer to becoming a bi-national state practicing separation based on ethnicity
Therefore, a multi-tiered process to "get back on track towards peace," as Obama put it, must begin, and it should comprise the following elements: a bi-lateral channel to facilitate Israel-Palestinian Authority (PA) talks (even though the odds are long that this track will produce better results now); regional negotiations based on the Arab Peace Initiative among Israel, the PA and leading Arab states; a mechanism for implementing any agreements reached via these two tracks; constructive independent steps to create a two-state reality, and a plan to rehabilitate the Gaza Strip.
Kerry holds an important card and now is the time to play it. He should issue a document summarizing U.S. insights culled from the negotiations he brokered in 2013-2014. This move would lay out the parameters of the end game to the conflict, without need for endorsement by either Israel or the Palestinians.
With one year until elections, Obama could offer these parameters as his legacy and submit them to the United Nations Security Council as a framework for resolving the conflict. The U.S., along with the U.N., Russia and the EU, should induce both sides to take independent steps to, at least, create a reality of two states.
Netanyahu stated at the White House, "I remain committed to the vision of two states for two peoples." But, as White House Press Secretary Josh Earnest said after the meeting, "actions will be important as words." Indeed. Here are some actions Netanyahu should take:
He should declare that Israel has no sovereignty claims over areas east of the West Bank security fence and in Arab neighborhoods of East Jerusalem, and he should enact legislation enabling the relocation of settlers from these areas. The U.S. should strongly support these constructive unilateral measures;
Netanyahu should also revisit former Prime Minister Olmert's 2008 proposal to Palestinian President Abbas. It included the following pertaining to Jerusalem (as part of permanent status agreement): home to two capitals; a special regime in the Old City/Holy Basin; shared overseeing of its holy sites by a multinational committee consisting of representatives from Saudi Arabia, Jordan, Palestine, the United States and Israel;
In addition, Israel should revive the provision in the Israeli-Jordanian peace treaty, giving Jordan its "special role" in "Muslim Holy shrines" and acting with it to "promote interfaith relations."
The U.S. should ramp up (not down) its involvement in the Israeli-Palestinian conflict, and adopt the approach outlined above. Israel should assure the world, especially the Muslim world, that it is defending the status quo in Jerusalem and, through its constructive unilateral actions, demonstrate its commitment to a two-state solution.
The day after his White House meeting, Netanyahu surprisingly stated about unilateralism, "I suppose that is possible, but it would have to meet Israeli security criteria." The Obama administration should challenge him to turns these words into action (even though he later backtracked in Hebrew).
This combination of U.S. leadership and Israeli steps could provide hope and security, ease tensions and create movement toward a two-state reality. It would also allow Israel to find common ground not only with the Palestinians but also with moderate Arab states in checking their common enemy—Islamist fanaticism.
Religious extremists and brain-washed terrorists must not be allowed to determine the fate of people all over the world.
Gilead Sher, a former Israeli senior peace negotiator who was chief of staff to Prime Minister Ehud Barak, is co-chair of Blue White Future, an Israeli organization advocating for the two-state solution, and heads the Center for Applied Negotiations at the Institute for National Security Studies in Tel Aviv.