Israel Arrests Nine After Jerusalem Truck Attack on Soldiers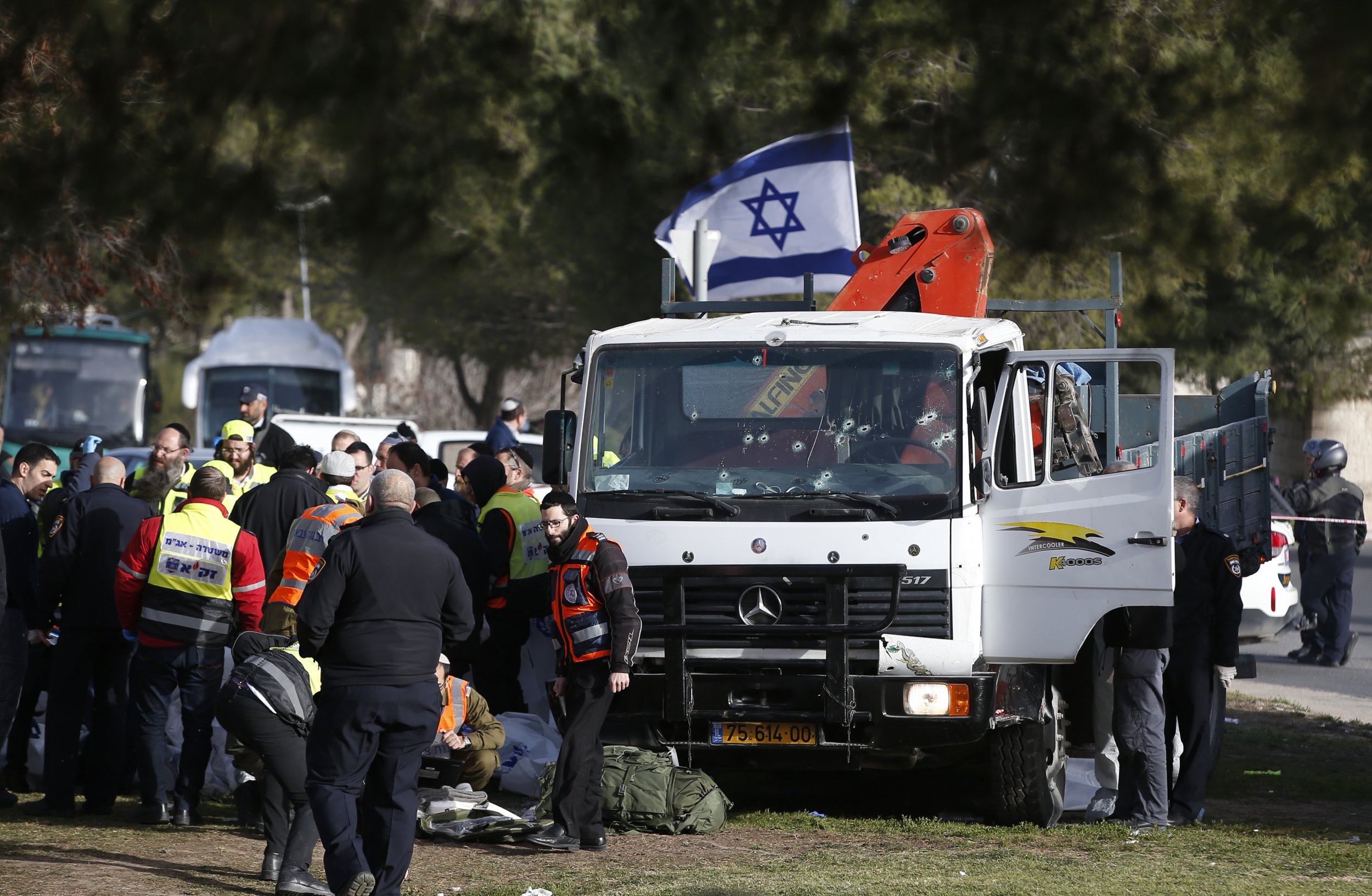 Israeli authorities have arrested nine suspects following a truck attack in Jerusalem on Sunday that left four soldiers dead, according to a police spokesman.
Among those arrested were five relatives of the attacker, spokesman Mickey Rosenfeld told Newsweek by phone.
Fadi Qunbar, a 28-year-old Palestinian from the East Jerusalem neighborhood of Jabel Mukaber, drove a truck into a group of Israeli soldiers who had disembarked from a bus before reversing back over them.
The attack killed four Israeli soldiers, all aged 20, and wounded 16 others. One soldier, a woman whose identity has yet to be released, remains in a coma.
Police operations were focusing on East Jerusalem's Arab neighborhoods, the spokesman said. They were searching for any "other individuals that could be connected to the planning of the attack, or connected to the attack itself, or the vehicle that was used."
Roadblocks have been set up around the Jabel Mukaber area, a measure that Rosenfeld said is necessary to prevent trucks from leaving the neighborhood. "We are carrying out a number of spot checks of different vehicles throughout the morning. Heavy vehicles, trucks, tractors," he continued.
In reaction to the attack, supporters of Palestinian militant group Hamas held a rally to praise Qunbar's actions.
"We bless this heroic operation resisting the Israeli occupation to force it to stop its crimes and violations against our people," Hamas spokesman Fawzi Barhoum told Reuters.
Hamas traditionally praises the majority of Palestinian attacks against Israel because of its opposition to the Israeli state and its view that the entirety of Israel is occupying Palestinian land.
Israeli Prime Minister Benjamin Netanyahu said at the site of the attack Sunday that Qunbar was a supporter of the Islamic State militant group (ISIS).
He did not provide evidence for the finding and ISIS has not claimed responsibility for the attack nor released a pre-attack pledge of allegiance video, which it did in the aftermath of the Berlin truck attack last month.
Since October 2015, Palestinians have committed a wave of stabbing, shooting and vehicular attacks that have left at least 37 Israelis dead, while Israeli forces have killed more than 200 Palestinians, saying that more than half were attackers, while others died in clashes or protests.
Israeli officials have suggested that ISIS's actions have inspired Palestinian vehicular attacks. However, Palestinians have carried out vehicular attacks well before the first truck attack that ISIS claimed, an assault in Nice, France, in July that left 86 people dead. For example, in October 2014, a Palestinian rammed his car into a crowd at a light rail station in East Jerusalem, killing two civilians.