Israel jokingly jabbed back at Iranian Supreme Leader Ayatollah Ali Khamenei on Twitter Monday in response to his calls for increasing nuclear enrichment and an ominous line challenging Israel's very existence in the Middle East.
Khamenei sent out a series of bombastic tweets railing against Israel and the U.S. on Sunday in which Iran's top leader said his Middle East neighbor is a "malignant cancerous tumor" in the region. In a speech Monday, Khamenei declared that any country firing a missile at Iran "will be hit by 10," Reuters reported. But the Israeli embassy in Washington's official Twitter account shot back with a much more comedic tone, tweeting a GIF from the 2004 movie Mean Girls.
"Why are you so obsessed with me?" asks actress Rachel McAdams's Regina George. Responses to the Middle East Twitter spat varied from labeling it infantile to "genius," but Khamenei's account has continued to criticize Israel and call for nuclear enrichment preparations. "Our stance against Israel is the same stance we have always taken. #Israel is a malignant cancerous tumor in the West Asian region that has to be removed and eradicated: it is possible and it will happen," Khamenei tweeted Sunday, prompting the Mean Girls response.
Tensions between Iran and Western allies have increased since President Donald Trump pulled the U.S. out of the 2015 nuclear deal with Tehran. But France, Germany, Britain, Russia and China remain in support of the international accord they believe has the best shot at stopping Iran's development of a nuclear weapon. The U.S. pulled out of the accord and Trump vowed to renew tough sanctions against Iran unless they meet strict demands not made by the other Western allies.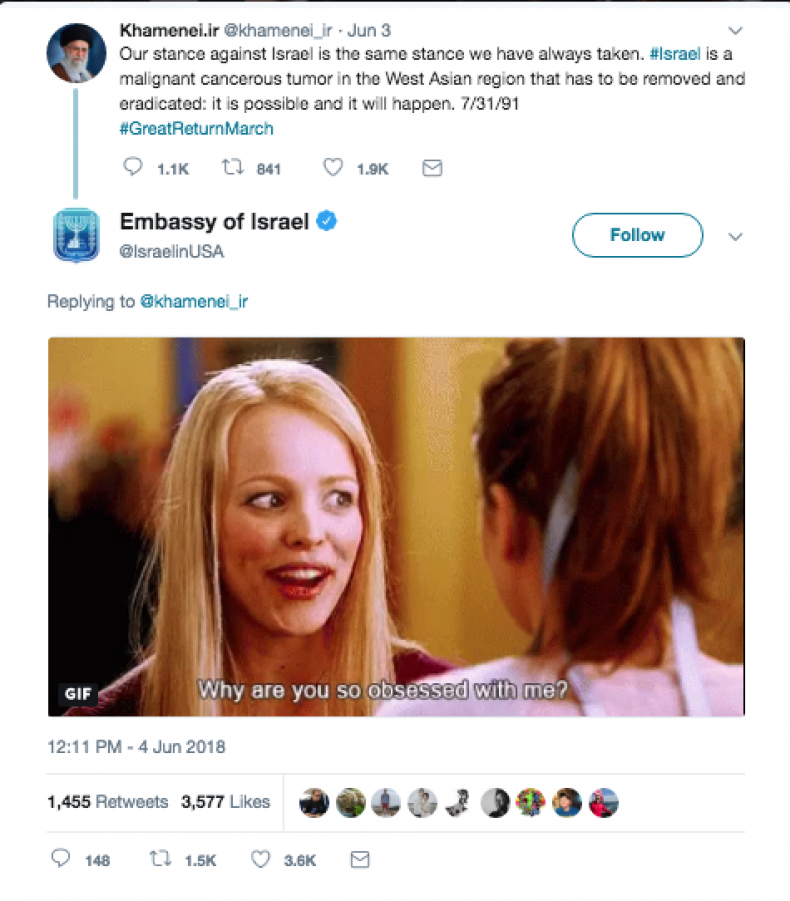 Khamenei's speech Monday detailed how he had ordered Iranian atomic officials to increase the country's nuclear enrichment capacity but at a level that would not exceed those set by the 2015 nuclear deal under the Obama administration.
But while Khamenei continued to rail against "the enemy's plan to exert economic, psychological pressures and unrest to dominate over our beloved nation of Iran," other political leaders in his country took a far more conciliatory approach to working with the remaining Western countries other than the U.S. to salvage the deal.
Iranian Foreign Minister Mohammad Javad Zarif sent a letter last week asking "the remaining signatories and other trade partners" to "make up for Iran's losses" created by the Trump administration's exit from the deal. The state news agency IRNA published the letter in parts Sunday, which described the nuclear deal as being a result of "meticulous, sensitive and balanced multilateral talks" that could not be renegotiated simply because of one American administration's political differences with another.