Israel Bans African Migrants From Two Major Cities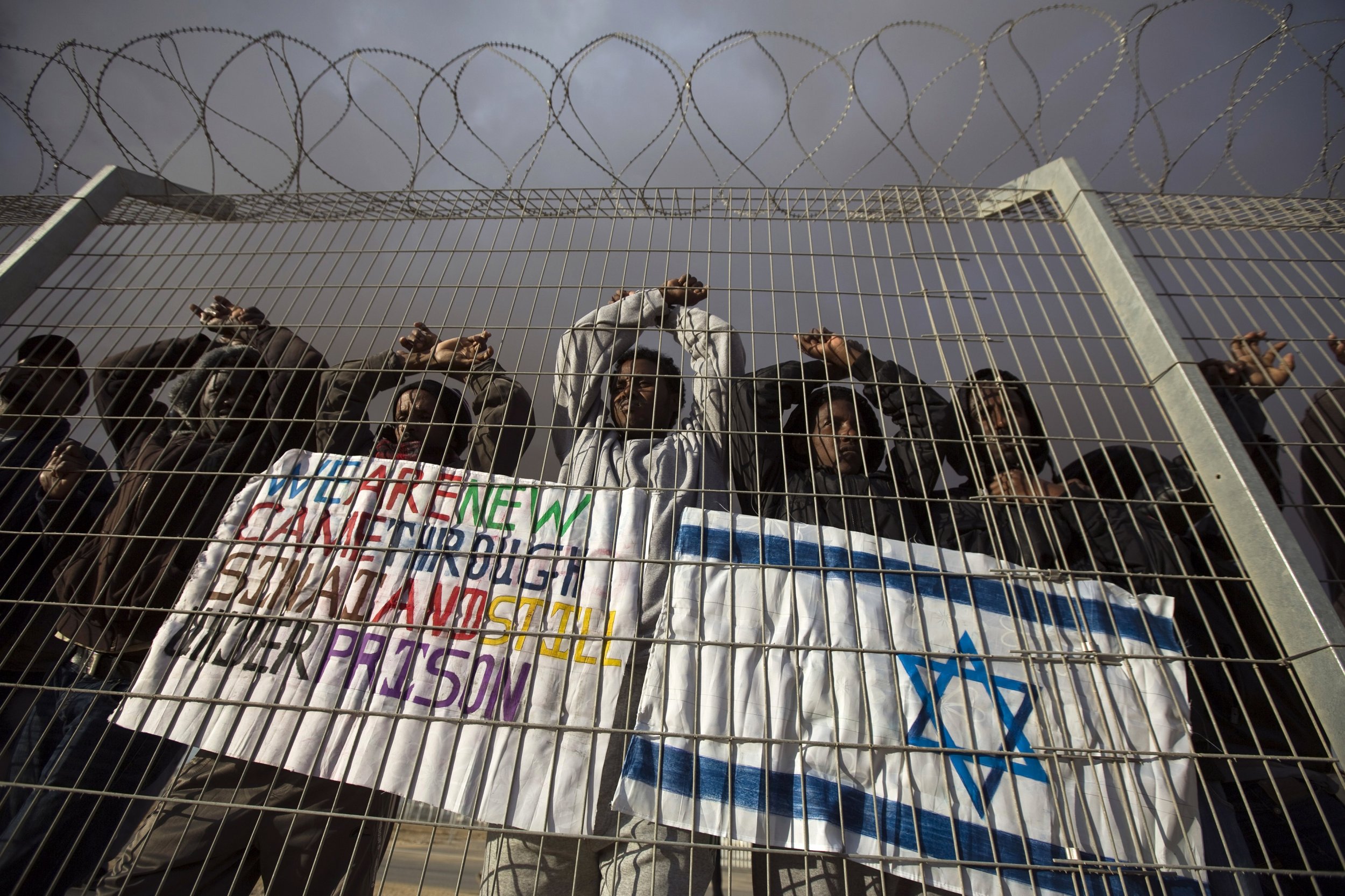 Israel's Interior Ministry has banned 1,200 African asylum seekers, set to be released from the controversial Holot detention center this week, from travelling to the city of Tel Aviv and the port city of Eilat.
The Israeli High Court of Justice ruled earlier this month that authorities could not hold asylum seekers in the detention center for longer than 12 months and those who have been held for more than a year were to be released within 15 days of the ruling.
The migrants are therefore due to be released this week over the course of two days—600 on Tuesday and 600 on Wednesday. Approximately 500 asylum seekers who have been held for less than a year in Holot will remain in the detention center.
Upon their departure from the center, they will be issued with temporary residence permits and identity cards which will restrict their access to both the cities. The order was given by Israeli interior minister, Silvan Shalom, the Times of Israel reported. If any of the migrants, regularly referred to by Israeli authorities as "infiltrators," are found to be present in the cities they will be sent to another prison facility, Saharonim in the Negev Desert in southern Israel.
At their current detention center, Holot, migrants must report to a roll call twice a day but are able to leave the facility during the daytime, but in Saharonim they will not be allowed to leave at all. An amendment to the Israeli 'Anti-Infiltration Law' in December 2014 put the maximum time one can be held at the prison at three months.
Gerry Simpson, senior refugee researcher and advocate at Human Rights Watch, criticised the move by the Israeli government as an unlawful attempt to coerce the migrants into continuing their lives anywhere but Israel. "The authorities can only limit people's movement—whether Israelis or foreign nationals—if they can show it's the least restrictive measure necessary to protect national security, public order, or public health," he says.
"So far, all we've seen are media reports of the Interior Ministry's decision to issue people released from Holot with permits banning them from entering Tel Aviv and Eilat, without any apparent lawful reason," he adds. "At this stage this therefore looks like the latest of a series of unlawful measures aimed at making Eritreans' and Sudanese' lives so miserable that they leave Israel." The majority of African refugees who have arrived in Israel have settled in Tel Aviv, according to Human Rights Watch's 2014 report entitled Make Their Lives Miserable.
Figures provided by the NGO show that of 64,498 foreign nationals had "irregularly" entered Israel between January 2006 and the end of 2013, of which 49,000 were Eritreans and Sudanese, a fifth of the total number of foreign nationals in Israel. In mid-June 2014, approximately 2,500 Eritreans and Sudanese were in detention in Israel.
Israel's High Court ruled earlier this month to reject a petition by Israeli NGOs against the anti-infiltration law. The Holot detention center is controversial within Israel as authorities were previously permitted to detain asylum seekers there indefinitely without trial, before this was restricted to 20 months last December and then lowered to one year earlier in August, albeit still without a trial.
In April, it was revealed that Israel's Interior Ministry would offer Eritrean and Sudanese asylum seekers the chance to "willingly" leave Israel to travel to an unidentified third country, believed to be either Uganda or Rwanda, or face a hearing and prison if they did not leave within 30 days.
"This move will encourage infiltrators to leave the borders of Israel in a safe and dignified manner, and will serve as an effective tool to fulfill our duty to the citizens of Israel—and south Tel Aviv in particular—to restore the fabric of life they were accustomed to," Interior Minister Gilad Erdan said following the decision in April.
However, a Haaretz freedom of information request showed that of 8,335 Eritrean and Sudanese asylum seekers who left Israel in the last two and a half years, two-thirds had returned to the home countries they were attempting to flee and not "safe" third countries as the government claims.
Israel reportedly has the lowest asylum acceptance rate in the Western world, with less than 0.15% of asylum claims accepted since 2009.
An Interior Ministry spokesperson was not immediately available for comment.