As Israel's Netanyahu Faces 'Coup,' What Have His Rivals Said About Trump?
Prime Minister Benjamin Netanyahu will be charged with bribery, fraud and breach of trust—the first serving prime minister in Israeli history to be indicted.
Netanyahu is the country's longest-serving leader, having held the office for more than 13 years. This year though, has been a tumultuous one for "Bibi," as he is colloquially known. Two inconclusive elections have left Israel in limbo, with neither Netanyahu nor main rival Benny Gantz able to form a coalition government.
Netanyahu's domestic travails come in spite of unprecedented support from the U.S., spearheaded by President Donald Trump. Washington has unquestionably stood behind Israel on thorny issues like Iran, the Gaza Strip and Israel's illegal settlements in the Palestinian West Bank.
An Israeli prime minister has never had such unconditional support from Washington, and Netanyahu—himself arguably Israel's furthest right-wing leader in history—has made full use of it, flattering Trump and guiding the president's regional policy to benefit his administration.
Netanyahu's troubles—which he has described as an attempted "coup"—raise the possibility that the White House may soon have to deal with a new Israeli prime minister. Of course, Netanyahu is far from defeated.
The prime minister has already said he will not resign, though Gideon Sa'ar—seen as Netanyahu's primary rival within the Likud party—has called for an internal leadership vote before the next general election, directly contradicting the prime minister.
But even if Sa'ar or Gantz manage to take Netanyahu down, there is no guarantee that much would change for the Trump administration. Israeli politics has skewed to the right in recent years, which is reflected in the politics of both Likud and Gantz' centrist Blue and White coalition.
Both men have praised Trump. Sa'ar has described the president as a friend of Israel, explaining, "We have greater coordination with the U.S. than ever before, but unlike what the anti-Semites say, we don't control the U.S."
Sa'ar has also suggested that the proposed two-state peace solution between Israel and the Palestinians is dead, which appears to line-up with the policies of the Trump administration.
Sa'ar has praised Trump's threat to cut off U.S. aid to the Palestinians to try and force them to come to the negotiating table, as his administration worked on its long-awaited "Deal of the Century."
Any Netanyahu replacement from inside Likud will most likely tally politically with the prime minister and the Trump administration.
Gantz has publicly praised Trump's tough stance on Iran, describing the regime in Tehran as "first and foremost a threat to international peace and is a hostile force against regional stability." He also lauded the president's support for normalizing Israel's relations with its neighbors.
Gantz, a former Israel Defense Forces general, has taken a tough line against militant groups in the Gaza Strip and has voiced support for annexing Israeli settlements in the West Bank, which the Trump administration no longer considers illegal.
Indeed, Axios reported that the U.S. gave Gantz a heads up about the imminent announcement, and that the Blue and White leader did not object.
Other prominent players in the Israeli parliament have been less positive about Trump's divisive presidency, though their influence will be limited to coalition building within the Knesset rather than becoming prime minister. Still, the razor-thin margins between the two largest groups could make any of the bloc leaders kingmakers.
The leader of left-wing political alliance Democratic Camp, Nitzan Horowitz, has said that Trump will not bring peace to the region. Horowitz still supports the two-state solution and a return to the pre-1967 war borders.
One of the leaders of the center-left Labor-Gesher coalition—Amir Peretz—has been critical of Trump's erratic approach to Syria, voicing his concern when the president said earlier this year that the Iranians can "do what they want" in the country.
Trump's subsequent retreat from Syria may have raised further concerns, with President Bashar al-Assad and his backers now in an even stronger position.
Ayman Odeh, the head of a joint list of Arab parties, has been the most scathing of the president among the Knesset's bloc leaders. Odeh's group backed Gantz following the recent elections, describing the Blue and White leader as "bad" but Netanyahu as "worse."
After Trump moved the U.S. Embassy from Tel Aviv to Jerusalem, Odeh wrote on Twitter, "Trump is a pyromaniac who could set the region on fire with his madness." He also attacked Trump for suggesting that American Jews who do not vote for him were disloyal, branding the comments anti-Semitic.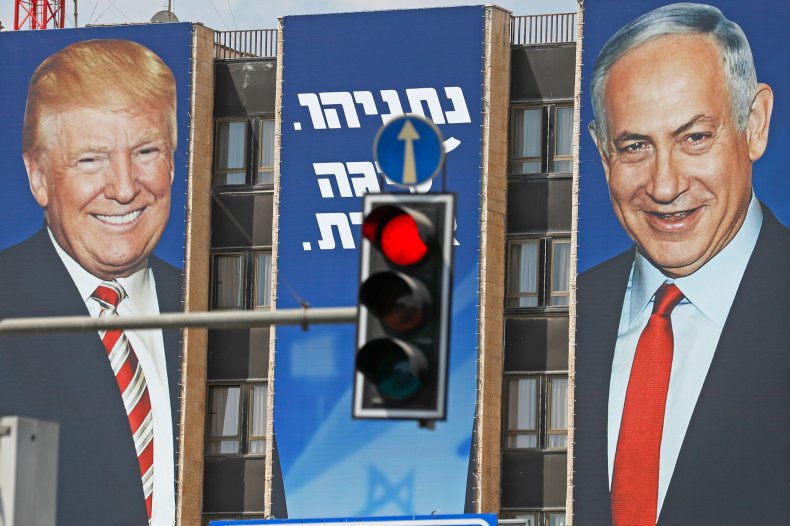 As Israel's Netanyahu Faces 'Coup,' What Have His Rivals Said About Trump? | News