Israel Bombs Syria, Stopping Refugees Fleeing to Europe, Netanyahu Says
Israeli Prime Minister Benjamin Netanyahu openly discussed his nation's military attacks on targets in Syria, describing them as measures that will prevent more refugees from fleeing to Europe.
Netanyahu on Thursday said that Israel's bombing of Iranian-backed Shiite Muslim militias is "helping the security" of European nations. He accused Iran of bringing some 80,000 Shiite fighters to Syria, from countries such as Afghanistan and Pakistan, to "convert" Sunni Muslims in Syria and launch attacks against Israel.
The Israeli leader said that these alleged efforts by Iran are "a recipe for a re-inflammation of another civil war" and that the results "could be millions more that go into Europe," Reuters reported.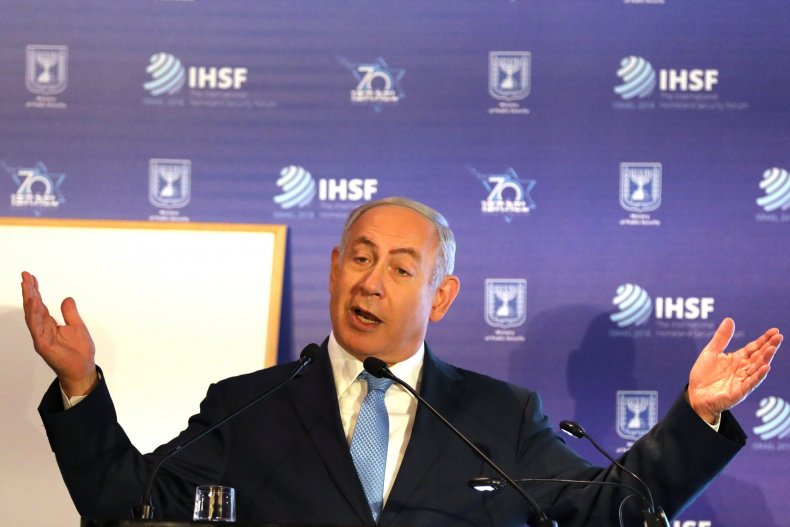 "That would cause endless upheaval and terrorism in many, many countries," Netanyahu added. "Obviously we are not going to let them do it. We'll fight them. By preventing that—and we have bombed the bases of this, these Shiite militias," he said.
Israel has carried out numerous attacks in Syria in recent months, primarily targeting Iranian forces and Shiite militias backed by Tehran stationed in the country. Lebanon's militant Shiite group Hezbollah is one of the main groups fighting alongside Iran in support of Syrian President Bashar Al Assad.
Iran and Hezbollah have been widely seen as instrumental to bolstering the success of Assad's forces throughout the war. At the same time, both groups are openly hostile toward Israel, and the Israeli military has preemptively struck when it feels threatened by their presence close to its border.
The ongoing Syrian conflict has caused 5.6 million people to flee the country. Another 6.1 million are displaced inside the country, forced to leave their homes due to violence. It's estimated that half of Syria's refugees are children.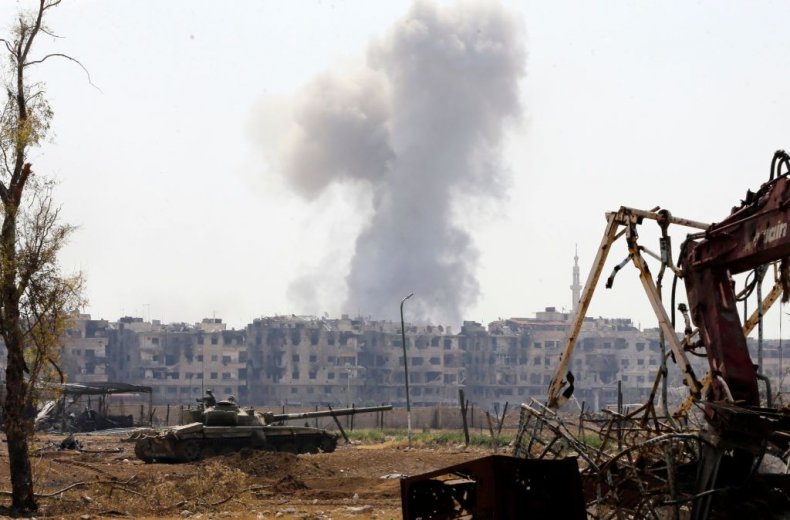 In a recent interview, Assad said he believes the war will be over in "less than a year." However, Israel has increased attacks on targets in Syria in recent months, raising fears that Damascus could be caught up in a second war.
As Netanyahu explained, his country is mainly concerned with Iran, Israel's archrival in the Middle East, and other Shiite groups stationed in the country. Negotiations have reportedly moved forward with Russia to move Iranian forces away from Israel's border with Syria. But Damascus and Tehran have insisted that the Iranians will stay until their mission is complete.
Syria's stance on Iran has led Israeli leaders to make serious threats against Assad.
"If Syrian President Bashar Assad continues allowing the Iranians to operate out of Syria, it would be the end of him, the end of his regime," Yuval Steinitz, the Israeli energy minister and cabinet member, said last month. "If Assad allows Iran to turn Syria into a forward operating base against us," he said, "to attack us from Syrian soil, he should know that will spell his end."