From Israel: Celebrating Peace With the UAE and Looking to the Future | Opinion
When I first heard last week that Israel and the United Arab Emirates reached a historic peace agreement, my first reaction was to immediately start looking up direct flights from Tel Aviv to Abu Dhabi and hotels in Dubai.
I was then politely advised by a newfound Emirati friend to perhaps wait until after summer, which she insisted can be quite "brutal." However, coming from the Holy Land, essentially in the middle of a desert, I was unfazed.
But such is the palpable level of excitement, hope and optimism across Israel at the news of this truly historic agreement with UAE, our first such accord with a Gulf state and the first peace agreement between Israel and an Arab country (Jordan) in 26 years.
Immediately following the announcement last week, Tel Aviv Municipality emblazoned the UAE flag on its building, a gesture almost unthinkable until now. Other cities across Israel have also been proudly flying the Israeli and UAE flags side-by-side.
In the meantime, young Israelis from all walks of life have been recording videos, warmly inviting people from the UAE to visit our country and, likewise, expressing a strong desire to visit the Emirates. Even Zoom meetings have sprung up, one of which I was privileged to take part in, along with other like-minded Israelis and Emiratis, seeking to establish connections.
The UAE has even agreed to allow its residents to telephone Israeli numbers and access local websites, including newspapers, that had previously been blocked.
What may seem like a "small step for man" is, indeed, a "giant leap for peace in the Middle East."
In that regard, I was delighted to hear that Israeli President Reuven Rivlin formally invited His Excellency Crown Prince Mohammed bin Zayed to visit Jerusalem.
In his letter to the crown prince, written in Arabic, President Rivlin wrote that "future generations will appreciate how brave and wise leadership restarted the discourse on peace, trust and dialogue between people and religions...and a promising future, a beacon, illuminating the road ahead for others."
Indeed, we ought to commend and applaud the UAE leadership and Israeli Prime Minister Benjamin Netanyahu for taking the brave step in heralding this new era of hope and promise—a step that would not have been possible without the positive intervention and creative leadership of U.S. President Donald Trump.
Unlike relations with some of our more immediate neighbors, Israel and the UAE have never had a direct conflict. Therefore, it simply made no sense to continue this barrier holding us apart.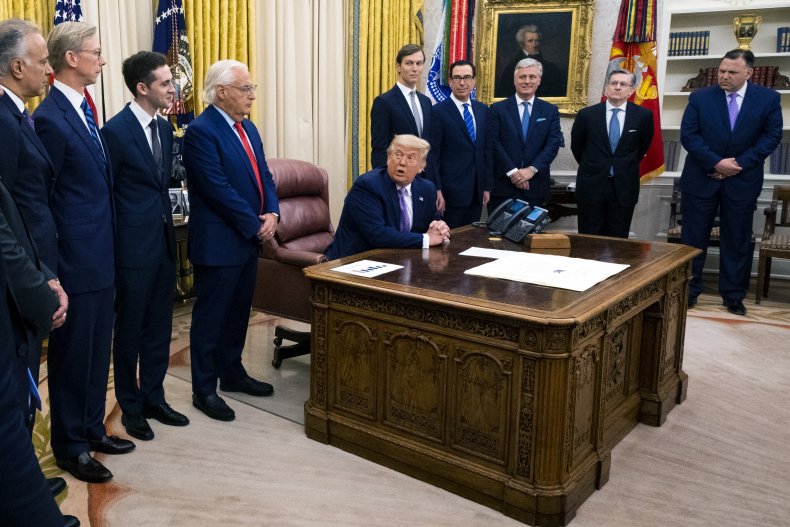 Though there are many differences between us, I believe there is far more that unites us.
We are both a proud people, with rich history and traditions. The fact that this agreement is called the "Abraham Accord" is a testament to this, because it also underscores our inextricable bond to the Prophet Abraham.
We are both forward-looking, understanding that the future belongs to those who innovate and look ahead—not those held back by past dogmas. Indeed, the UAE recently launched the Arab world's first mission to Mars, while Israel is universally acknowledged as the "start-up nation" for our technological prowess.
We are also both committed to advancing the cause of peace, both with our Palestinian neighbors and with the region more broadly. I believe the UAE and broader Gulf community can play a leading role in fostering this.
We both also have a shared strategic interest in the global fight against terror and extremism—most notably against the dark forces of Iran, Hezbollah and ISIS.
And finally, in a COVID-19-infused world, we have already started working together to find a cure.
Unlike Israel's peace agreements with Egypt and Jordan, I believe what singles out the proposal with the UAE is that it is all-encompassing and, crucially, builds on a bottom-up, people-to-people framework—not a "cold" approach imposed by political leadership.
This agreement is already paving the path for an endless array of new opportunities, ready to be seized, from direct travel and phone calls to trade in tech and collaboration in research and culture.
Peace is not made overnight. It requires effort, courage and mutual commitment.
It is my sincere hope that other countries in the Arab and Gulf world will follow the brave and principled leadership of Crown Prince Mohammed bin Zayed to embrace relations with the Jewish state and build the foundation for a better future for all the people of the Middle East.
In the Jewish tradition, it is common to end our High Holiday prayers with the saying, "next year in Jerusalem." May indeed it be "next year in Jerusalem" for the people of the UAE and the Gulf, as we look forward to welcoming them as cherished friends and welcome guests in our country!
Arsen Ostrovsky is an Israel-based international human rights lawyer. You can follow him on Twitter at: @Ostrov_A.
The views expressed in this article are the writer's own.