Israel Makes Children Over 3 Show Negative COVID Test as Country 'At War' with Delta
Israel is now requiring anyone aged 3 years or older to show proof of vaccination or a negative COVID-19 test before entering many outdoor spaces.
The move comes as the country grapples with a fourth wave of infections, driven by the highly contagious Delta variant of the coronavirus.
The venues covered by the "Green Pass" system, first introduced earlier this year, include restaurants, bars, cafes, museums, libraries and gyms. The pass is not required for malls and shops.
Salman Zarka, an epidemiologist serving as Israel's coronavirus czar, told a parliamentary committee on Wednesday that the country was "at war" with the virus, despite having one of the world's fastest inoculation campaigns.
"Our morbidity is rising day by day," Zarka said, according to the Jerusalem Post. "Looking at the data from this morning we cannot just say 'maybe.' This 'maybe' is worth the lives of the citizens of Israel."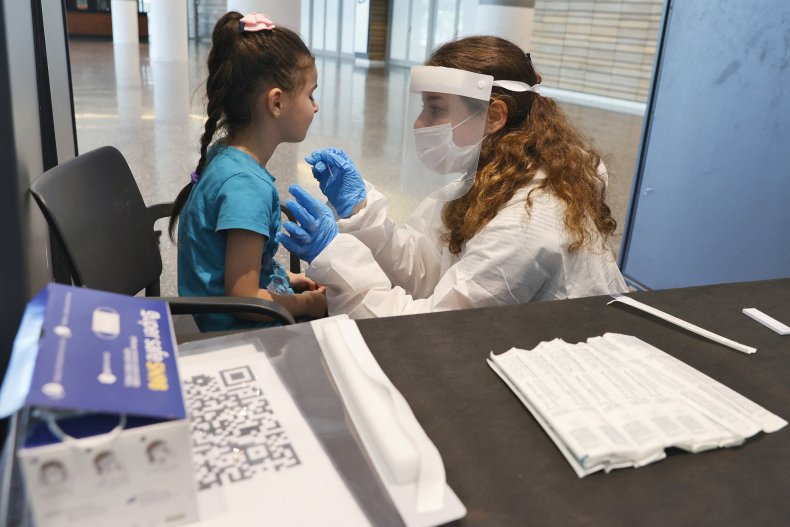 More than 120 people have died after contracting COVID-19 in the last week, according to Jerusalem Post. The figure is double the monthly total recorded in July, and over 15 times more than the number of people who died of COVID-19 in June.
And Zarka warned that the two weeks leading up to the festival of Rosh Hashanah on September 6 would be "critical."
"Or, God forbid, the virus will defeat us and we will get to a lockdown like the first and second ones, where we do not go farther than 100 meters from our houses," he said.
The Israeli government has sought to combat the latest surge in infections by bringing back restrictions that had been lifted, including an indoor mask mandate and the "Green Pass" system.
The pass shows whether someone has been fully vaccinated, recently recovered from COVID-19 or tested negative in the previous 24 hours.
Previously, only adults and children over 12, who are eligible for the vaccine, were required to present a Green Pass. From Wednesday, the system also applies to children aged between 3 and 11.
Children aged between 3 years and 12-years-and-3-months old will have their tests paid for by the government.
More than 65 percent of people in Israel have received at least one dose of a COVID-19 vaccine, while 60 percent of the population is fully vaccinated, according to Our World in Data.
Israel has also recently started providing booster shots to older citizens. The World Health Organzation's director-general, Tedros Adhanom Ghebreyesus, has said that rich countries giving their citizens booster shots was "unconscionable" while poor nations "remain unprotected."