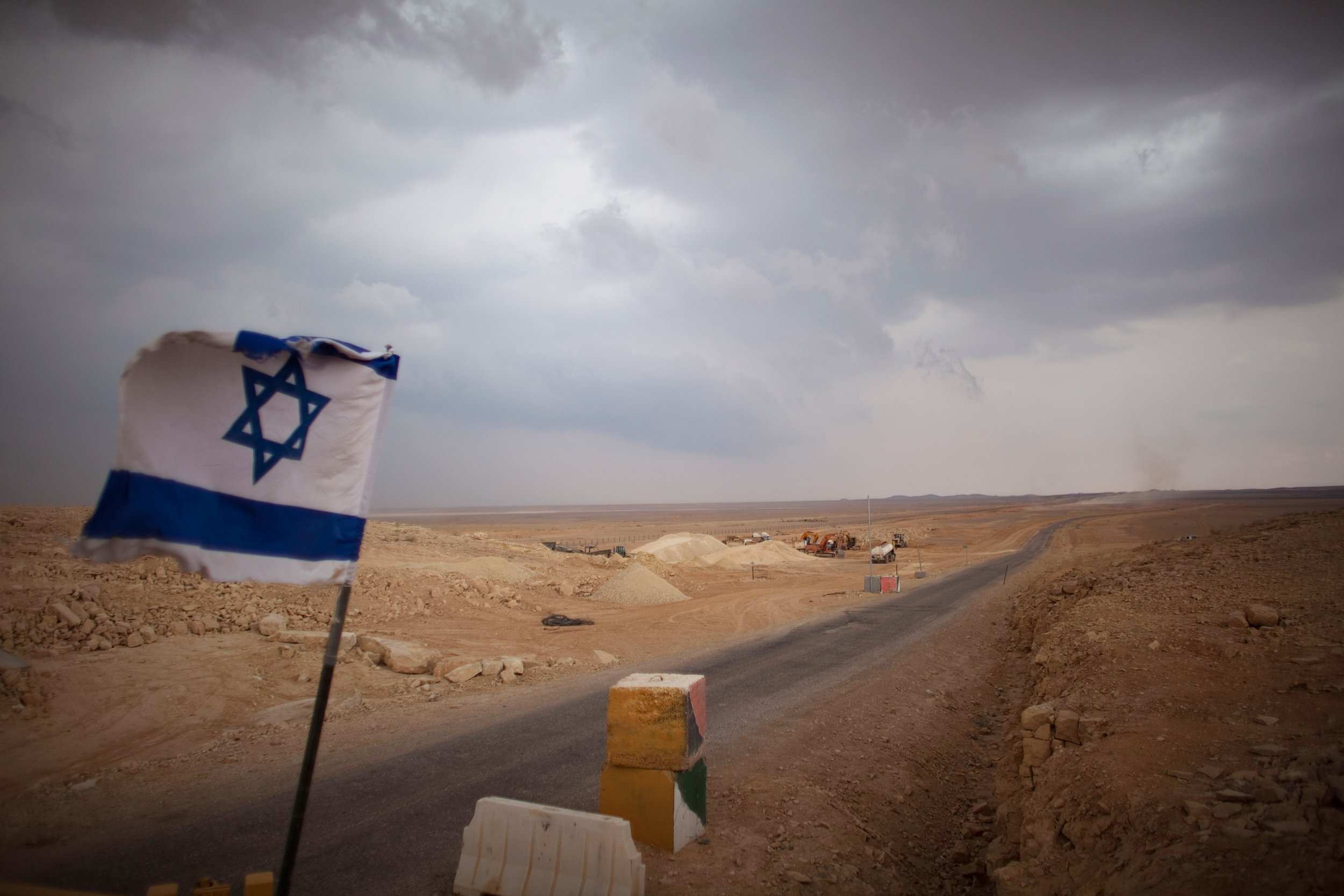 Israel closed its border with Egypt Monday and called on Israeli citizens to leave the Sinai peninsula over fears of an "imminent" terror attack on the eve of the Jewish Passover holiday.
The Israeli government barred its citizens from crossing to Egypt via the Taba crossing—but nationals were allowed to return—just a day after the Islamic State militant group (ISIS) attacked two Coptic Christian churches and killed 44 people.
Hundreds of thousands of Israelis travel to Egypt every year to visit the tourist resorts at Sharm el-Sheikh and Dahab. But Sinai is home to an ISIS affiliate known as the Sinai Province, which is waging an insurgency against the Egyptian state and carrying out attacks against minority groups and tourists.
Israeli Intelligence Minister Yisrael Katz told Israel's Army Radio that security services had intelligence about a possible terror attack against tourists.
ISIS carried out two suicide bomb attacks on two churches in the Egyptian cities of Tanta, north of Cairo, and Alexandria, which sits on the Mediterranean. After the attacks, Israeli Prime Minister Benjamin Netanyahu called on the world to "unite and fight terrorism everywhere."
As Israel reacted to the bomb blasts, a rocket fired from the Sinai region landed in southern Israel. ISIS claimed responsibility for the rocket fire that struck a greenhouse but caused no injuries or deaths.
"Confirmed a rocket launched from Sinai hit southern Israel. No injures reported," Israeli military spokesman Peter Lerner wrote on Twitter. ISIS, in a statement on its Amaq news agency, said the grad rocket landed in "southern Palestine."
Read more: Pope Francis will go ahead with Egypt visit despite deadly ISIS bombings
Coptic activists say that many Christians have fled the Sinai region, fearing persecution and discrimination. Even if they remain in the country, some have chosen to relocate to safer areas.
But Marcos, an Egyptian monk from the Coptic Orthodox Patriarchate in Jerusalem, tells Newsweek by phone that the majority of Coptic Christians have remained in the country despite the attacks.
"No matter what happened in Egypt, we never left our land, we never left our home," he says, adding that his family remain in Egypt. "We were sure then that we will stay, and we are sure now that we will stay. Nothing will force us to leave."
The monk, who says he moved to Jerusalem to work for the Patriarchate, continues: "There is no reason for us to leave [Egypt]. In Iraq and Syria, they were killing them, demolishing their buildings, it was horrible there, in Egypt, it is not the same."
Bishop Angaelos of Britain's Coptic Orthodox Church, in a statement emailed to Newsweek , praised the resilience of Egyptian Christians who remain in the country despite the jihadi threat.
"We...pray for our Coptic Orthodox sisters and brothers who continue to be resilient in the face of ongoing and escalating attacks, and who resist the urge to react vengefully or reciprocally," he said.
The attacks against Christian communities in Egypt have coincided with rising numbers of Egyptian tourists traveling to Israel. A spokesperson for the Israeli Ministry of Immigrant Absorption tells Newsweek that tourism from Egypt to Israel has increased two-thirds between 2014 and 2016, from 5,245 to 8,741. It could not confirm how many of these tourists were Christian Copts.
But the number of Israelis using the Taba crossing to enter Egypt has continued to drop significantly following attacks on the peninsula. In 2013, 779,342 Israelis—many of them tourists—used the crossing, compared to 1.4 million in 2008, representing a 55 percent drop, the Jerusalem Post reported.