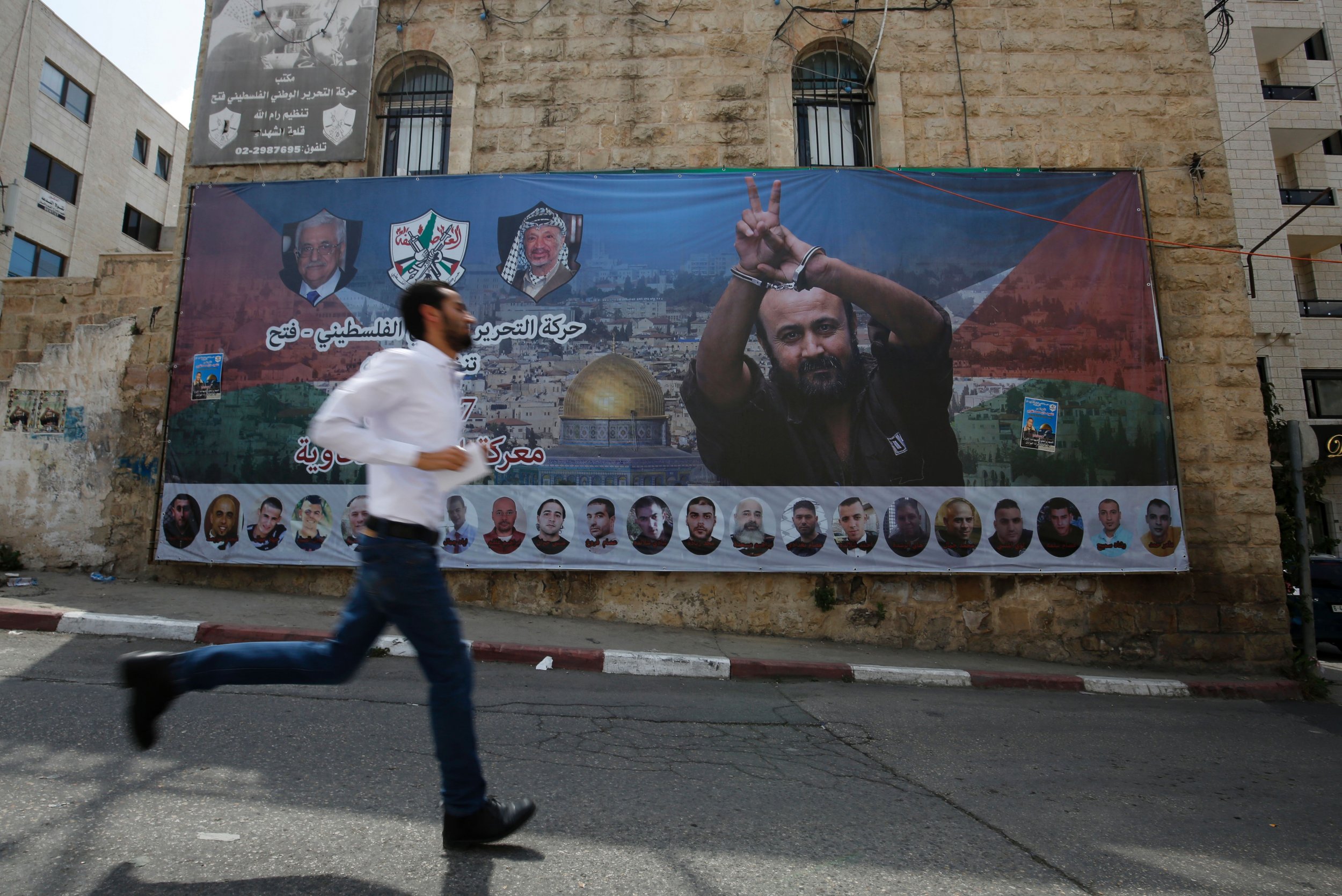 Israeli authorities are considering bringing in foreign doctors to force-feed Palestinian hunger strikers, according to reports, because the country's top medical association has prevented Israeli doctors from partaking in the practice.
The doctors—from a specific, unidentified country—would forcibly feed prisoners who authorities deemed to be at risk of losing their lives, Israel's Channel 2 broadcaster reported on Thursday.
More than 1,100 Palestinians serving sentences in Israeli prisons began a hunger strike on April 17, led by Marwan Barghouti, a former lieutenant of late leader Yasser Arafat who, according to polls, is the most popular political figure in the West Bank. After 19 days, around 850 prisoners are still on strike, the Israeli Prison Service reports.
Since the Israeli government touted the use of the practice in 2013, the Israel Medical Association (IMA), the country's professional body for doctors, has ordered its members not to participate in any force-feeding, deeming the practice to be inhumane. Last year, Israel's High Court of Justice ruled that the use of the practice was constitutional if the lives of prisoners were in danger. It rejected subsequent petitions against the law from the IMA and human rights groups.
Read more: If Israel lets Palestinian Hunger Striker Marwan Barghouti Die, It Risks a Brutal Intifada
Ahmad Tibi, a prominent Arab Israeli lawmaker, condemned the plans in a statement emailed to Newsweek .
"The idea of flying doctors from abroad to perform forced feeding is an immoral manipulation aimed at bypassing the Israel Medical Association's refusal to provide force feeding," he said. "The very idea is horrible and disgraceful, and the human demands of the prisoners should be met instead of conducting a dirty struggle against them."
A Palestinian official, speaking on condition of anonymity as he was not authorized to speak about the issue, said the Palestinians would bring legal cases against the foreign doctors "in their countries" as force-feeding "is a case of torture."
Palestinians use hunger strikes to gain concessions from Israeli authorities and, in this instance, the prisoners are calling for improved conditions, such as family visits. The use of the tactic is sensitive for Israeli authorities as the potential death of prominent Palestinian figures, such as Barghouti, due to starvation could ignite greater unrest in the West Bank and Jerusalem.
But the Israeli government and its prison service will not negotiate with the prisoners and therefore appears to be leaning towards the policy of keeping the prisoners alive, and in prison. In some cases, Israeli courts have ordered the release of hunger striking Palestinian prisoners because of health concerns, a worst-case scenario for the government.
It views hunger strikes as a tool to secure political concessions and to apply pressure to the Israeli state. Public Security Minister Gilad Erdan and officials in Prime Minister Benjamin Netanyahu's office have previously stated that the force-feeding law is necessary because the government has an obligation to save the lives of those incarcerated in its prison system.
Barghouti, who authorities have since moved from Hadarim prison to solitary confinement at Jalama prison in northern Israel, is a man that divides both sides of the conflict. For Palestinians, he's a figurehead of a national struggle against Israeli military occupation, one signified by a large mural on the separation wall at Qalandiya checkpoint that separates the West Bank from Jerusalem.
For Israelis, he is a murderer and a terrorist who is serving five life sentences for his role in suicide bombings and attacks against Israelis during the Second Intifada that began in 2000. He did not recognize the sentencing court's legitimacy and did not provide a defense in his trial.
Spokespeople for the Israeli Prison Service and Israeli Medical Association were not immediately available for comment.