For the last 15 years, fans of the popular movie Mean Girls have paid homage to the delightfully malicious film on October 3, the momentous day when Cady Heron (played by Lindsay Lohan) met dreamboat Aaron Samuels at North Shore High School.
"On October 3rd, he asked me what day it was," Cady says in an upbeat voiceover.
Even the Israel Defense Forces are fans. They posted a Mean Girls meme to their Twitter page that read "There's no one meaner than the mean girls of the Middle East..." with a photo of Iran's supreme leader, Ayatollah Ali Khamenei, Hassan Nasrallah and Qassem Soleimani photoshopped into a Mean Girls scene.
Accompanying the meme were two hashtags: #DontSitWithThem and #MeanGirlsDay. Reactions were mixed, with some people on Twitter taking it as a joke while others responded with pointed political memes or negative gifs aimed at the IDF.
#DontSitWithThem refers to a pivotal part in the movie when the mean girl leader of The Plastics, Regina George (played by Rachel McAdams), is summarily booted from their lunch table for wearing sweatpants on a Monday, a rule she had devised and implemented.
"Whatever, those rules aren't real," says Regina.
"They were real that day I wore a vest," counters Karen White, played by Amanda Seyfried.
"That's because that vest was disgusting," says Regina.
"YOU CAN'T SIT WITH US!" screeches Gretchen Wieners, the most paranoid member of The Plastics, played by Lacey Chabert.
"It's funny cause Netanyahu is such a Gretchen," Twitter user @prisonpocket tweeted.
Followers of the Embassy of Israel (@IsraelinUSA) may have caught a Mean Girls meme they posted in 2018, which was a response to Ayatollah Seyed Ali Khamenei's tweet about Iran's stance against Israel.
Devotees of the Tina Fey vehicle celebrate in different ways every year that includes watch parties and callbacks to the film: Eating cheese fries, creating a burn book and trying to make the word "fetch" happen.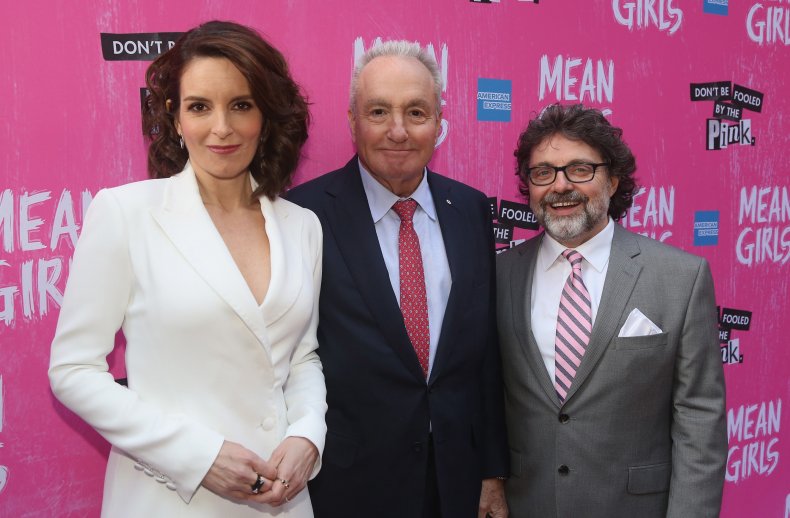 This year, Tina Fey announced that she and Busy Phillips are hosting a live-streaming of Mean Girls on Facebook to celebrate the 15th anniversary.
"Wooo, that movie is 15 years old! If that movie was a human person, it would be wearing bootie shorts and ignoring me in public," Fey joked in a YouTube video posted to the Denver Center for The Performing Arts page.
The Facebook Live event special is being presented in partnership with Paramount Pictures to promote the Broadway musical adaptation of Mean Girls. The live-stream will start at 8 p.m ET from New York City on the musical's Facebook page.
Correction (10/4, 2:30 p.m. EDT): This story has been updated to correct the identities of the men in the original meme.