Israel Denies Ahed Tamimi Bail: Will a Teenage Girl Go to Jail for a Decade?
An Israeli military judge ruled Wednesday that Palestinian teenager Ahed Tamimi, who was arrested last month for hitting an Israeli soldier, should be held in custody until her trial.
Tamimi, who is only 16 years old, could be held in custody for months due to the court's decision to deny bail. She was arrested last month along with her mother after a video surfaced of her hitting two Israeli soldiers. She has been charged with assault, a charge that could result in a sentence of up to 10 years. The judge said she could not be released from custody because of the severity of her crimes.
"I found no alternative other than to order her detention in custody until the end of proceedings," the judge ruled. "The gravity of the offenses of which she is accused does not allow an alternative to custody."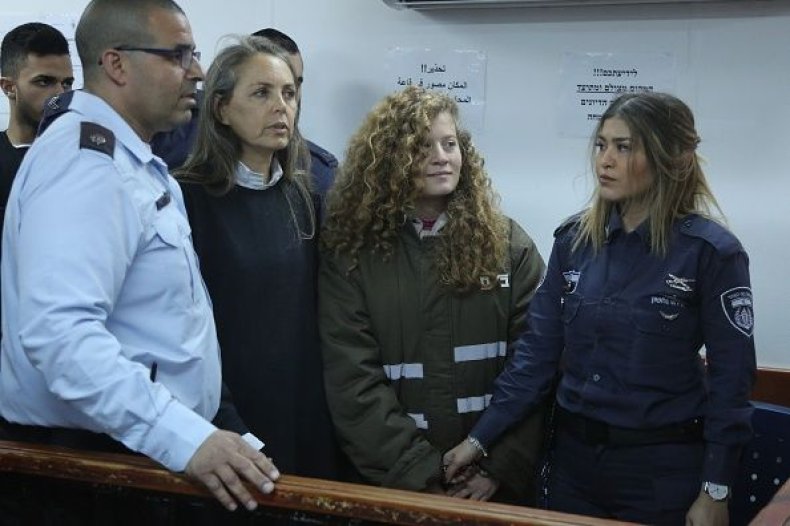 Human rights advocates, however, argue that Tamimi was only defending her cousin, who had his head shattered when an Israeli soldier shot him, and could not have posed a serious threat to an armed soldier.
"Ahed, a 16 year old Palestinian girl slapped a machine gun toting Israeli soldier at the entrance to her home shortly after Israeli troops fired shots at her younger cousin's face, nearly killing him and leaving him permanently scarred," Yousef Munayyer, executive director of the U.S. campaign for Palestinian Rights, told Newsweek.
"For this offense, she, not the soldier who shot a child, was dragged off to detention in the middle of the night by Israeli troops."
Tamimi's 15-year-old cousin survived the gunshot, but his head and face remain badly injured. Munayyer argues that it is a great injustice that a child is being punished for violence committed by an Israeli soldier.
Members of the Tamimi family have frequently engaged in confrontations with Israeli soldiers in their West Bank village of Nebi Salah, and the family has emerged as a symbol of the Palestinian resistance against Israel.
On Monday, Amnesty International released a statement calling for the Israeli authorities to release Tamimi.
"Nothing that Ahed Tamimi has done can justify the continuing detention of a 16-year-old girl. The Israeli authorities must release her without delay," Magdalena Mughrabi, a representative of Amnesty International, said in a statement. "In capturing an unarmed teenage girl's assault on two armed soldiers wearing protective gear, the footage of this incident shows that she posed no actual threat and that her punishment is blatantly disproportionate."
But a representative of the Israel Defense Forces told Newsweek that Tamimi will remain under arrest until the end of legal proceedings in her case.
"As previously stated, Tamimi has been under arrest since December 19th, 2017 and an indictment against her was submitted for attacking an IDF officer and soldier on December 15th, 2017, attacking security forces on five additional occasions, rock throwing, participating in violent riots, threating and inciting others," the official said.