Israel Deploys Iron Dome Air Defense System Near Gaza, Reports Say
The Israeli Defense Forces (IDF) deployed multiple Iron Dome air defense batteries along the northern and southern parts of the border with Gaza on Thursday, Israeli newspaper Haaretz reported.
An IDF spokesperson framed the stationing of the anti-missile system as a means to protect Israelis from mortars and rockets that have recently been sent from Gaza into Israel.
"The IDF is prepared for several scenarios and ready to defend the citizens of the states of Israel and its sovereignty," an IDF Spokesperson's Unit told Israeli newspaper The Jerusalem Post while discussing the stationing of the Iron Dome system.
Before deployment, the Defense Ministry and manufacturer of the Iron Dome system conducted testing at the Palmachim Airbase, which is near the Mediterranean Sea. "Homa [missile defense] will continue to develop the Iron Dome system in order to deal with the emerging threats in the arena in order to best protect the State of Israel," a Ministry of Defense statement about the tests read, according to The Jerusalem Post.
The Iron Dome system was first deployed in 2011, and in the 2014 conflict, the Israeli government reported that it successfully intercepted almost 90 percent of missiles that targeted populated areas. It can stop incoming missiles and other projectiles up to 43 miles (70 kilometers) away.
The Israeli Defense Ministry said last week that Palestinians in Gaza have fired 289 rockets and mortar shells into Israel this year. Haaretz reported that this figure is much greater than the number of projectiles sent into Israel in recent years, excluding full-scale military conflicts.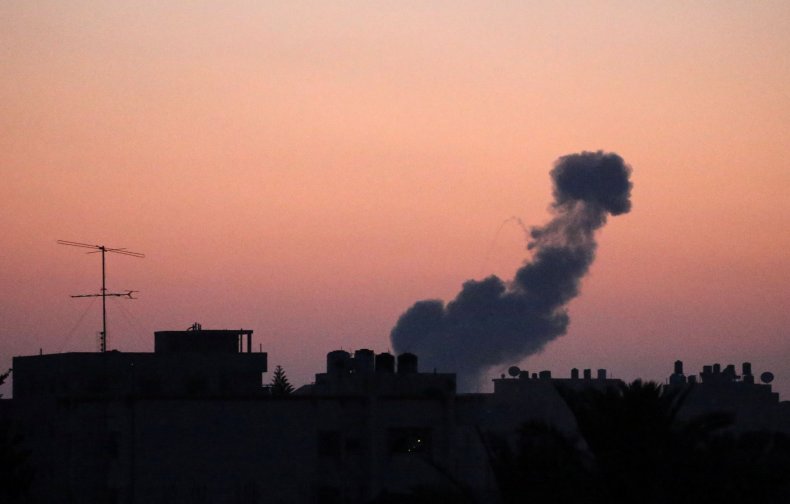 Tensions between Israel and Gaza have been strained since March 30, when Palestinians in Gaza began the Great March of Return, in which they demonstrated against the relocation of the U.S. Embassy to Jerusalem and the expulsion of Palestinians from their homes during the 1948 First Arab-Israeli War.
Since the start of the protests, Israeli troops have killed at least 135 Palestinians, including 16 children, according to Al Jazeera. Palestinians have sent flaming kites and balloons across the Gaza border into Israel, causing thousands of acres to be burned. In mid-June, Israeli Fire and Rescue Services Commissioner Brigadier General Dedi Simchi said that kites sent from Gaza had caused 412 fires, while another government official estimated that the blazes had caused nearly $2 million in agricultural damage.
Given the escalating violence, "it's not surprising that IDF's Southern Command is preparing for [a] possible escalation. But Israel is not interested in escalation," Shira Efron, RAND Corporation associate policy researcher wrote to Newsweek. "Although no side seems interested in major escalation, the situation in Gaza—humanitarian, economic, political—is explosive and could deteriorate further quickly. The deployment of additional Iron Dome batteries should thus be viewed as precaution."