Israel to Deport African Refugees, Threatens Jail Time for Thousands of 'Infiltrators'
Israel will begin issuing notices to thousands of African migrants, warning them they must leave the country by April or face jail time, the Ministry of Interior announced Tuesday.
Migrants will be given around $3,500 to leave Israel and can choose to go to their home countries or to a third country, Israeli officials said. The government will also close the Holot detention center, where more than 1,000 Eritrean and Sudanese refugees are held awaiting deportation.
Most of the migrants the new order applies to say they are asylum seekers. But Israel's government calls the migrants "infiltrators" because they did not cross into the country through a legal border crossing, and argues that they are mostly economic migrants.
There are currently around 38,000 African migrants living in Israel, and the government argues that expelling them is necessary to maintain the Jewish character of the state. Demographics has been a hot-button issue in Israel since its founding, and some politicians warn that a large number of Arabs living in Israel poses an existential threat to the country.
Consequently, Israel's policies toward non-Jewish migrants from Africa stand in stark contrast to the immigration rules for foreign Jews, who are encouraged to make Aliyah, the term used for the immigration of Jews to Israel.
Due to Aliyah, at least 135,000 Ethiopian Jews were living in Israel by the end of 2013. Nevertheless, many Ethiopian Israelis complain of institutionalized racism, police brutality and discrimination.
The Israeli Interior Ministry said the recent deportation order for Africans would apply only to people who do not have a refugee application pending. But a study by Human Rights Watch revealed that only four applicants from Eritrea and Sudan received refugee status during a six-year period, making the chances for a positive outcome nearly impossible for the thousands of people who apply.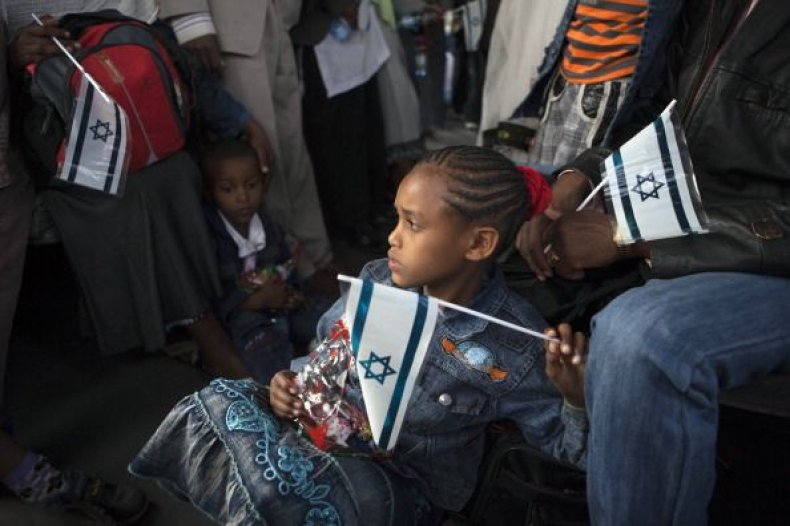 The deportation order also does not apply to children, the elderly or victims of slavery or human trafficking. But this hasn't stopped human rights groups from criticizing the decision.
Groups like Amnesty International Israel and the Association for Civil Rights in Israel signed a letter demanding that the government halt the expulsions. "Anyone who has a heart must oppose the expulsion of the refugees," the letter reads.
The U.N. High Council for Human Rights also criticized the move, claiming that it lacked transparency.
Rwanda has reportedly offered to take in African migrants for a fee of $5,000 each. An investigation by the organization Hotline for Refugees and Migrants determined that migrants who had left for Rwanda were vulnerable to imprisonment, violence and extortion, among other threats.