Israel to Deport Eritrean and Sudanese 'Infiltrators' to Rwanda and Uganda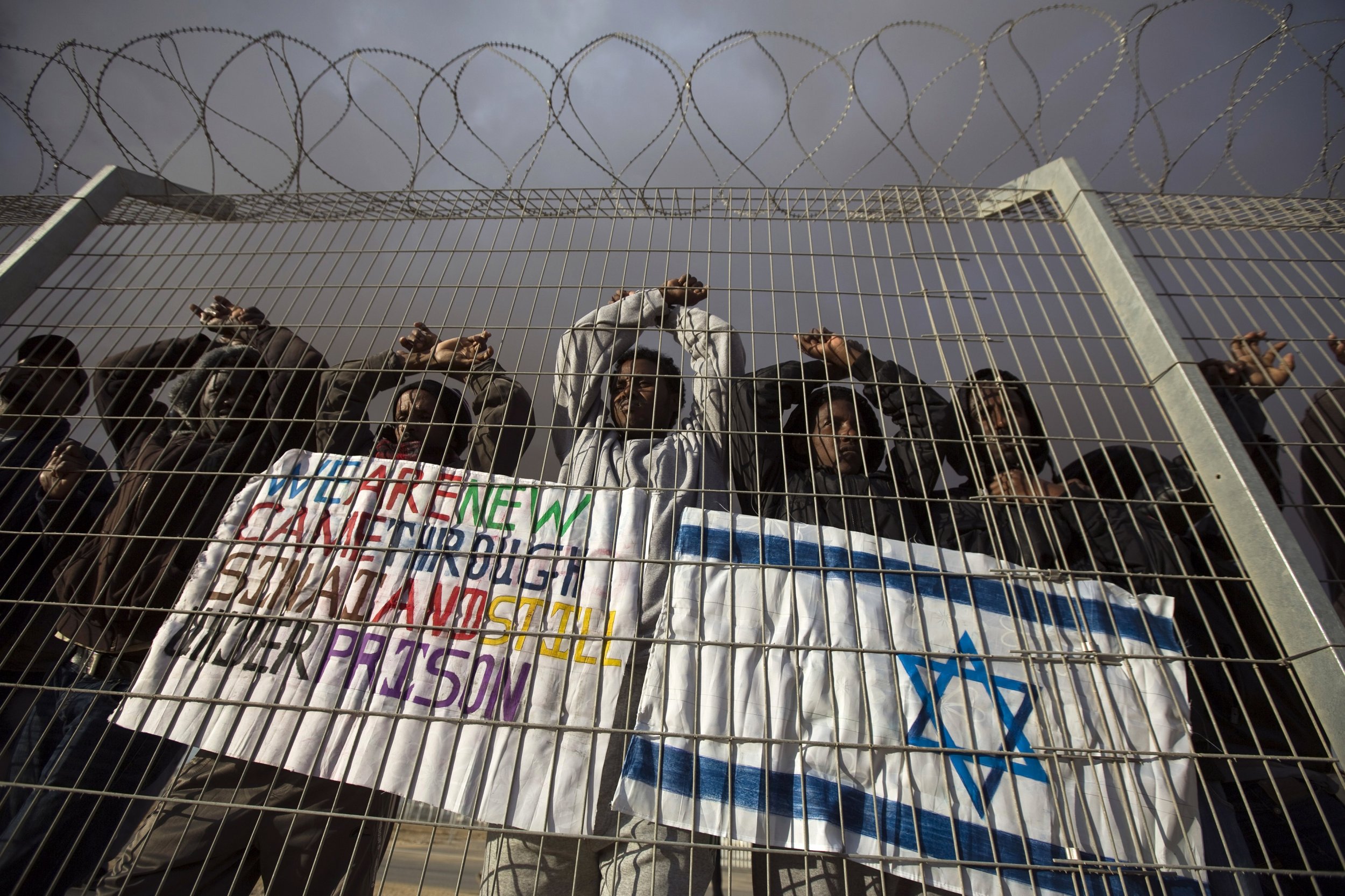 Israel is to deport Eritrean and Sudanese asylum seekers, even against their own will, to the third countries of Uganda and Rwanda, after the Israeli attorney general ruled in favour of the initiative today.
Yehuda Weinstein's verdict came after the Israeli foreign ministry and Israeli prime minister's special envoy on refugee issues Hagai Hadas, asserted that the African migrant's lives would not be in danger in these countries.
The Interior Ministry announced on Tuesday that the African migrants, held at the controversial Holot detention centre in the Negev Desert, would be offered the chance to "willingly" leave Israel to one of the countries but would face a hearing and be transferred to prison if they did not leave Israel within 30 days.
"This move will encourage infiltrators to leave the borders of Israel in a safe and dignified manner, and will serve as an effective tool to fulfill our duty to the citizens of Israel - and south Tel Aviv in particular - to restore the fabric of life they were accustomed to," said interior minister Gilad Erdan.
Israel's immigration authority, the Administration of Border Crossings, Population and Immigration (PIBA), has started sending letters to migrants informing them of their departure to a third country. While the Israeli government has not officially confirmed Rwanda and Uganda as the third countries in question, Israeli media outlets have already confirmed their identities.
A letter, published in Israeli daily Haaretz and translated by an Eritrean refugee, does not inform the migrants which country they will be residing in but lauds life in the unnamed country and offers a "good grant" - a $3,500 payment upon their departure from Israel.
"After working hard in the last several months, we have found a country that will accept you," the letter reads. "The state will approve work and residency permits for you. Over the last 10 years, this country [that the asylum seekers will be sent to] has been in a situation of positive development. Ten thousand citizens who had been migrants have returned."
"The country has created job opportunities for other citizens of Africa," the letter adds. "The country's economy has improved substantially over the past decade. It is considered one of the largest countries in Africa, and it depends on exports to the United States and Europe. Because of political improvements, the country has a strong government, good education, health and transportation systems, and other developments."
"The Sudanese and Eritreans who left with the help of the Israeli government to the third country said they are living a good life, studying English and have a good work," the letter continues. "According to them, some have opened businesses and are living well."
Avraham Diskin, professor of political science at the Hebrew University of Jerusalem, says that even though Israel is free to choose its immigration policy like any other country, it is an issue which polarises opinion within Israeli society.
"I think it is very problematic and very controversial but. like any other country, Israel is entitled to decide whether to accept or not accept people who want to come," says Diskin. "Most say well these are illegal immigrants, they are not refugees, they got across the border in order to find work. The others say well some of them at least are refugees and they are human beings."
Since the start of 2014, approximately 1,500 African asylum seekers departed Israel to a third country while 7,000 were deported to the country they had travelled from, according to Israeli immigration figures. Some 42,000 Eritreans and Sudanese live in Israel, with around 2,000 being held in the Holot detention centre.
A PIBA representative was not immediately available for comment.