Israeli incumbent Prime Minister Benjamin Netanyahu faced off with former army chief Benjamin Gantz in a tight race that, as of exit polls published late Tuesday, appeared to give the latter a slight edge, reflecting uncertainties at home and abroad.
In the weeks leading up to the election, Netanyahu hardened his already conservative stance on the decades-long Arab-Israeli conflict, publicly rejecting a two-state solution that would officially grant Palestinians a sovereign nation on land counterclaimed by Israel. He scored major points for his Likud party's nationalist vision for Israel during last month's visit to President Donald Trump, who recognized Israel's control over the occupied Golan Heights in Syria—the second time Trump upset an international consensus for the Israeli leader having also recognized the disputed holy city of Jerusalem as Israel's capital in 2017.
Dan Arbell, a quarter-century veteran of the Israeli Foreign Service who most recently served as acting head of the Israeli Foreign Ministry's North America division until 2009, told Newsweek that Netanyahu's win "would be a continuation of the current policies, and most likely a more nationalistic approach domestically and a tougher approach on issues relating to national security."
"A Gantz victory would attempt domestically to bring about a change in the public discourse, toward a more conciliatory national dialogue, as well as work to protect government institutions and the rule of law while fighting corruption," Arbell added. "As for national security issues, Gantz will reach out to Israel's allies, begin to forge close relations with the U.S. and countries in the Middle East that seek cooperation and dialogue with Israel. He will no doubt begin engaging in a dialogue with the Palestinian leadership to see if there is a possibility of advancing a peace process."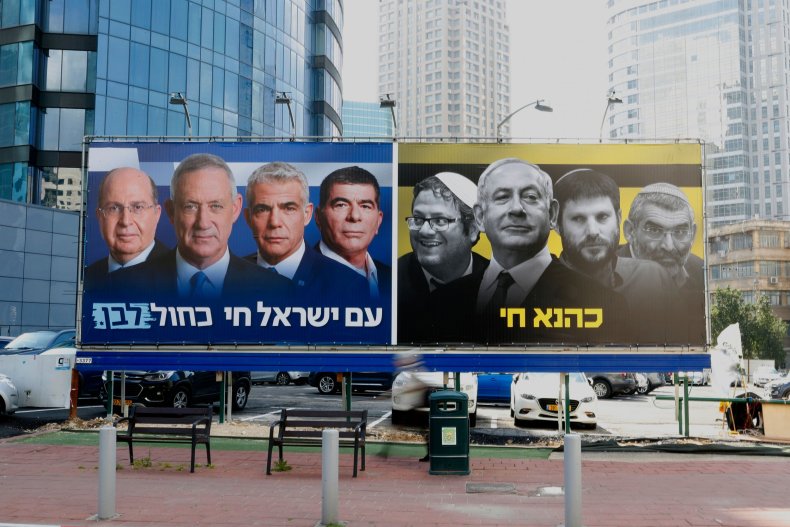 "Netanyahu represents the right-nationalist ideology, which is against the creation of a Palestinian state, and in support of partial or full annexation of territory in the West Bank, continued Jewish settlement activity, and a tough hand vis-a-vis Iran and its proxies in the region," Arbell explained. "Domestically, Netanyahu favors placing limits on the role of the judiciary, mainly the Supreme Court, known for its judicial activism, as well as awarding the Jewish majority with greater benefits, possibly at the expense of the Arab minority."
On the other hand, Arbell said that "Gantz, a decorated Israeli general, represents a tough security-minded approach vis-a-vis Israel's enemies, yet speaks of the option of peace if circumstances will allow a peace process." He added: "Moreover, Gantz speaks in support of unity and dialogue among Israeli citizens (vs. Netanyahu's divisive politics) and adamantly goes out against corruption and the erosion of the rule of law under the Likud-led government."
As well as the domestic and Palestinian issues, the campaign featured much talk of the multiple corruption investigations targeting Netanyahu, potentially steering some votes toward Gantz's Blue and White bloc.
Guy Ziv, an assistant professor of international affairs at American University, told Newsweek that Gantz was "able to capture the support of left-of-center voters who were eager to see Netanyahu defeated, but they failed in winning over a sufficiently large portion of right-wing voters" because they "ignored the security issue, offering no real alternative to Netanyahu's agenda."
Also likely contributing to Netanyahu's advantage, however, was a historically low turnout for apathetic Arab voters, many of whom identify as Palestinians. The community was outraged to learn of Likud's alleged plans to monitor minority polling booths with secret cameras.
Diana Buttu, a former spokesperson for the Palestine Liberation Organization and a lawyer who holds Israeli, Palestinian and Canadian citizenships, told Newsweek that there was little difference between the two top candidates because "from a Palestinian perspective" it's "Trump vs. Trump."
"What's defined this race is racism and fascism," Buttu said, arguing that the candidates had essentially asked themselves, "How hard can we hit the Palestinians? How much can we beat them? How much can we push Israel to the right?"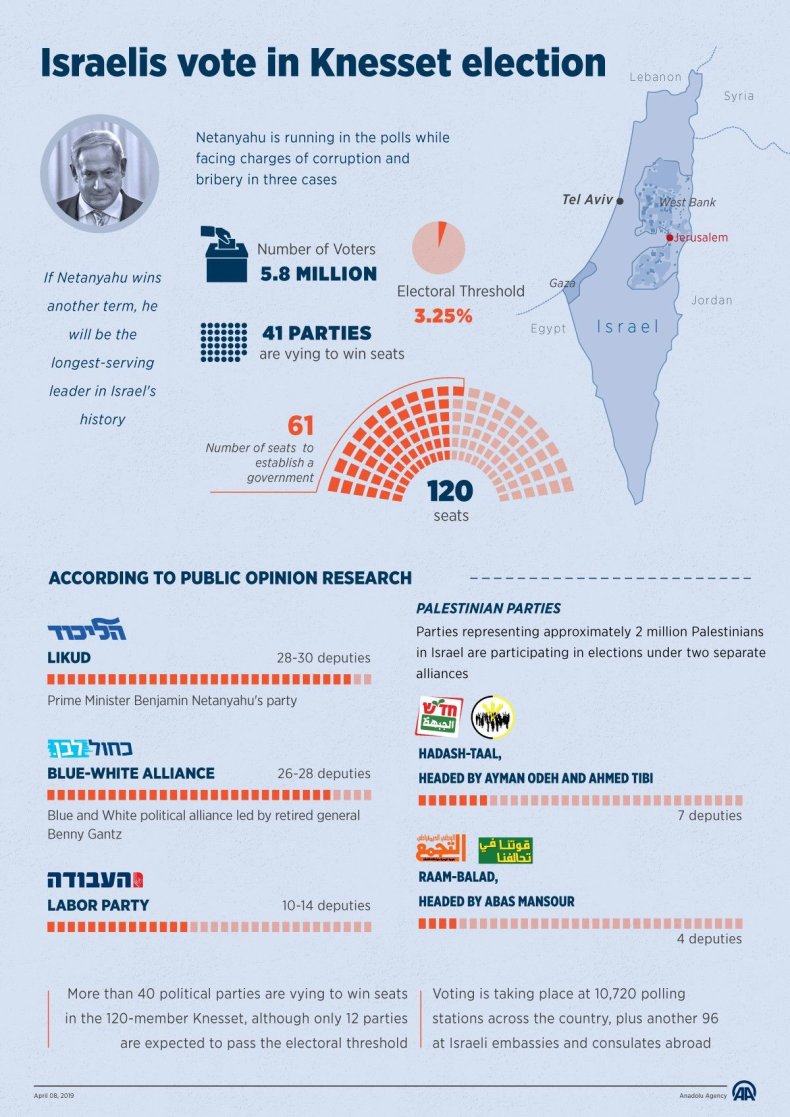 Buttu likened the hardened rhetoric surrounding a race in which both Netanyahu and Gantz challenged each other's records at punishing Palestinians to a "final blow after the Nakba," an Arabic word often translated as "catastrophe" that refers to the mass displacement of Palestinians upon the establishment of Israel in 1948. The event sparked the first of several engagements between Israel and its Arab neighbors and has defined the country's regional relationship ever since.
Israel managed to seize the West Bank from Jordan, the Golan Heights from Syria and the Sinai Peninsula from Egypt in 1967, though the latter was returned after Cairo became the first Arab government to sign a peace treaty with Israel. The Palestine Liberation Organization took de facto control over designated parts of the West Bank after the 1993 Oslo Accords brokered by the U.S. A year later, Jordan signed a peace treaty with Israel, though Amman, along with much of the international community, has continued to regard Israel as an occupying power.
The United Nations has called on Israel to return to the rest of its pre-1967 lines of control, something that Israel—and the Trump administration—have argued was impossible due to national security concerns. Though Israel continued to face attacks from Arab groups based in neighboring Lebanon, Syria and the Palestinian-controlled Gaza Strip, Israel has assigned responsibility to Iran for backing such movements, which ranged from jihadi Sunni Muslim organizations to revolutionary Shiite Muslim paramilitary forces.
Netanyahu did not preside over Israel for either of the two Palestinian "intifadas," or uprisings, nor did he oversee the 2006 war in Lebanon, but he has ordered at least two massive operations against Gaza, the latest of which in 2014 was among the deadliest for Palestinians. The previous year, he launched a quiet campaign of airstrikes against targets allegedly associated with Iran in neighboring Syria, where the Israeli military has more frequently and openly conducted military action.
With the U.S. overseeing, Israel has launched a diplomatic campaign to rally Arab states—most of which have never recognized Israel—into a unified axis against Iran. Though many, especially on the Saudi-dominated Arabian Peninsula, welcomed international efforts against Tehran, they also maintained at least nominal support for the Palestinian cause. Buttu told Newsweek that the "fear is, if Netanyahu is victorious, we're going to see his plan unveiled sooner or later, and it's going to be much more pro-Likud and pro-settler."
"What does it take to wake them up, to show them where they're taking not only the country, but the region?" she added. "For me, it's terrifying."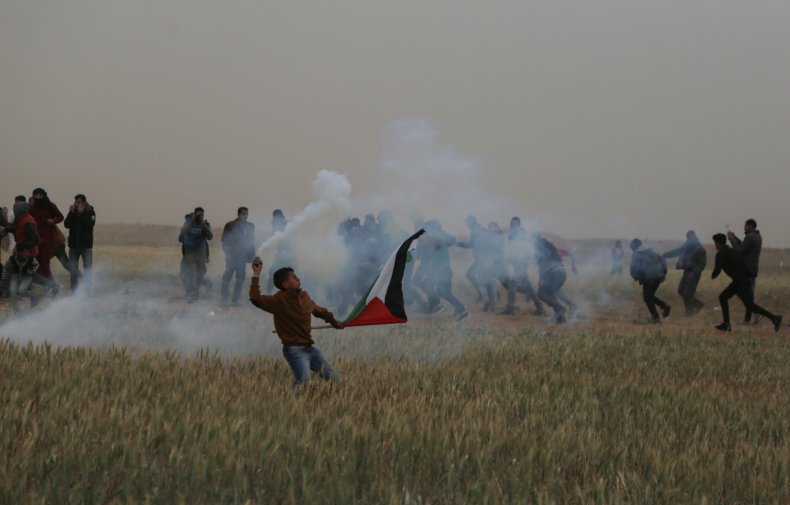 The Trump administration has vowed to strike the "deal of the century" for both Israelis and Palestinians, but the White House's enthusiasm in delivering such highly-contested concessions as Jerusalem and the Golan Heights to Israel ahead of any announced formula for peace has deeply alienated Palestinian and Arab states, including allies. Washington has also cut off all assistance to Palestinians in the Gaza Strip and West Bank.
"Trump has showered Netanyahu with important political gifts," Ziv told Newsweek. "Trump's motivation in his warm embrace of Netanyahu is rooted in the Evangelical community, an important part of his base. It should be noted, however, that Netanyahu—should he win re-election today—may not necessarily enjoy the same level of support from the White House, once the administration's peace plan is unveiled.
"Thus far, Trump has not received anything in return for his numerous and significant political gifts to Netanyahu," Ziv added. "This may change in the months ahead."
With exit polls still giving contradictory results Tuesday, different groups within and outside of Israel were watching closely for a shift in figures. No matter who came out on top, however, there was unlikely to be a clear victor in the immediate future as an arduous process of coalition-building was set to follow the election, as was yet another attempt to offer a solution to a conflict that has increasingly polarized Israel's most important constituency, the U.S.
"What is more certain is that the U.S.-Israel relationship, traditionally strongly bipartisan, has become much more of a partisan issue in recent years—in part, due to Netanyahu's actions," Ziv told Newsweek, "And in part due to a growing presence of progressives in the Democratic Party who are at odds with Israel's hardline policies toward the Palestinians."