Israel Faces Rockets from Gaza, Lebanon, Syria as Conflict Threatens to Spread
Amid an ongoing barrage of rockets from Gaza, where the Israel Defense Forces are engaged in an escalating military campaign against Palestinian factions, Israel has also faced rocket fire from Lebanon and most recently Syria, as a raging Middle East conflict threatens to spread across the region.
"A short while ago, three rockets were fired from Syria into Israeli territory, one of which failed and fell in Syrian territory," the IDF said Friday in a statement sent to Newsweek. "As a result, an alert was activated in open areas only."
The attacking force has yet to be identified, though some self-styled resistance groups, including at least one hailing from Iraq, have claimed responsibility via social media.
The development comes just a day after the IDF reported three rockets fired from Lebanese territory into the Mediterranean Sea off the coast of Galilee. A Lebanese official told Newsweek at the time that those rockets likely originated from a Palestinian refugee camp of Rashidieh, where the Lebanese Armed Forces later discovered three rockets.
Shortly after that incident, Newsweek reached out to Syria's permanent mission to the United Nations on Thursday asking if a rocket strike may be expected from Syria as well, but has not yet received a response.
IDF spokesperson Lieutenant Colonel Jonathan Conricus told reporters earlier Friday that there were "no Israeli casualties and no damage" inflicted by the strike from Lebanon, but said that Israeli forces were keeping an eye on the country's northern borders with Lebanon and Syria.
"We continue, of course, to be very vigilant, looking towards the north, the northeast and assessing everything happening there," Conricus said at the time. "Currently, [there is] no significant change in the situation up in the north, but we are monitoring events closely."
Later that day, however, pro-Palestinian protesters amassed at the country's border with Lebanon and crossed the security fence, prompting IDF tank fire that killed one Lebanese citizen and injured another. The act also prompted condemnation from Lebanese President Michel Aoun and criticism by the country's powerful Hezbollah movement.
As the IDF, Lebanese Armed Forces and U.N. peacekeepers attempted to gain control of the situation, Palestinian refugees of the Ain al-Hilweh camp continued to storm the border, drawing Israeli tear gas fire and the launch of flares.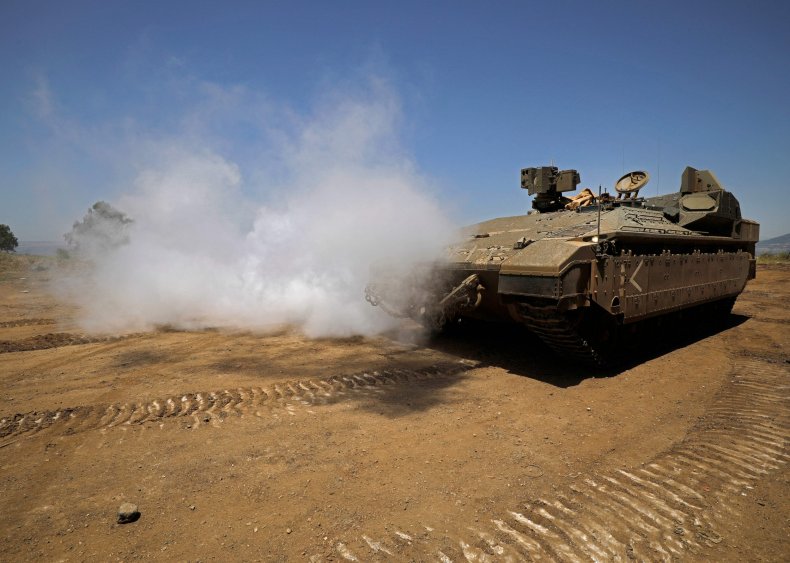 Meanwhile, the conflict over Gaza continued to intensify. The IDF sought to degrade the rocket-launching capabilities and eliminate senior personnel of Palestinian factions such as Hamas and Palestinian Islamic Jihad. By IDF estimates, nearly 2,000 rockets have been fired at Israel, along with other weapons, and the IDF has launched a land, air and sea campaign of strikes in the worst violence to emerge from the Israeli-Palestinian conflict since 2014.
And for the first time since, the IDF has prepared a potential ground invasion of the Gaza Strip.
The current conflict erupted earlier this week when Israeli forces cracking down on protests over an attempt by Israeli families to evict Palestinians from the Sheikh Jarrah neighborhood of Jerusalem culminated in an Israeli raid on the revered Al-Aqsa Mosque, sparking outrage among Palestinians and other Arab and Muslim countries.
Among the most vocal foreign powers has been Israel's archfoe, Iran, which has backed an array of Israel's nemeses including Hezbollah, Hamas and Palestinian Islamic Jihad, all considered terrorist organizations by both Israel and the United States.
"The Islamic Republic of Iran, while strongly condemning the recent criminal acts of the occupying regime in Jerusalem against the oppressed people of Palestine, calls on governments and international organizations to fulfill their duty to end the occupation and the ongoing crimes and aggressions of the Zionists," the Iranian Foreign Ministry said in a statement Friday.
Iran has recently sought to bolster the country's ties across the Arab World, including with regional rival Saudi Arabia. In his latest regional trip, Iranian Foreign Minister Mohammad Javad Zarif traveled to Iran's longtime partner Syria on Wednesday to meet with President Bashar al-Assad and Foreign Minister Faisal al-Mekdad, with whom he condemned Israel's actions in the Gaza Strip.
Iran and allied militias, including Hezbollah, have backed Assad in his decade-long civil war against rebels and jihadis. Israel has accused Iran of using these groups to set up forward bases, and the IDF has conducted hundreds of airstrikes against suspected Iran-linked targets across Syria.
Israel has also faced several instances of rocket fire from Syria in recent years, operations Israel has largely blamed on Iran's Revolutionary Guard and its elite Quds Force. In one instance deemed an error late last month, a projectile described by the IDF as a stray Syrian military S-200 surface-to-air missile landed in the vicinity of Dimona, home to Israel's nuclear reactor and widely suspected nuclear weapons program.
The IDF has additionally responded to occasional cross-border incursions and attacks by Hezbollah, with which Israel has fought its two most recent major wars abroad, the latest being in 2006.
Hezbollah is believed to have amassed a major missile arsenal, including precision-guided munitions. Newsweek spoke Wednesday with a Hezbollah spokesperson who expressed support for the Palestinian fighters in Gaza, and said its intervention was not yet needed.
"Of course, we are supporters," a Hezbollah spokesperson said at the time. "But I don't think they're in need of our people. The numbers are available. All the rockets and capabilities are in the hands of the resistance fighters in Palestine."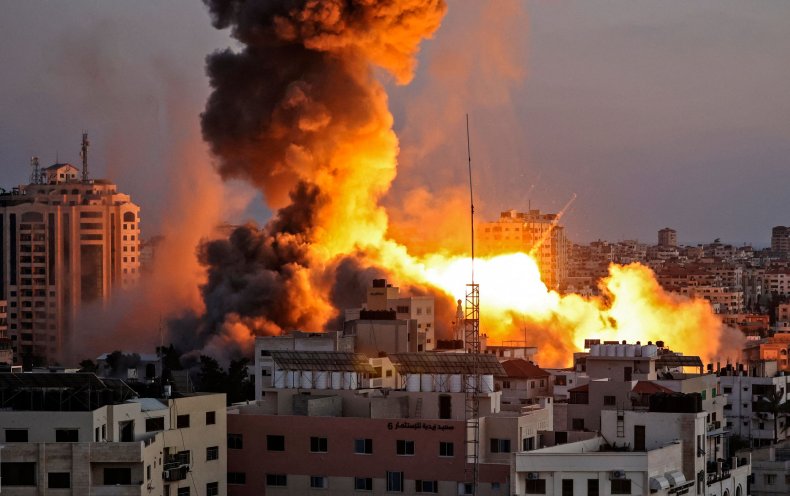 Israel remains in a technical state of war with both Lebanon and Syria, both of which regularly accuses Israel of territorial violations, with the latter especially condemning the occupation of the Golan Heights. The territory was first seized from Syria by Israel during a 1967 war, one of three in which a pro-Palestinian coalition of Arab nations fought with Israel.
Two of those warring states, Egypt and Jordan, have declared peace with Israel in the decades since, and four other Arab countries, the United Arab Emirates, Bahrain, Sudan and Morocco, have normalized ties with Israel over the past several months in deals overseen by former President Donald Trump. These countries continue, however, to express support for Palestinians' claims to lands also claimed by Israel since its 1948 establishment and the previous U.S. leader's policies also stoked tensions by recognizing Jerusalem as the capital of Israel despite the Palestinians also viewing it as their capital.
His successor, President Joe Biden, has sought a more balanced approach, though he has repeatedly asserted that Israel had the right to defend itself against Palestinian rockets. Biden issued a message Friday coinciding with the White House's Eid celebration, noting that "the situation in the Holy Land is weighing heavily on Muslims everywhere, including our Muslim communities here in the United States."
"Palestinians—including in Gaza—and Israelis equally deserve to live in dignity, safety and security," the president said. "No family should have to fear for their safety within their own home or place of worship. We think most about the children in these societies who face trauma from a conflict far beyond their control."
He said his administration was in talks with "Palestinians, Israelis, and other regional partners to work towards a sustainable calm."
Both Israeli Prime Minister Benjamin Netanyahu and Palestinian factions have vowed to press on until they achieved their opposing aims, however.
And while Israel grapples with heightened tensions along borders with Gaza, Lebanon and Syria, it also is faced with a burgeoning domestic crisis as civil unrest broke out throughout the country. Israeli Arabs supportive of the Palestinian campaign and Israeli nationalists backing IDF operations have clashed across the nation, creating added casualties and destruction.