Israel Fears if Russia Gives Assad S-300 Missile Systems, It May Reignite Syria Tinderbox
Concerns are growing in Israel that Moscow is set to provide Bashar al-Assad's regime with the S-300 weapons system, which could herald a new spiraling of the Syrian conflict.
In 2013, Russian President Vladimir Putin was about to supply Damascus with the Russian-made system that can give long-range protection from missiles and aircraft, but he changed his mind after pressure from Israel.
But in light of the U.S and U.K.-led strikes on Syria, an angered Kremlin may reconsider that position and provide Assad with the weapons systems he has been pushing for, especially after Russian Foreign Minister Sergey Lavrov told the BBC Moscow would do what was needed to help Syria "deter aggression."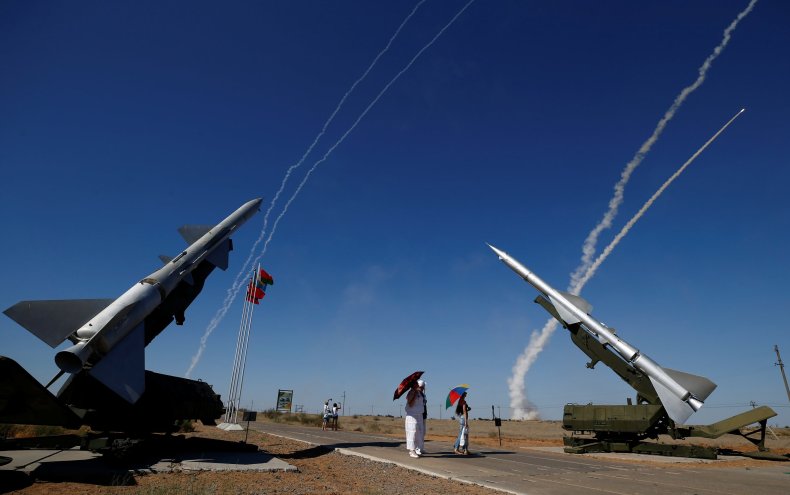 Ex-Israeli military intelligence chief Amos Yadlin said it was inevitable that the S-300s would be deployed in Syria and then targeted by Israel.
"If I know the air force well, we have already made proper plans to deal with this threat. After you remove the threat, which is basically what will be done, we're back to square one," he told Bloomberg.
There were unconfirmed reports on Wednesday that cargo ships had docked at the Russian naval base of Tartus on the Syrian coast under the cover of smoke and aerosol gas to block satellite and drone sensors.
If Damascus got the S-300 systems, Israel's air superiority would be impacted. It has carried out about 150 bombing raids in Syria. It allegedly struck an air base used by Iran and a convoy heading for Iranian-backed militants, Hezbollah.
However, Israeli analyst and journalist, Ron Ben-Yishai, said that Russia is likely to sell the system to Syria, but it will not be the newest model.
"But the training of Syrian operators will take a long time, and the Russians may discover that they made a mistake. If, for example, the Syrians use this system against Israel Air Force planes and if Israel destroys the S-300 in retaliation," he wrote in Ynet News. "That would spoil the Russian arms industry's reputation, which isn't something the Russians want."
Whatever the Russians do, the next U.S. move will be crucial for the region. Former U.S. Ambassador to Syria Ryan Crocker and Brookings Institution senior fellow Michael O'Hanlon wrote in The Wall Street Journal that the U.S. should help local allies on the ground and continue its threats of military retribution against Assad.
But Washington will also need to secure the c-operation of Turkey.
"In order to secure Turkey's cooperation, the Kurdish question needs a better answer, one that addresses Ankara's security concerns while also preventing Kurdish positions in Syria's north from being overrun," the authors said.