Israel Furious After 'Lying' Erdogan Equates Holocaust to Gaza Blockade: 'You Should Be Ashamed'
Israeli leaders have reacted angrily to Turkish President Recep Tayyip Erdrogan's suggestion that Israel's ongoing blockade of Gaza is comparable to the Holocaust.
While attending the United Nations General Assembly on Tuesday, Erdogan told assembled diplomats that Turkey views "the Holocaust in the same way we view those besieging Gaza and carrying out massacres in it," according to the Anadolu news agency.
Israel and Egypt imposed a strict blockade on Gaza in 2007, preventing spare parts and even construction materials from entering the enclave, claiming they would inevitably be diverted to military use.
This has resulted in shortages of day-to-day goods, medical supplies and fuel. The decision to blockade Gaza was made after Islamist group Hamas took control of the area in a violent uprising.
Erdogan went on to accuse Israel of unjustly expanding its borders in violation of international law, using a map showing the country's growth since 1947 to illustrate his point. "The Palestinian territory under Israeli occupation has become one of the most striking places of injustice," Erdogan added.
Erdogan is a regular critic of Israel's policy towards the Palestinians, and has been branded beleaguered Prime Minister Benjamin Netanyahu—currently struggling to retain power following an inconclusive election—a "tyrant."
Israeli leaders were quick to respond, immediately after the speech protesting the Turkish strongman's comments and branding Erdogan a dishonest anti-Semite.
Netanyahu led the response. "Someone who does not stop lying, who slaughters Kurds, who denies the massacre of the Armenians, should not preach to Israel," he said, according to The Times of Israel. "Stop lying Erdogan."
Foreign Minister Israel Katz issued a similar statement in which he accused Erdogan of anti-Semitism. "You should be ashamed, Erdogan," Katz wrote on Twitter.
"There is no other way to interpret Erdogan's crude and vile words—it is anti-Semitism, clear cut. This is proof that the responsibility of #HolocaustRemembrance is more relevant now than ever."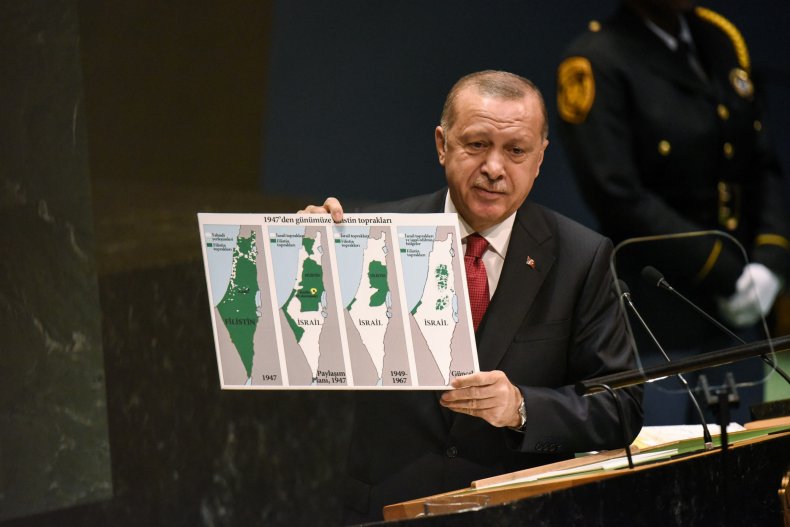 Netanyahu is currently battling to secure another term as prime minister, after his right-wing coalition failed to secure a majority in the Knesset in last week's general election. He is battling against former Israel Defense Forces General Benny Gantz, who leads the centrist Blue and White coalition.
Regardless of who emerges victorious, Palestinians will likely see little benefit, with the major players all having promoted a disregard for Palestinian rights. Netanyahu has openly declared his desire to annex up to one third of the Palestinian West Bank, and claimed he would work with U.S. President Donald Trump to do so.
When making the announcement, Netanyahu stood in front of a map showing Israeli control over the vast majority of the Jordan Valley, with Israeli territory encircling the West Bank and slicing off the eastern border with Jordan.
Though Gantz has been quiet on Netanyahu's pledge, both he and Yair Lapid—who leads the Yesh Atid which sits within the Blue and White Alliance—have said in the past they envision permanent Israeli control over the Jordan Valley.
Gantz, who has also been accused of war crimes related to offensives in the Gaza Strip, was criticized early in his campaign for bragging about his destruction of the enclave. The retired general bragged about how many "terrorists" were killed under his command and declared that parts of Gaza were bombed "back to the stone age."