CBS' Tony Dokoupil Says First Wife and Children in Tel Aviv 'Terrified' by Gaza Strikes
CBS host Tony Dokoupil has given a personal account of how the violence in Gaza is affecting his family.
Following a deadly exchange of fire between Palestinian militants in the Gaza Strip and the Israeli military, the United Nations has warned that a "full-scale war" might break out.
During a segment on Wednesday about the spike in hostilities, the host of This Morning said that among the families going to bed "terrified" were his two older children, who live with their mother in Tel Aviv. He said they had spent the previous night in a shelter, adding: "My daughter was in tears."
"I'm also acutely aware of the fact that over in Gaza, there are children going to bed in a pile of rubble, not getting up," he said.
Israel has said Palestinian militants fired more than 1,000 rockets over 38 hours, mostly at Tel Aviv. Meanwhile, Israel has carried out hundreds of airstrikes, destroying two tower blocks in Gaza. At least 53 Palestinians and six Israelis have been killed since Monday, according to Reuters.
Among the dead was a brigade commander for Gaza City and senior members of the Islamist militant group Hamas, according to Israel's Shin Bet security service, the agency reported.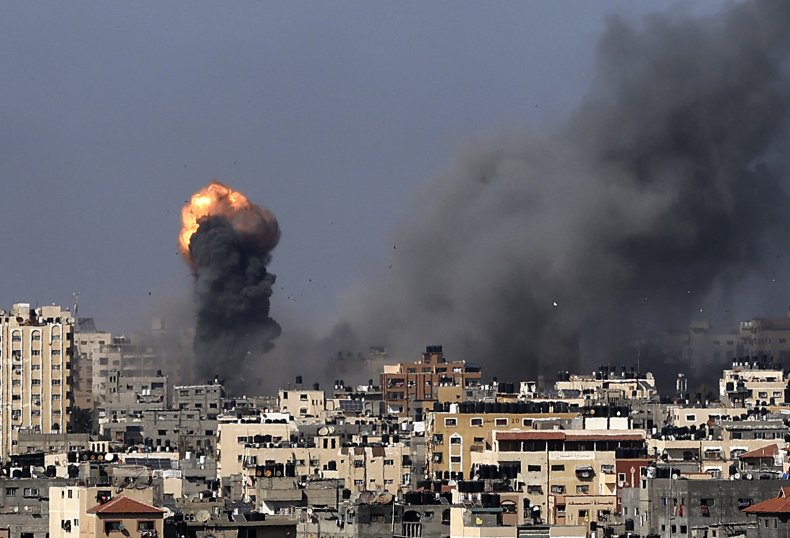 Dokoupil, a former Newsweek journalist, continued: "You have a situation where for decades now, leaders on both sides seem to be finding the war instead of finding the peace. And until that dynamic changes, our children—my children—are going to be fighting and dying."
The CBS host has two children from his previous marriage. He is now married to MSNBC Live anchor Katy Tur. They have a son born in 2019 and Tur is pregnant with their second child.
"When I say our children will be fighting and dying, my 12-year-old will be going to the military in six years," he said. This refers to Israel's conscription policy for citizens aged over 18, although there are exemptions.
"Everybody is sucked into the conflict in that region until there is a push or a restart to a search for peace. And when you have two people for one country, there has got to be two countries," Dokoupil added.
Newsweek has contacted CBS for comment.
Tensions have been rising amid violent confrontations between Israeli forces and Palestinian protesters, and clashes at a site in Jerusalem considered sacred to both Muslims and Jews.
The outbreak of violence in Gaza is the most serious since a war in the Hamas-ruled enclave in 2014, and concern is growing that the situation could spiral out of control.
The United Nations special envoy for the Middle East peace process, Tor Wennesland, said on Tuesday: "We're escalating towards a full-scale war," adding that "leaders on all sides have to take the responsibility of de-escalation."
In a statement, Prime Minister Benjamin Netanyahu said Israel would step up its Gaza strikes, saying: "This is just the beginning. We'll hit them like they've never dreamed possible."