Israel Has a Right to Defend Itself—Despite What Democrats Say | Opinion
This month, we witnessed war in the Middle East. Hamas, a designated terrorist organization funded by Iran, launched more than 4,000 rockets at Israel in 11 days. Israel, on the defensive, fired back.
How did Democrats react to Hamas attacking Israel?
President Joe Biden called Prime Minister Benjamin Netanyahu, not to tell him that the United States stands with Israel and supports Israel's right to defend itself against terrorism, but to lecture him and demand he stop defending Israel against Hamas terrorists.
Meanwhile, Reps. Rashida Tlaib and Alexandria Ocasio-Cortez called Israel an "apartheid" state. Not to be outdone, Rep. Ilhan Omar denounced Israel for engaging in "terrorism."
Sen. Bernie Sanders, along with Rep. Ocasio-Cortez, introduced a resolution trying to block a $735 million arms sale to Israel.
Last week, a reporter relayed to me that Sen. Chuck Schumer had told him he didn't want to answer any questions on Israel, which should come as no surprise. If Sen. Schumer doesn't want Rep. Ocasio-Cortez to primary him from the left, he knows he can't anger the extreme anti-Israel wing of the Democratic Party.
We should be clear: there is no moral equivalence between Israel—a sovereign nation defending itself—and Hamas terrorists who target and murder innocent civilians.
Democrats have proclaimed that more than 250 Palestinian civilians were killed in the fighting. But what they don't acknowledge is that some of those civilians were killed because of faulty rocket launches by Hamas itself. Even more significantly, they ignore the fact that Hamas routinely uses civilians as human shields—a deplorable practice that I successfully fought to classify as a war crime in the Senate. Hamas regularly stores missiles in kindergartens and hospitals, with the intention that innocent Palestinian civilians die as a result (useful idiots in the press and the Democratic Party will in turn blame Israel for those deaths).
Instead of condemning Hamas' actions, Democrats like Reps. Ocasio-Cortez, Omar and Tlaib act like they're press secretaries for the terrorists.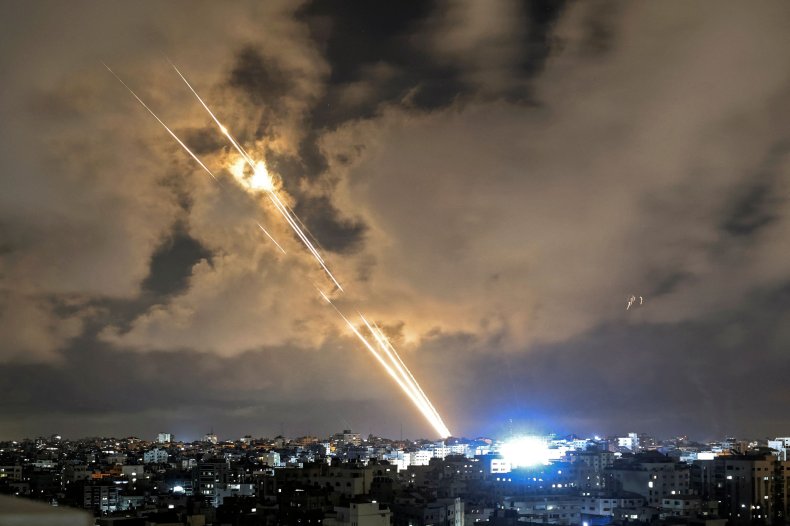 When Democrats pretend that the Hamas terrorists are the victims, there are ugly consequences. All over the world and in the United States we've seen anti-Semitic attacks on the rise.
More blatant anti-Semitic actions and attacks occurred in 2019 than any in year since 1979, and since Hamas attacked Israel on May 10th, Jews have been repeatedly attacked in New York City, Los Angeles, Illinois and Florida.
So what's the answer here? What should we do to promote peace and stop this wave of anti-Semitism?
The answer is simple: we should stand unequivocally with Israel. When the United States sends a clear message that we stand with Israel, there is more peace in the Middle East.
Eight months ago, Israel, the United Arab Emirates and Bahrain signed the historic Abraham Accords. President Donald Trump made two policy decisions that led to the agreements—the first was to move the American embassy to Jerusalem, the capital of Israel. The second, and the single most important national security move President Trump made, was to withdraw from the catastrophic Obama-Biden Iran nuclear deal.
When the Abraham Accords were signed at the White House last September, I was there. I spoke with senior officials from the UAE and Bahrain, and both said virtually the same thing—that it was clear to them that the United States stands unequivocally with Israel, and they want to be friends with the United States. Therefore, they were going to be friends with Israel. That clarity, that strength, produces peace.
President Biden ought to say firmly and emphatically that the United States stands with Israel against Hamas. He needs to immediately replenish the Iron Dome munitions that saved thousands of lives by intercepting the Hamas terrorists' rocket attacks. And he needs to stop attacking, belittling and undermining Israel. Democrats in Congress also have an opportunity right now to decide where they stand—do they stand with Israel, or do they stand with terrorists?
In the Senate, I introduced a resolution this week supporting the arms sale to Israel. It will be a chance for Democrats to decide if they're going to stand with Israel or tremble before the anti-Semitic far left of their party. I'm also traveling to Israel in the coming days to assess directly what else the Israelis need to protect their national security, which is closely tied to our national security.
Israel is our closest ally in the Middle East. It's time for President Biden and Democrats to start acting like it.
Ted Cruz is a U.S. Senator for Texas and a member of the Senate Foreign Relations Committee.
The views expressed in this article are the writer's own.