Google Celebrates Hawaiian Singer Israel Kamakawiwo'ole with 'Somewhere Over the Rainbow' Doodle
Today's Google Doodle honors Hawaiian singer Israel Kamakawiwo'ole on what would have been his 61st birthday and celebrates Asian Pacific American Heritage Month in the U.S.
Kamakawiwo'ole, also known as IZ, is remembered around the world for his rendition of "Somewhere Over the Rainbow," which provides the soundtrack to today's Google Doodle video.
Kamakawiwo'ole was also known for his advocacy of Hawaii's values and culture and has been widely referred to as the "Voice of Hawaii."
The singer was born on May 20, 1959, in a suburb in Honolulu and was raised in a native islander family who shared a love of Hawaiian music. By age 10, Kamakawiwo'ole could often be found holding his ukulele against his chest.
In his teens, the singer, his brother, and three friends formed The Mākaha Sons of Niʻihau and achieved popularity with 15 albums blending contemporary and traditional styles of music.
In 1988, Kamakawiwo'ole sat down in a Honolulu recording studio and in a single take performed his cover of "Somewhere Over the Rainbow" with his ukulele. The recording became an international phenomenon and Kamakawiwo'ole achieved commercial success outside of Hawai'i.
In the Doodle's caption, Google says: "But Israel is so much more than one song; with his band and successful solo career, he redefined popular Hawaiian music through his own unique style and spread his love for the islands around the world.
"Thank you, Israel, for providing the soundtrack for Hawaii and for continuing to move hearts around the world through your music."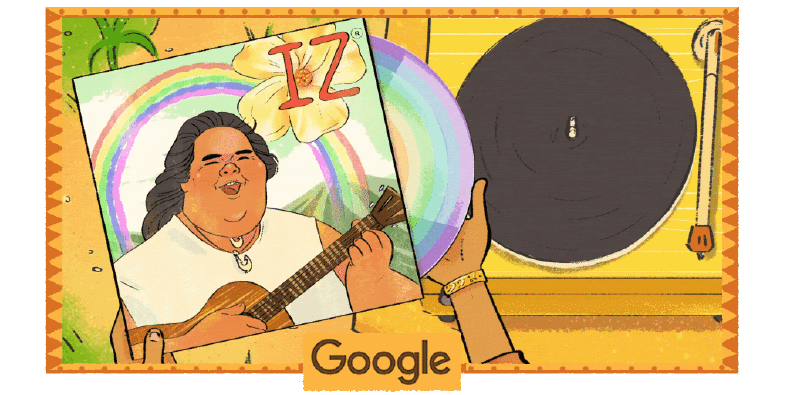 Sophie Diao, the artist behind the Google Doodle, said: "My goal was to make an animated video about Israel's life and legacy as a musician that would complement the relaxed and optimistic tone of the song.
"Stylistically, I wanted it to feel gentle and loose and for it to all flow together. I tried to depict scenes that reflected who Israel was as a person and places in Hawaii that were important to him."
Diao also had the help of Hawaiian artists when creating the Doodle. "I asked Dalani Tanahy of Kapa Hawaii to create traditional Hawaiian kapa for the Doodle that would add depth and dimension to the scene transitions," said the artist.
"I also enlisted the help of Gabrielle Ahuli'i, a Native Hawaiian author and librarian in Honolulu who kindly helped me come up with ideas and gave feedback on the video as it was created. I'm so thankful for the hard work and support of these two women."
The Kamakawiwo'ole family told Google that they are "overwhelmed by the worldwide reach of Israel's music and the reaction of everyone who hears his voice, a voice that instantly touches your heart."
"Having Google create a Doodle for his 61st birthday gives us all reason to again celebrate his life and impact on millions worldwide," said the musician's family.
They said that although "Israel's musical legacy includes critically acclaimed gold and platinum recordings which are recognized and loved throughout the world," what is more important to them, and the greater 'ohana (or family) of Hawaiians, is "the spotlight that his success has brought to Hawaii, his Hawaiian heritage, and, most of all, the Hawaiian people."