Israel Kills Hamas Intelligence Chief: 'Looks Like Our Intel Was Better'
Israel has killed a military intelligence chief from Hamas in a targeted strike and later said "looks like our intel was better" on Twitter.
The Israel Defense Force (IDF) announced that senior Hamas intelligence figures Hassan Koagi, and his deputy Wali Issa, had been killed in a strike.
Taking to Twitter, the IDF said: "Our fighter jets, with the ISA, neutralized key figures of Hamas' intelligence: Hassan Koagi, head of the Hamas military intelligence security department, and his deputy Wali Issa, head of the military counterespionage department."
It added: "Looks like our intel was better."
The announcement came hours after the IDF said it had killed the commander of the Hamas anti-tank missile unit, Iyad Fathi Faik Sharir in a separate aircraft strike.
He had led the unit during a number of attacks by firing missiles into Israel in recent years, according to the army.
Israel is facing its greatest crisis in years after clashes between Palestinians and Israeli settlers in the Sheikh Jarrah neighborhood in East Jerusalem escalated into mass riots and outright hostilities.
On Monday, Gaza militants fired a barrage of hundreds of rockets into Israel, which led the country to pummel targets in the city.
Hamas launched its attack shortly after its ultimatum for Israel to withdraw security forces from the Al-Aqsa mosque, the third-holiest site in Islam, passed.
Israeli police stormed the mosque and fired rubber bullets and stun grenades at worshippers inside the building after Palestinians had earlier thrown bottles and stones.
The graphic below, provided by Statista, shows Israeli and Palestinian deaths between 2008 and 2020, as documented by the U.N.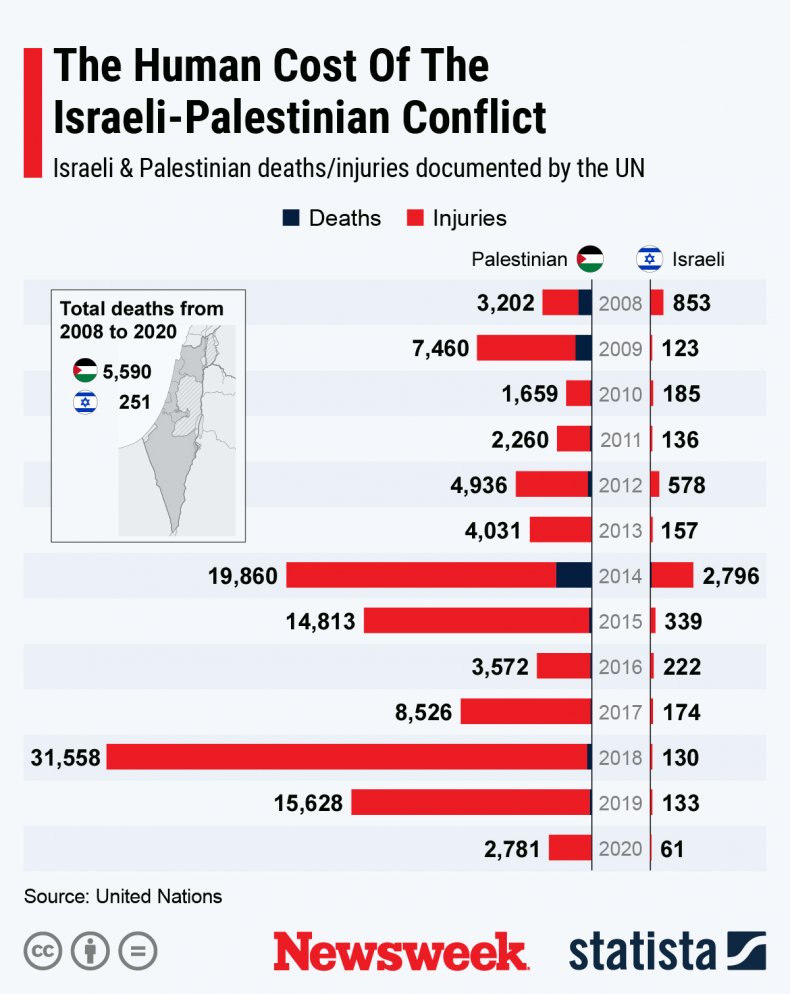 Riots spilled out onto the streets in the central Israeli city of Lod on Tuesday, where shops and cars were set on fire, forcing the government to declare an emergency in the city.
Lod Mayor Yair Revivo called the riots a "civil war" and compared it to the Nazis' 1938 Kristallnacht pogrom, which led to the targeted murders of Jewish people.
According to the Times of Israel, Revivo added: "This is too big for police. This is Kristallnacht in Lod."
Reuters reported that 35 people have been killed in Gaza and five in Israel after the conflict flared up into what is the worst violence seen in the region in years.
Israel has carried out hundreds of strikes in Gaza while Palestinian militants launched thousands of missiles towards Israel, with many being directed at Tel Aviv and Beersheba.
Calls to end the hostilities have been made by officials across the world. The U.N. Special Coordinator for the Middle East Peace Process, Tor Wennesland, said on Twitter: "Stop the fire immediately.
Wennesland continued: "Leaders on all sides have to take the responsibility of de-escalation. The cost of war in Gaza is devastating and is being paid by ordinary people. U.N. is working [with] all sides to restore calm. Stop the violence now."