Israel Should Vaccinate Palestinians | Opinion
Israel's success in its vaccine rollout is, at present, far beyond any other country in the world. The PR value has been huge. Israel's effective rollout of the vaccine through its innovative, practical and countrywide program can inspire many countries. An even bigger moral win is within reach: if Israel does the right thing and allows access to vaccines for Palestinians as they do for their own citizens.
The 5 million Palestinians living in the Gaza Strip and West Bank are excluded from Israel's vaccine rollout. By extending humanitarian aid in the form of vaccine access, the Israeli government has a unique opportunity to reverse decades of exclusion and marginalization to show the world that it is serious about peace.
Political considerations such as this are a key driver for Israeli Prime Minister Benjamin Netanyahu's vaccine push: His upcoming election will be closer run than any of his previous six campaigns. Against the backdrop of slipping polls, corruption charges and a looming Joe Biden presidency, Netanyahu's next election is set to be one of the most contentious yet. Rallying an effective COVID response could be the broad-based, mobilizing clincher he needs for another term—but only if it includes all those dependent, directly or indirectly, on Israel's infrastructure. That includes Palestinians.
Israeli officials have suggested that they might donate "surplus" vaccines to those in the West Bank and Gaza Strip, although this offer of leftovers does not strike a particularly humanitarian tone.
There is a debate surrounding the legality of Israel's obligation to extend its vaccination program to Palestinians.
Amnesty International has called on Israel to include the West Bank and Gaza Strip in their vaccination rollout, invoking Article 56 of the Fourth Geneva Convention, which says the state of Israel is obliged to maintain "the medical and hospital establishments and services ... with particular reference to the adoption and application of the prophylactic and preventive measures necessary to combat the spread of contagious diseases and epidemics."
However, Israeli critics have pointed out that under the Oslo Accords of 1993 and 1995, the Palestinian Authority is obliged to vaccinate its own population.
Legal arguments are a red herring. To vaccinate Palestinians against COVID is in Israel's self-interest, as well as in its humanitarian and legal obligations.
There is also the question of whether the Palestinians in the West Bank and Gaza Strip would want to take an Israeli-administered vaccine. The Palestinian Authority has not asked Israel for help with its vaccine rollout. Instead, they are relying on the Russian Sputnik V vaccine and the WHO-led partnership COVAX, which has committed to vaccinating 20 percent of the Palestinian population.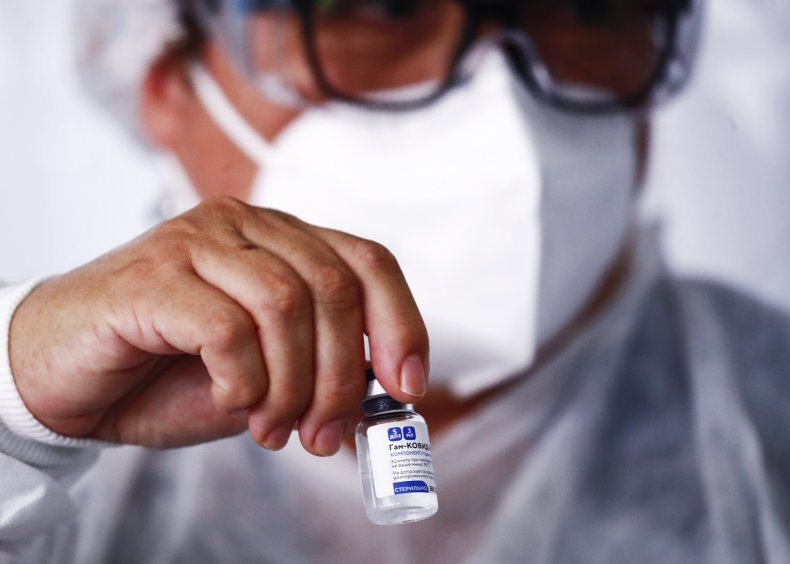 Some say that the distrust amongst Palestinians would mean the uptake of such a vaccine would be unlikely anyway. But the COVAX program has been riddled with difficulties from the start, and it may be that in many cases the choice is an Israeli administered vaccine or no vaccine at all.
That is a decision that Palestinians should be allowed to make. When it comes to vaccines, it is more important to focus on what people do rather than what they say. The truth is that many Palestinians would simply not be able to feed themselves or their families if they contracted COVID. If given the choice, refusing a vaccine on political grounds is simply not a luxury many Palestinians will have—regardless of their stance on Israel.
The bottom line is that Israel's vaccination capacity has provided Netanyahu with a unique opportunity to thaw hostility and garner sympathy both domestically in Israel and across the region and world.
In the likely scenario that the COVAX scheme suffers from roadblocks and delays, the brittle Palestinian health care infrastructure will crumble. For perspective, in Gaza there are currently 87 ICU beds to serve a population of 2 million. The social unrest triggered by such a health care collapse would cause huge instability, which is in no one's interest.
Palestinian society has suffered from devastating unemployment levels and health care problems even before the pandemic. A joint letter, signed by Israeli, Palestinian and international human rights groups, outlined the looming humanitarian catastrophe that await Palestinians if the vaccination process is impeded. The moral case for vaccinating an already vulnerable population cannot be understated.
The virus does not care about nationhood, politics or conflict, and neither should vaccination. Netanyahu has a historic opportunity to do the right thing. He should be politically and morally brave enough to take it.
Mukhtar Karim is CEO of Lady Fatemah Trust, a humanitarian charity operating in 16 countries and territories, including Gaza.
The views expressed in this article are the writer's own.