Israel Is Still Recovering From a Historic Measles Epidemic. Is a Resurgence Right Around the Corner?
Israel is still recovering from an unprecedented measles epidemic.
The Israeli Health Ministry recorded more than 4,300 cases between July 2018 and July 2019, representing a monumental uptick from the year prior, when only about 30 cases were reported.
Rotem Amitai, a 43-year-old flight attendant with El Al, died last month after reportedly contracting measles from a passenger in March. Amitai was admitted to Petah Tikva's Rabin Medical Center-Beilinson Campus with a high fever, then fell into a coma and had to be placed on a respirator. Tests indicated Amitai had only been vaccinated against the measles with a single shot, instead of the recommended two.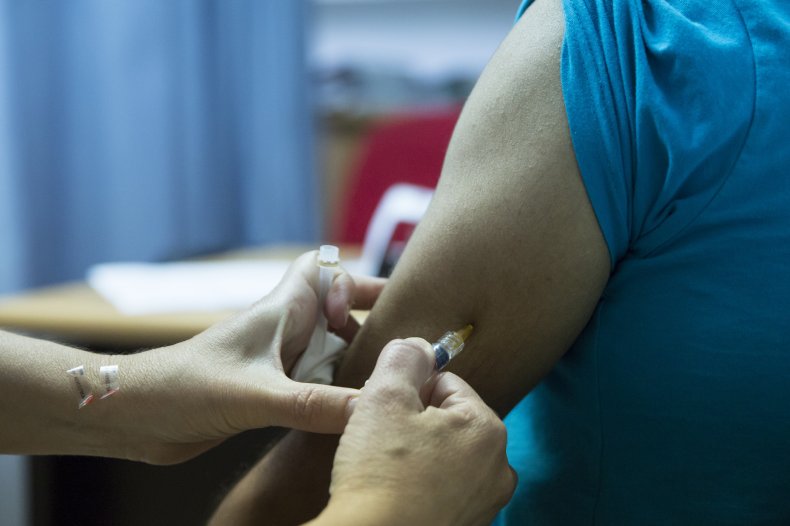 The Health Ministry also issued warnings this year about potential measles exposures on El Al flights from London and Thailand, at medical centers, public transportation stops and at Eilat's Underwater Observatory Marine Park.
Despite the outbreaks, Israel's immunization rates are among the highest in the world: According to The World Bank, 98 percent of Israeli children between 12 and 23 months have measles vaccinations.
The immunization gap, say health experts, is within the country's Haredi, or ultra-Orthodox, population. Israel's measles outbreak began in March 2018 in a Haredi community in Safed in northern Israel.
But the lack of vaccinations isn't because of any religious prohibition.
"In general, those closed communities use our health care system much less than nonreligious people," Dr. Roy Zucker, a specialist in internal medicine in Israel, told Newsweek.
As of July 2019, there have been more than 1,400 cases reported in Jerusalem, plus 400 in Beit Shemesh, 279 in Safed and 212 in Bnei Brak — all of which have heavily Orthodox populations.
Zucker believes educating Haredi about vaccines needs to come from inside the community. "Not from down on high from the government, but at eye-level, from their peers," he said. "If they heard their rabbis tell them to get vaccinated, they would."
The peer-to-peer strategy has been successful in addressing the spread of HIV in Tel Aviv, where Zucker works at an LGBT health clinic.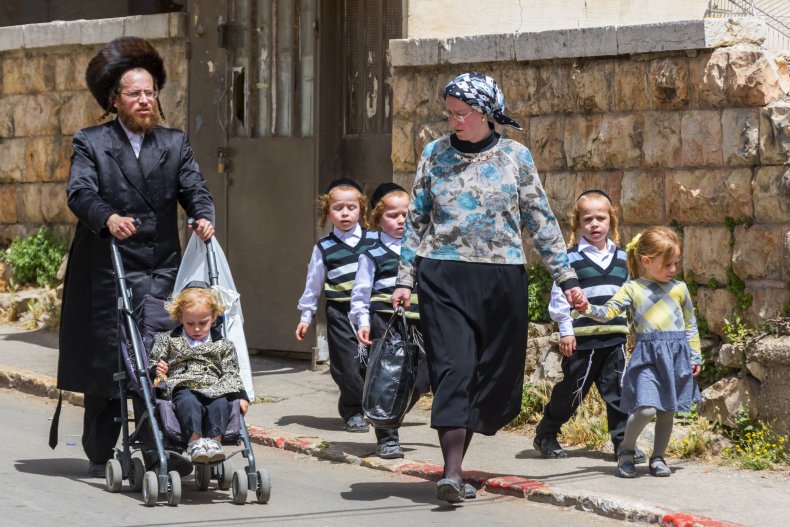 Measles outbreaks have been recorded across the developed world, including some 1,164 cases so far this year in the United States. And like the U.S., Israel has a homegrown culture of anti-vaxxers. "People who are not religious at all, who say 'Oh, it's better to get the measles than the vaccine,'" said Zucker. "They're growing here."
But it's the close-knit nature of Israel's religious community that puts the country in a unique predicament: In November, an unvaccinated 18-month-old in Jerusalem's ultra-Orthodox Mea Shearim neighborhood became the first recorded fatality from measles in Israel in 15 years. Her death was followed a month later by that of an 82-year-old Orthodox woman. A 10-year-old boy in Petah Tikva, another city with a large Haredi population, is currently in a coma, the result of complications from measles.
According to Zucker, the Israeli Health Ministry isn't doing enough. "The simplest thing to do is make it easier to get people vaccinated — and right now it's actually very hard to get."
While children can get immunized at their pediatrician's office, adults who are unvaccinated or under-vaccinated must go to special travel health clinics, which can be booked up for up to three months in advance, or the Health Ministry, which can take six months. "They'll tell you 'Okay, half-a-year from now you have an appointment!" Zucker said.
The recommended two-part MMR vaccination schedule was only instituted in the late 1970s, leaving more than two million Israelis either unvaccinated or only partially vaccinated for the measles. Those born between 1957 and 1977, like Amitai, only received one dose and are considered only partially protected.
Zucker said medical authorities often assume people born before 1957 were already exposed to the measles or got sick and developed immunity.
In addition, while Israeli children are required to be immunized against measles and other contagious diseases at six months and again before entering first grade, schools have little authority to enforce vaccination schedules, according to The Jerusalem Post. As a result, thousands of parents have failed to vaccinate themselves and their children.
While infection rates in Israel are on the decline overall, there is concern about a resurgence at the end of the month during the upcoming High Holidays, when many Jews travel to and from the Holy Land. Tens of thousands will make a pilgrimage to Uman, Ukraine, on Rosh Hashanah, the Jewish New Year, to pay tribute to Rabbi Nachman of Breslov, who died there in 1810.
Ukraine has faced its own measles epidemic, with nearly 70,000 cases since 2017, according to The New York Times. After the Uman pilgrimage in 2018, measles cases in Israel soared.
"In the upcoming holidays a lot of Israelis are traveling and people on flights are more prone to new infections," said Zucker. "The Health Ministry just wrote a warning regarding religious people going to Uman, asking them to get vaccinated right away."