Israel Must Not Allow Arab Politicians To Use The Country's Freedoms Against Itself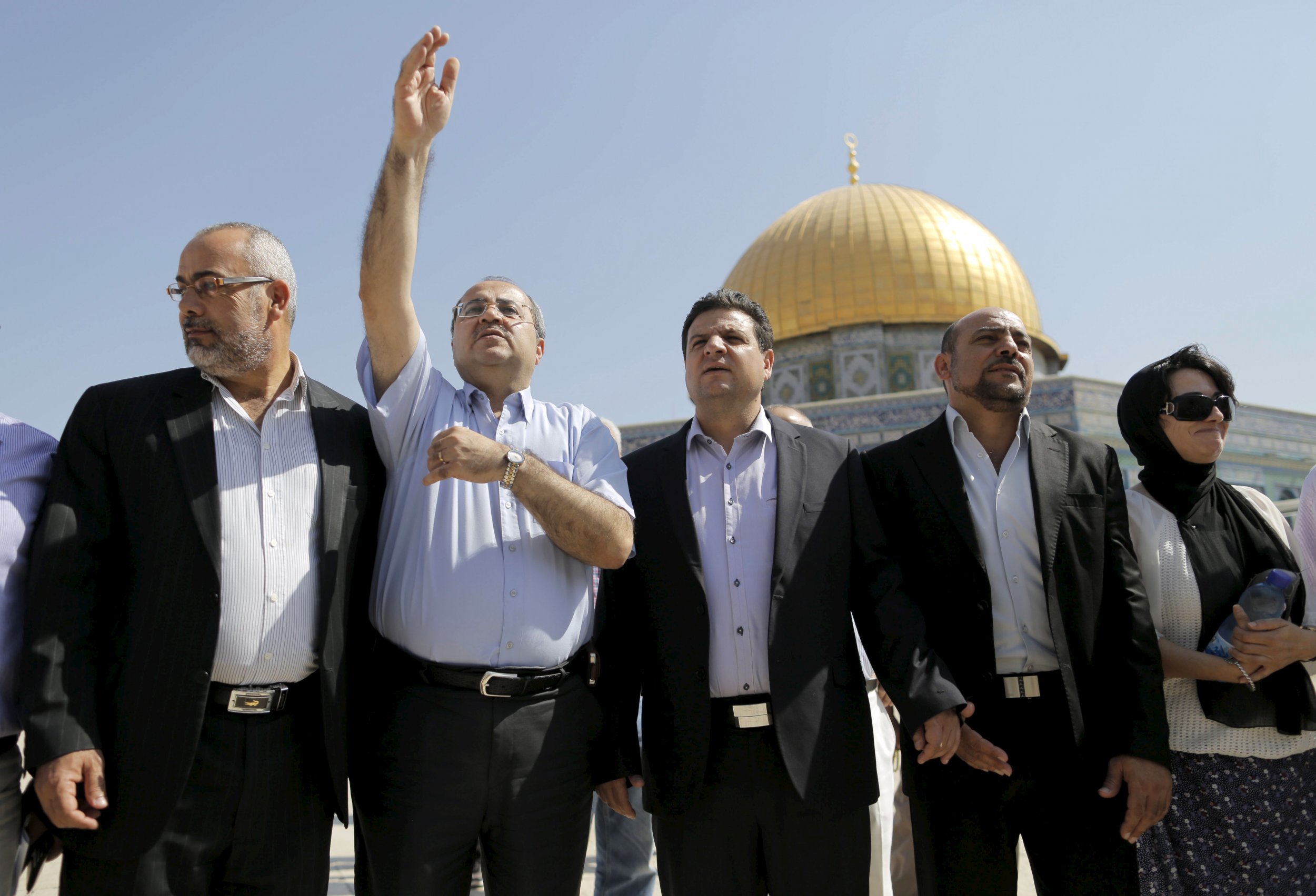 Imagine a U.S. Congressman expressing solidarity with the parents of the terrorists who committed the San Bernardino massacre or a British MP standing in silence in memory of Jihadi John. How would Congress and Parliament react?
That is the question confronting Israel's Knesset after Haneen Zoabi and two other Arab members of the Israeli parliament, the Knesset, met with the families of Palestinians who recently killed three Israelis. The Arab MKs stood for a moment of silence in honor of the murderers, whom Zoabi called "martyrs."
Such shameful behavior is hardly new for Zoabi. In 2010, shortly after her election as the first woman member of an Arab party, she joined the IHH, an Islamist radical group listed as a militant organization by Israel and the Netherlands.
Four years later, after Hamas kidnapped and killed three Israeli teenagers, Zoabi justified the murders as legitimate acts of resistance. She subsequently insulted two Arab policemen in Nazareth. "We should wash the floor with those who collaborate against their own people," she shouted at the officers. "We should spit in their faces."
Responding to these outrages, many Israeli legislators have tried to suspend Zoabi from office or even disqualify her from running, only to be overturned by higher courts. Freedom of expression is rigorously guarded in Israel, a country where citizens are accustomed to speaking their minds, even against the legitimacy of the state.
This is the case for Zoabi's party, the Joint Arab List, which does not acknowledge Israel's right to exist or a Jewish people endowed with that right. Arab Knesset Members will not salute Israel's flag or sing its national anthem. Again, imagine Congressmen who refused to respect the Stars and Stripes, to sing the "Star Spangled Banner" or—most inconceivably—recognize the Constitution. And imagine that such individuals accounted for more than ten percent of the legislature as does the Joint Arab List in Knesset.
Beyond rejecting Israeli sovereignty, Zoabi and other Arab Knesset Members routinely refute the legitimacy of Israel's democratically chosen leadership, discrediting it as fascist. Though elected to represent the interests of their Arab constituents, Zoabi and colleagues focus almost exclusively on assailing the "occupation." They are referring not to the territories Israel captured in the 1967 War but to those on which it was founded in 1948, essentially opposing a Jewish state in any borders. And while they have legally sworn allegiance to the state, Joint Arab List members refuse to support even a single Israeli act of self-defense, because they regard Israel, itself, as unjust.
These breaches of faith by elected officials would be unthinkable in virtually any other democracy, much less one located in the Middle East. A mere two-hour drive from where Zoabi condemns Israeli leaders, Hamas executes any Palestinian who dares to challenge its rule. Three hours away, in Syria, an outspoken secular woman such as Zoabi would be likely to lose her life to ISIS. Only in Israel can Muslims, Jews, Druze, and Christians openly and safely engage in political debate, even when that debate pushes the limits of what is democratically permissible.
Yet what happens when the debate deteriorates into incitement to violence?
Since October, 27 Israelis have been killed by Palestinian militant attacks that Zoabi has praised as a "popular struggle." Her only criticism has been aimed at the "lone actions" which, she said, should be replaced by a general uprising or Intifada similar to the one that took more than 1,000 Israeli lives between 2000 and 2005.
Then, last week, Zoabi and two other Arab List members met with the family of Bahaa Aliyan, the slain terrorist who boarded a Jerusalem bus and stabbed and shot three civilians. Among them was Richard Lakin, a 76 year-old American who once marched for civil rights with the Reverend Dr. Martin Luther King and later dedicated himself to Israeli-Palestinian peace. Praising Aliyan a martyr and mourning his death proved to be too inflammatory even for Israel's tolerant democracy.
So far, the Knesset Ethics Committee has voted to suspend Zoabi and the two others for a limited period though they retain their ability to vote. But the majority of Knesset members—and Israeli society at large—is demanding a more robust response. We cannot understand why we should bankroll officials who reject the existence of the state they pledged to serve, deny its right to defend itself, and glorify those who strive to destroy it.
One of the few countries never to know a moment of autocratic governance and the only one never to enjoy a moment of peace, Israel has the right and the duty to protect its hard-won democracy. Hanin Zoabi and other Arab politicians want to use Israeli freedom against itself. We cannot let them.
Michael B. Oren, formerly Israel's ambassador to the U.S. and a member of Knesset (the Israeli parliament), is the author of Ally: My Journey Across the American-Israeli Divide.