Israel Must Release 16-Year-Old Girl Who Faces 10 Years In Prison, Amnesty Says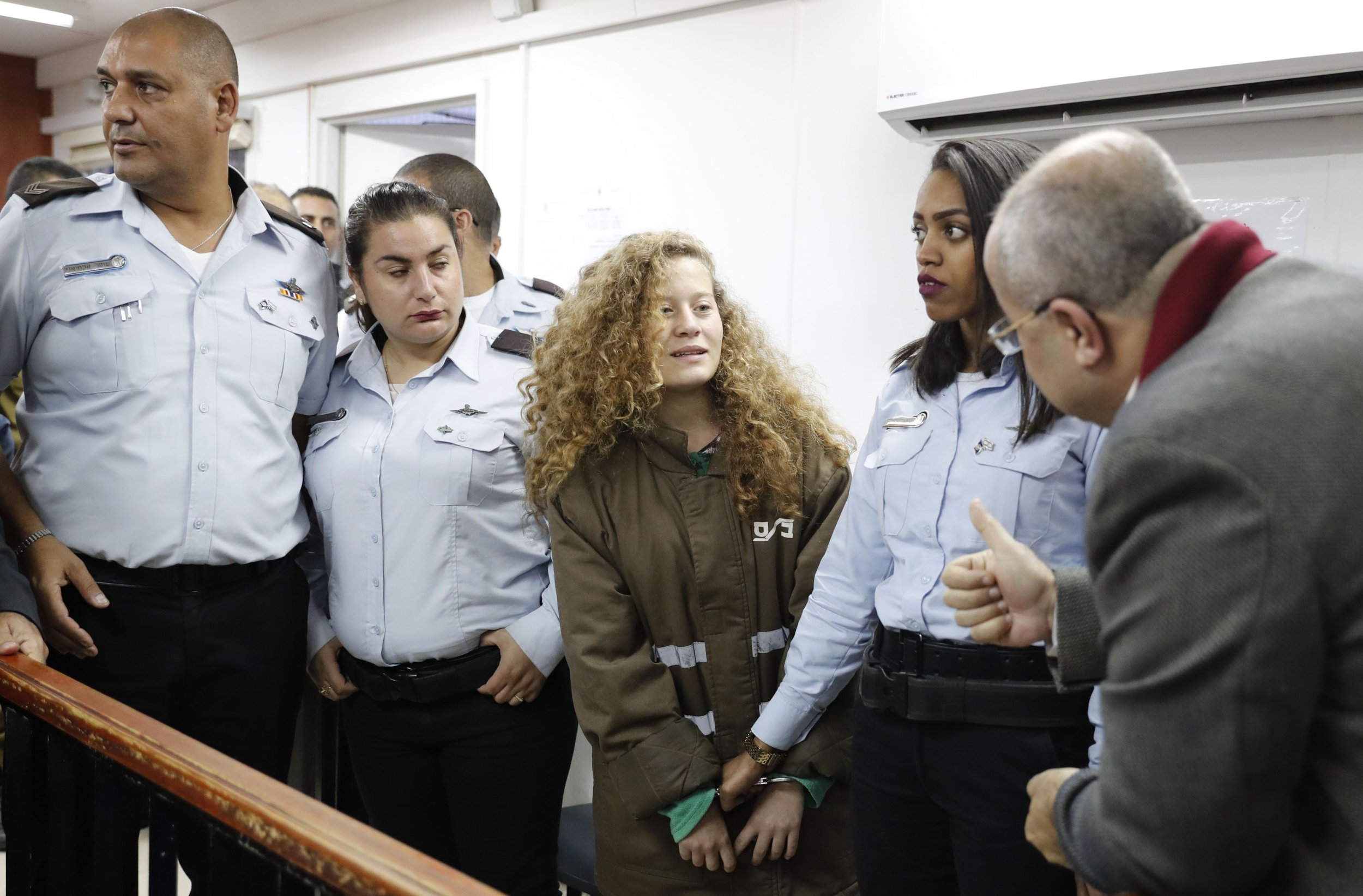 The 16-year-old girl who is languishing in an Israeli prison after being filmed slapping an Israeli soldier—hours after her cousin was shot and injured with a rubber bullet at close range—must be released immediately, Amnesty International said in a new report published on Monday.
Ahed Tamimi will find out on Monday if she will be granted bail as she goes before an Israeli military court in the West Bank, where Israel has maintained a military occupation since 1967.
A video released in December showed Tamimi, dressed in an Arab kaffiyeh, shouting in Arabic at an armed Israeli soldier, before slapping and kicking him as he stood on the edge of her family's property.
The soldier leaves the scene after the melee—which was filmed by Ahed's mother, Nariman—but soldiers returned to arrest Tamimi, her mother, and her cousin, four days later. Ahed now faces up to ten years in prison.
Her cousin, 14-year-old Mohammad Tamimi, has had part of his skull removed after being shot in the head with a rubber bullet fired by an Israeli soldier at close range. That incident took place on the same day before Ahed lashed out at the Israeli soldier.
"Nothing that Ahed Tamimi has done can justify the continuing detention of a 16-year-old girl. The Israeli authorities must release her without delay. In capturing an unarmed teenage girl's assault on two armed soldiers wearing protective gear, the footage of this incident shows that she posed no actual threat and that her punishment is blatantly disproportionate," said Magdalena Mughrabi, deputy director for the Middle East and North Africa at Amnesty International.
"Ahed Tamimi's ensuing arrest and military trial exposes the Israeli authorities' discriminatory treatment of Palestinian children who dare to stand up to ongoing, often brutal, repression by occupying forces."
Israel has indicted Tamimi on 12 charges, which include assault, stone throwing and incitement. For Palestinians, she is now a celebrated figure in their protest against Israel's military occupation.
Israel imposes military law in the West Bank that differs to the law that it imposes on hundreds of thousands of Israeli settlers, who are governed by Israel's state laws. According to Israeli newspaper Haaretz, nearly all of Israeli military court cases result in a conviction (99.74 percent).
While rights groups have called for Tamimi's release, the Israeli right-wing has called for her to face a long-term prison sentence. Israeli Education Minister Naftali Bennett said that Tamimi, her mother and her cousin should "finish their lives in prison."
Israel is party to the Convention on the Rights of the Child, but as many as 350 Palestinian children remain in Israeli prisons, according to estimates, where they face "threats and harsh interrogations," Amnesty said.
The coverage of the incident in both pro-Israeli and pro-Palestinian press sums up the divide on Tamimi's case that, like the wider conflict, appears to be irreconcilable.
A Jerusalem Post op-ed published last month said that "photogenic" Ahed was being used for the "two components of the Palestinian war to annihilate Israel: terrorism and propaganda." While the headline of an op-ed published on Monday by the Qatari-based Al-Jazeera summed up the Palestinian feeling: "Ahed Tamimi is the Palestinian Rosa Parks."
Israel, however, says that Ahed has a past history of activism and provocation, biting the hand of an Israeli soldier trying to arrest her brother in 2015 until he released him. In 2012, she was pictured raising her fist to an Israeli soldier, aged just 11. It accuses the Tamimi family of filming "propaganda," the Tamimi family says it is filming Israeli violations of their human rights.
The family, from the West Bank village of Nabi Saleh, says that the nearby settlement of Halamish has encroached on their land, and water supply. The Tamimis have a long history of protest against the Israeli military that operates in and around its West Bank village.
Ahed's father Bassem, writing for Newsweek, blamed his daughter's arrest on Israel's military occupation. He said that Ahed and her relatives would continue "peace resistance against Israel's brutal military rule and theft of our land."