Israel Arms Expo Hosts Myanmar Military Officials Despite Saying it Banned Weapons Sales Over Alleged Genocide
Despite claims from Israeli officials that the country stopped selling weapons to Myanmar following the alleged ethnic cleansing of the Muslim ethnic minority the Rohingya, officials from the predominantly Buddhist country were spotted attending a government-backed weapons conference in Tel Aviv on Tuesday.
Photos emerged in Israeli media of several military officials from Myanmar wearing military uniforms and entering the major weapons and security conference in Israel. Israel claimed as early as 2017 that it had stopped selling weapons to Myanmar due to pressure from human rights groups.
Still, it appears that Israel's military cooperation with Myanmar hasn't been altogether canceled. Last month, the human rights group Amnesty International issued a statement calling on Israel to stop arming countries that violate human rights.
"Israeli companies continue to export weapons to countries that systematically violate human rights" and that "often these weapons reach their destination after a series of transactions, thereby skirting international monitoring and the rules of Israel itself," reads a report by Amnesty International. "The absence of monitoring and transparency [has] for decades let Israel supply equipment and defense-related knowledge to questionable states and dictatorial or unstable regimes that have been shunned by the international community."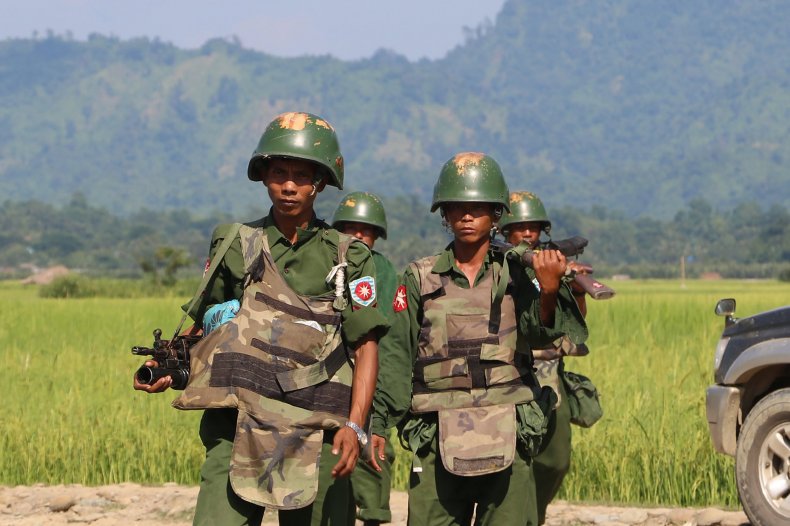 The report mentioned countries like Myanmar and the United Arab Emirates.
The Rohingya are an indigenous group based in the Rakhine State in northwestern Myanmar. Starting in 2017, a crackdown by the country's military forced around 400,000 Rohingya Muslims out of Myanmar and into neighboring Bangladesh and beyond. The United Nations called the event a "textbook example of ethnic cleansing."
Members of Myanmar's majority-Buddhist population, however, consider the Muslim Rohingya to be ethnic Bangladeshi foreigners with an extremist, pro-Islam agenda. This view has often been invoked to justify the decision to drive the Rohingya from the country.
Experts note that the situation has some parallels to Israel's relationship with the indigenous Palestinians. Israeli authorities claim that the Palestinians are ethnic Jordanian immigrants despite the fact that many have lived in what is now Israel before the state of Israel was founded.
In an op-ed published in 2015, American-Palestinian journalist Ramzy Baraoud highlighted the similarities between Myanmar and Israel and pointed out that many high-level Israeli officials, including former Israeli President Shimon Peres and the country's first Prime Minister David Ben Gurion, have visited Myanmar.
"Following the ethnic cleansing of the original inhabitants of Palestine, Israel immediately went on to fashion an alternative and particularly biased narrative about how it was established, and to deny Palestinians any historical link to their homeland," Baraoud wrote. "The Myanmarese did just that too."