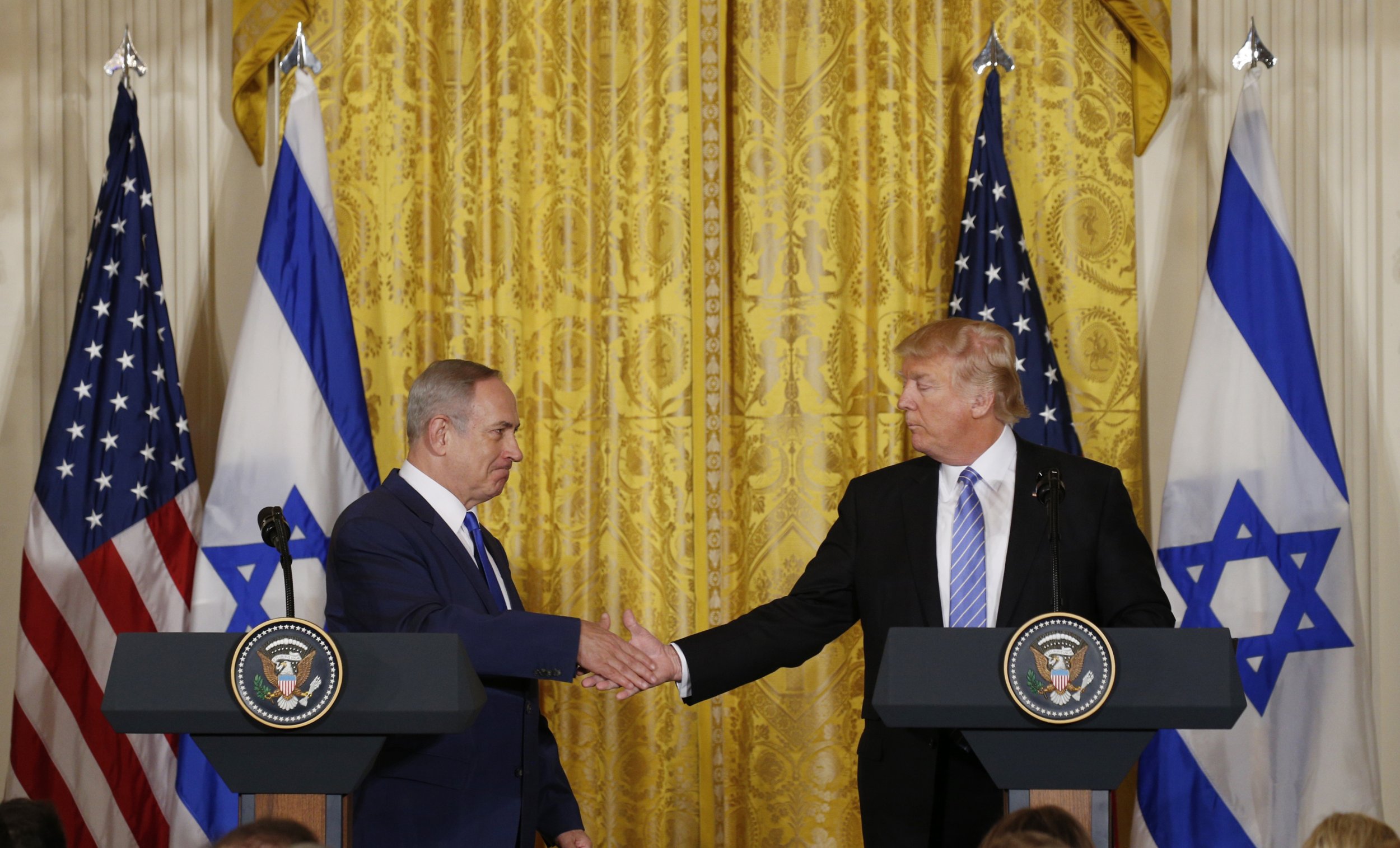 Israel's illegal construction of settlements and its forced displacement of Palestinian communities had intensified well before U.S. President Donald Trump met Israeli Prime Minister Benjamin Netanyahu at the White House on Wednesday. It is therefore not surprising that most Palestinians have been bracing for more ruthless Israeli policies following this meeting.
Trump's sharp departure from the "two-state orthodoxy" at the joint press conference, including his casual mention of the "one state formulation" as a serious option for ending the Palestinian-Israeli "conflict," has exacerbated Palestinian fears.
Given the bias Trump has demonstrated towards Israel's extreme-right regime, perhaps the most reasonable interpretation of Trump's position is that the U.S. will explicitly approve the Greater Israel agenda, burying the question of a Palestinian state for good.
Trump's remark that he would be "very happy" with the formulation "that both parties like" may seem to point in a different direction, as if putting Israel and the Palestinians on a par. But his donations to Israeli settlements and his nomination of an ardent supporter of violent Israeli settler groups as U.S. Ambassador to Tel Aviv shatters the illusion of neutrality.
Netanyahu expects his warm embrace of Trump to be reciprocated with unqualified U.S. support for Israel's land grab in the West Bank, its tightening siege of Gaza, its denial of Palestinian refugee rights, and its adoption of laws that further cement its "institutional, legal, and societal discrimination" against Palestinian citizens of Israel.
Trump's team seems to be giving Israel a green light to colonize what remains of Palestine and to entrench a system of apartheid and ethnic cleansing against Palestinians. Without any significant pressure from the opposite direction, it will remain largely apathetic to the sequence of unintended consequences that this may trigger.
With the sense of invincibility this could lend Israel, it seems to be embarking on what Palestinians fear might be an escalation of the ongoing Nakba. The Nakba, Arabic for catastrophe, refers to the mass expulsions of more than half the indigenous Palestinians from their homeland and the destruction of hundreds of Palestinian villages in 1948 to establish a Jewish-majority state.
Trump has frequently cited Israel's policies as a model to counter domestic criticism of his racist wall with Mexico, which Netanyahu openly supported, his refugee and Muslim ban, and his support for ethnic profiling.
Richard Spencer, a leader of the "alt-right," a major support base for Trump, has even defended the white supremacist movement's racist nationalism as "a sort of white Zionism." This unmistakable allusion to Israel's exclusionary foundations, as a state that privileges Jewish settlers over the indigenous Palestinian population and that treats African asylum seekers as a "cancer," further exposes the often-obscured contradiction between Zionism and liberal ideals.
As this contradiction becomes more visible, support for holding Israel to account is growing among Jewish Americans and the broader public. A 2014 poll showed that 46 percent of non-Orthodox Jewish American men under 40 support boycotting Israel to end its occupation. A 2016 survey by the Brookings Institution reveals that almost half of all Americans support imposing sanctions or taking tougher measures against Israel to stop its illegal settlements.
These polls and other indicators point to the impressive growth in the last few years of the Palestinian-led Boycott, Divestment and Sanctions (BDS) movement for Palestinian rights. My colleagues and I expect Israel's repression of our nonviolent movement, which seeks freedom, justice and equality, to reach unprecedented levels in the Trump era.
But Palestinians are not feeling lonely. We draw a lot of inspiration from the growing bonds of mutual solidarity with movements defending the rights of refugees, immigrants, women, workers, Black Americans, Muslims, Native Americans and the LGBTQI community, and from the fact that the time-honored tactic of boycott has become the non-violent weapon of choice for Americans opposing Trump and businesses connected to him.
Whether Trump ends up endorsing Israel's wild agenda of colonization and dispossession of Palestinians or puts it on a leash depends largely on how this gradually emerging global resistance to the far-right shapes up. I remain hopeful that BDS, with its strategic impact in defending Palestinian rights, will figure prominently in this resistance.
Major corporations that profit from Israel's now half-century-old military occupation have had to abandon the Israeli market under BDS pressure, and the list of artists and academics that are endorsing or heeding our institutional boycott of Israel is expanding remarkably.
American football player Michael Bennett of the Seattle Seahawks, along with five other NFL players, has recently cancelled his participation in an Israeli government-sponsored propaganda trip, expressing his support for Palestinians. In doing so, he cited the 1968 Olympian John Carlos, who said, "There is no partial commitment to justice. You are either in or you're out." Bennett wrote, "Well, I'm in."
I'm in too. Are you?
Omar Barghouti is a Palestinian human rights defender and co-founder of the Boycott, Divestment and Sanctions (BDS) movement for Palestinian rights. He is a founder of the Palestinian BDS National Committee (BNC), the largest coalition in Palestinian civil society.