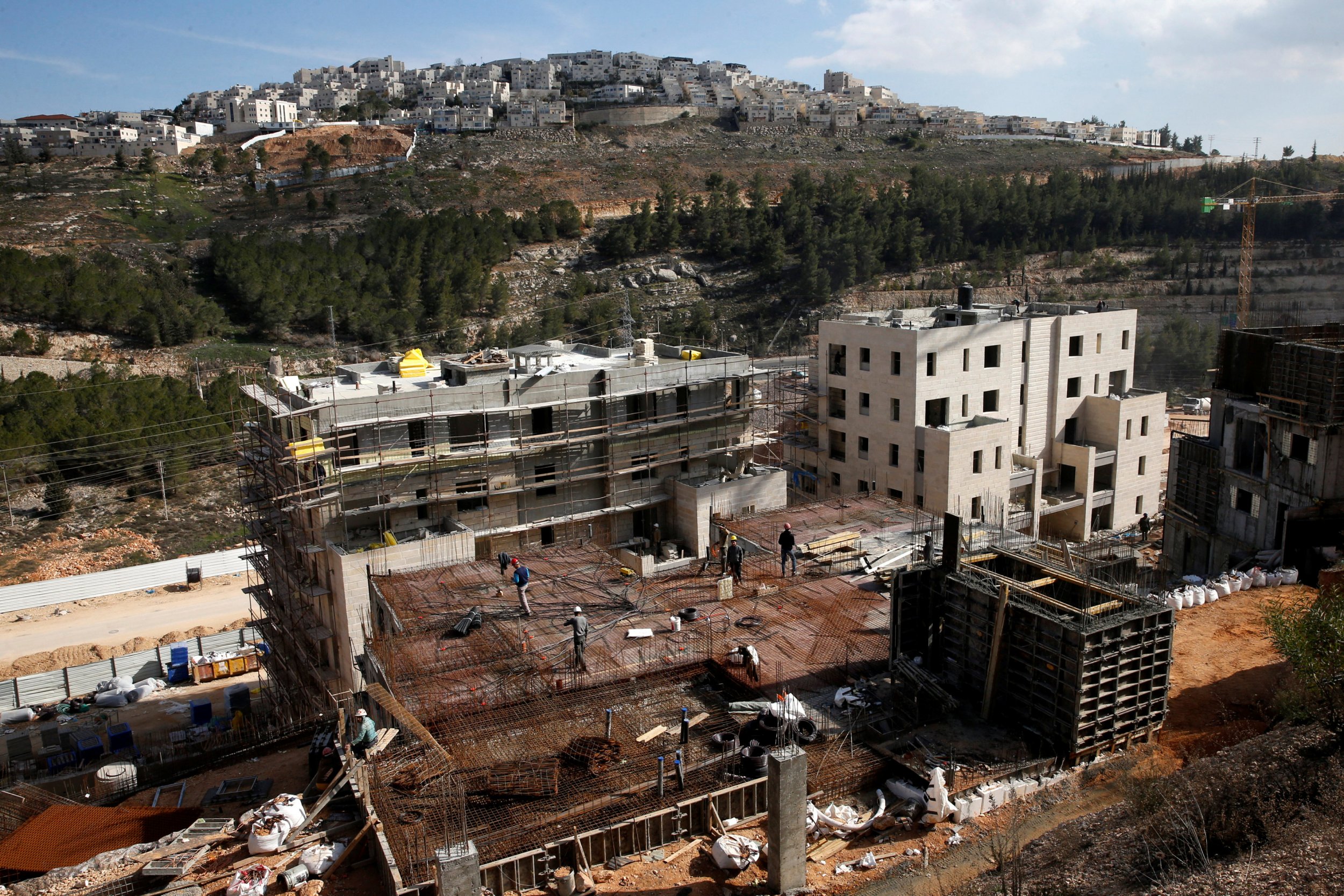 Israel approved building permits on Sunday for hundreds of homes in three East Jerusalem settlements in expectation that U.S. President Donald Trump will row back on the previous administration's criticism of such projects.
The housing projects, on land that the Palestinians seek as part of a future state, had been taken off the Jerusalem municipality's agenda in December at the request of Prime Minister Benjamin Netanyahu to avoid further censure from the administration of Barack Obama.
However, Israel's right wing believes that Trump's attitude towards settlements built in the West Bank and East Jerusalem—areas Israel captured in a 1967 war—to be far more supportive than that of his predecessor.
Netanyahu was due on Sunday to hold his first conversation with Trump since he took office. "Many matters face us. The Israeli-Palestinian issue, the situation in Syria, the Iranian threat," Netanyahu said in broadcast remarks at the start of his weekly cabinet meeting.
Senior ministers later voted unanimously to postpone discussion on a bill proposing the annexation of the West Bank settlement of Maale Adumim, home to 40,000 Israelis near Jerusalem. A statement said the proposal would be put on hold until after Netanyahu meets Trump.
Jerusalem's City Hall approved the building permits for more than 560 units in the urban settlements of Pisgat Zeev, Ramat Shlomo and Ramot, areas annexed to Jerusalem in a move unrecognised internationally.
Jerusalem Mayor Nir Barkat said in a statement that the eight years of the Obama administration had been "difficult with pressure ... to freeze construction" but that Israel is now entering a new era.
The Palestinians denounced the move. "We strongly condemn the Israeli decision to approve the construction," Nabil Abu Rdainah, spokesman for Palestinian President Mahmoud Abbas, told Reuters.
In its final weeks, the Obama administration angered the Israeli government by withholding a traditional U.S. veto of an anti-settlement resolution at the United Nations Security Council, enabling the measure to pass.
Trump's nominee to be U.S. ambassador to the United Nations, Nikki Haley, echoed his condemnation of the world body over its treatment of Israel at her Senate confirmation hearing on Wednesday.
In a proposal that has drawn a Palestinian outcry, Trump has also pledged to move the U.S. embassy from Tel Aviv to Jerusalem.
Israel views all Jerusalem as is its capital, but most of the world considers its final status a matter for peace negotiations. The Palestinians have said that an embassy move would kill any prospect for peace. Negotiations broke down in 2014.
Trump has also appointed a new U.S. ambassador to Israel, David Friedman, who is considered a settlements supporter.
Commentators in Israel have said it is too early to tell what Trump's policy on these matters will actually be once he takes office.
Most countries consider settlement activity illegal and an obstacle to peace. Israel disagrees, citing a biblical, historical and political connection to the land—which the Palestinians also claim—as well as security interests.