Israel Open for Ukraine Jews to Immigrate Amid War, Including Zelenskyy
An Israeli diplomat has told Newsweek that the country is open for Ukraine's Jewish population, including President Volodymyr Zelenskyy, to immigrate to as Russian forces advance across the neighboring Eastern European nation.
"Israel was created to be the home of any Jew that wants to immigrate to Israel," Israeli Foreign Ministry spokesperson Lior Haiat told Newsweek, "and we'll be happy to receive any Jew that wants to immigrate from Ukraine to Israel."
It was made clear that this welcome included Zelenskyy, who spoke Friday with Israeli Prime Minister Naftali Bennet.
"The two leaders discussed the situation in Ukraine, with an emphasis on the Kiev region," Bennett's office said in a readout. "Prime Minister Bennett offered Israel's assistance with any humanitarian aid needed and updated President Zelensky on the steps already taken in this regard."
Bennett was also said to have "reiterated his hope for a speedy end to the fighting, and said that he stands by the people of Ukraine in these difficult days.."
Zelenskyy has so far vowed to remain in Ukraine as Russian forces intensified what Russian President Vladimir Putin has termed a "special military operation" to achieve the "demilitarization and denazification" of Ukraine.
Kyiv has roundly rejected Putin's narrative of Ukraine presenting any threat to Russia's national security. And while a sizable far-right and neo-Nazi community exists there, including among the contingents of Ukraine's armed forces and allied paramilitary groups, Zelenskyy's election in 2019 made Ukraine the only country other than Israel, the world's only majority-Jewish state, to have both a Jewish president and prime minister.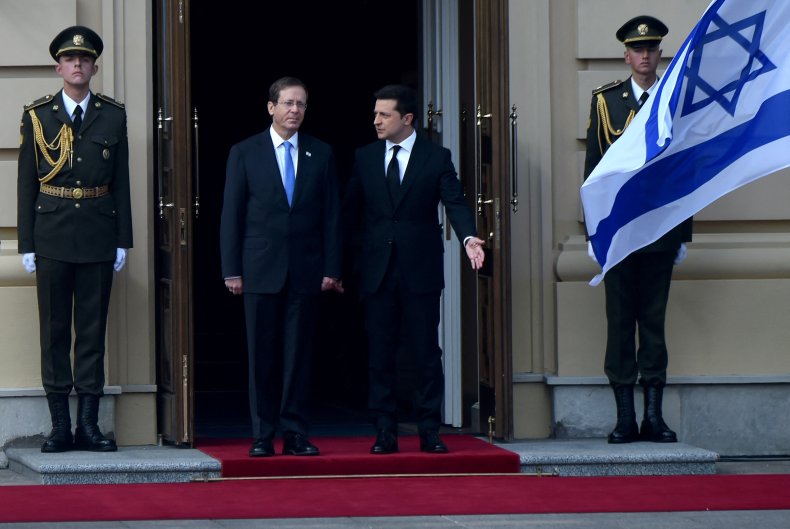 Since coming into office, Zelenskyy has faced intensified Russian efforts to prevent Ukraine from joining the U.S.-led NATO alliance. That effort was embedded into the country's constitution months before Zelenskyy assumed leadership, which occurred amid an ongoing conflict between Kyiv and pro-Moscow separatists in the eastern Donbas region that proclaimed independence after 2014 protests brought to power a West-aligned government in Ukraine.
After months of Russian military troops gathering near Ukraine's border and repeated denials by Moscow of plans to invade, Putin offered recognition to the self-declared Donetsk and Luhansk people's republics on Monday, and granted their appeal for military support.
The move expanded the limited war over Donbas into an all-out conflict, with Russian forces pounding Ukrainian positions by air, land and sea and sending in ground troops to penetrate the country from multiple fronts.
As Ukrainian units clashed with Russian forces on the first day of open hostilities, Zelenskyy delivered an address Thursday and rejected claims that he "allegedly left Kyiv."
"I stay in the capital, I stay with my people," Zelenskyy said. "During the day, I held dozens of international talks, [and] directly managed our country. And I will stay in the capital. My family is also in Ukraine. My children are also in Ukraine. My family is not traitors. They are the citizens of Ukraine. But I have no right to say where they are now."
Zelenskyy also cited intelligence showing that "the enemy marked me as the number one target" and that "my family is the number two target." He said Russia sought "to destroy Ukraine politically by destroying the Head of State" and that, despite reports of "enemy sabotage groups" having entered the capital, he has remained "in the government quarter together with all those who are necessary for the work of the central government."
On Friday, the Ukrainian Defense Ministry shared a video appearing to show him in the open in Kyiv, praising the country's war effort against Russia.
Zelenskyy has continued to call for Ukrainians to resist in addresses to his nation. But at the same time he has expressed a willingness to negotiate with Russia on various issues, including Kyiv's potential neutrality. Putin too said Friday he was prepared for high-level talks during a conversation with Chinese President Xi Jinping.
Putin then, however, called on Ukrainian forces to turn on their leadership ahead of any potential discussions.
"Take power into your own hands," Putin said, "it looks like it will be easier for us to negotiate with you than with this gang of drug addicts and neo-Nazis who settled in Kyiv and took the entire Ukrainian people hostage."
Reports of military operations throughout the country continued as Russia pushed deeper into Ukraine despite condemnation from the West. U.S. President Joe Biden has already rolled out a number of sanctions targeting senior Russian officials and state institutions, and the European Union indicated Friday it would blacklist Putin and Russian Foreign Minister Sergey Lavrov directly.
Israel, for its part, has avoided taking a hard line with Russia as Bennett has set out to establish not only good relations with Moscow but a warm personal repertoire with Putin himself.
During their latest reported phone call last month, as the Ukraine crisis continued to escalate, Bennett's office said he had a "good" conversation with his Russian counterpart in which "the two leaders discussed a number of issues, primarily matters of regional security."
Putin also extended an invitation to Bennett and his wife to visit St. Petersburg, an offer Bennett's office said they "would be pleased" to accept.
That being said, Israeli Foreign Minister Yair Lapid did issue a statement Thursday in which he said that "the Russian attack on Ukraine is a violation of the world order and Israel condemns it."
On Friday, Russian Deputy Foreign Minister Mikhail Bogdanov received Israel's ambassador in Moscow, Alexander Ben Zvi, during which the Russian Foreign Ministry said "topical issues of bilateral relations were discussed," including the situation in Ukraine.
"In this context, the Russian side paid special attention to the need to continue efforts to preserve the historical truth about the Second World War, the Holocaust and counteract attempts to glorify Nazism," the Russian readout said.
"At the same time, the hope was expressed that Israel would treat with due understanding the reasons that prompted the Russian leadership to decide to conduct a special military operation to protect civilians in Donbass, demilitarize and denazify Ukraine," it added. "The intention to continue a constructive political dialogue, the progressive development of mutually beneficial trade and economic cooperation and cultural and humanitarian ties was also confirmed."
This is a developing news story. More information will be added as it becomes available.