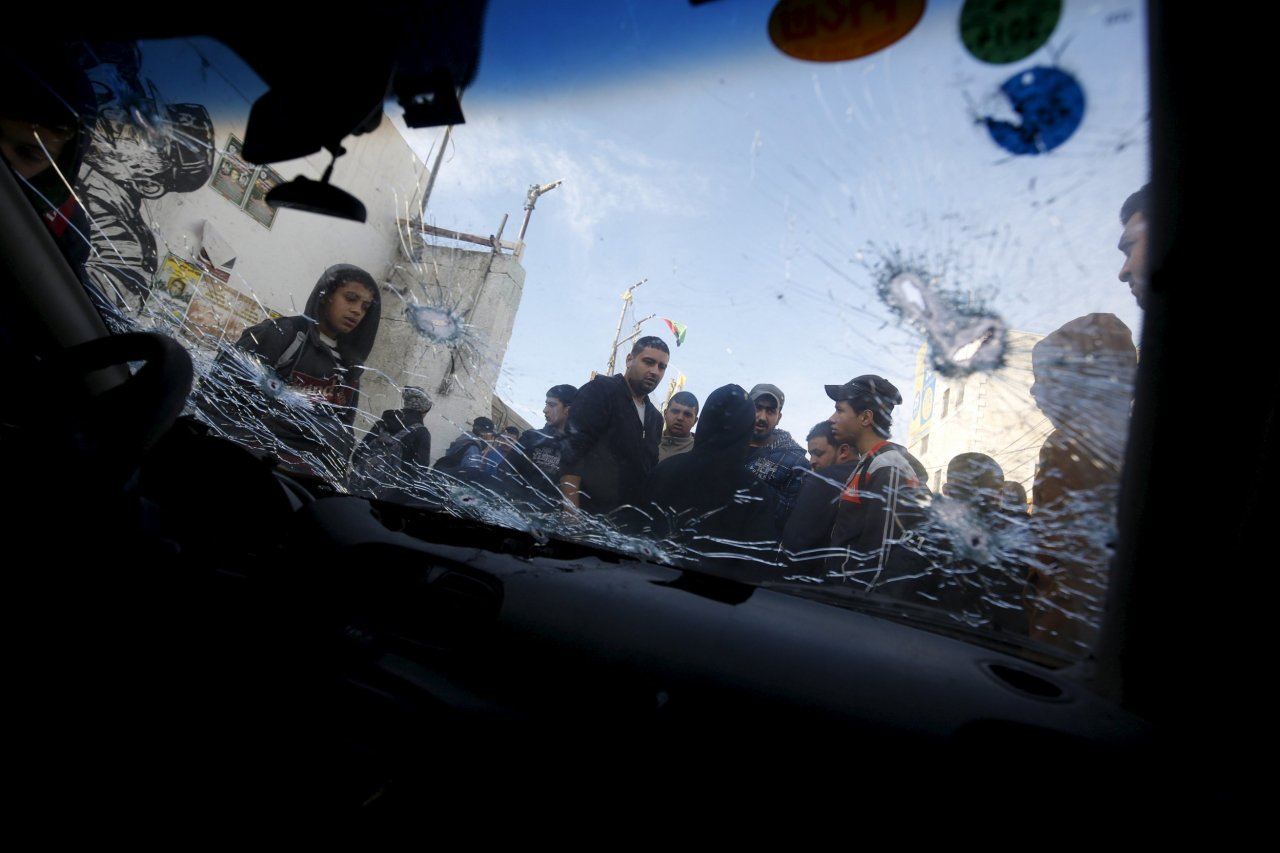 Majd Atwan, a 22-year-old Palestinian beautician and activist, sits on the front steps of her family house on May 24, enjoying her recently regained freedom. Less than a week earlier, she was behind bars after an Israeli military court sentenced her to 45 days in prison and gave her a $749 fine. Her crime: posting comments on Facebook about violence between Palestinians and Israelis, including one post in which she praised a recent bus bombing in Jerusalem. "The news of 20 settlers injured is nice," she wrote, referring to the Israeli citizens who live in towns in the West Bank, territory most countries in the world consider to be occupied land.
"They arrested me because they want to stop other Palestinians resisting the occupation; but it's not working, it won't stop us fighting this occupation," says Atwan, now back in her family home in Bethlehem.
Crackdown on speech
Since the latest uptick in violence that began last October, which Palestinians call the knife intifada, the Israeli military and police have been increasingly monitoring social media posts by Palestinians and Palestinian citizens of Israel, called Israeli Arabs. Palestinians say this monitoring and the arrests that follow violate their right to speak freely online. Israel says that reading Palestinian posts on social media is one of the only ways it can prevent lone-wolf attacks and also enable security officers to identify Palestinians who are not themselves planning to commit acts of violence but whose posts glorify violence.
The Israeli military says its courts have charged 60 people with incitement since the outbreak of violence. The Adalah Legal Center, an Arab-Israeli-run organization based in Haifa, Israel, says the number of arrested is closer to 400, including 150 Palestinians in the West Bank, and 250 Arab citizens of Israel. The spate of violence has resulted in the deaths of 28 Israelis and two Americans. More than 200 Palestinians have also died, most killed by Israeli forces during attacks or demonstrations.
Just months after the upturn in violence Israel launched a military task force as part of an existing internal security unit to monitor Arab-Israeli and Palestinian social media activity. It created 5,000 fake Facebook accounts using names in Arabic to monitor other accounts and extract information by following the Facebook pages of Palestinians they suspect. Conversation threads on those pages often lead to other pages, where more threats are found, police spokesman Micky Rosenfeld says.
"Following attacks, many assailants have stated that they were directly inspired by incitement on social media, which led them to carry out attacks," says Lieutenant Colonel Peter Lerner, an Israeli military spokesman.
"It's a challenge—we have to figure out the people who have intent beyond the words they post on Facebook. This phenomenon is widespread, but it's like finding a needle in the haystack when it comes to isolating people who are about to carry out an attack."
In Israel's military courts, which have jurisdiction over the West Bank and which prosecuted Majd, prosecutors do not need to prove actual violence occurred as a result of posts on social media. In civilian Israeli courts, however, the law holds that an act of incitement is committed only when there's proof that such speech could directly lead to violent acts.
Israel's Knesset recently accepted the first reading of a bill that seeks to lower the threshold of speech that constitutes incitement to violence. Under the proposed law, no direct proof would be needed to show the person intended to carry out any violence. The bill is expected to pass before the end of the year. Cases of incitement could result in a charge punishable by up to five years in prison.
'There is no democracy'
Activists and rights groups say the Palestinian security forces that control parts of the West Bank are also arresting people who have merely criticized the Palestinian Authority (PA) and Israel.
Kifah Quzmar, 27, was arrested on May 11 by PA security forces on charges of "disparaging authorities" after he posted on Facebook, "The Mukhabarat is rotten." He was released on bail after his brother paid a bond of $7,000, but he could be sentenced to 90 days in prison. Palestinian police arrested 30 people for insulting or disparaging a public official in 2015, compared with 10 in 2014.
"Control of social media is common in all countries around the world in order to stop crimes being committed, and in Palestine we have electronic control over everything that is posted," says Adnan Dmeiri, a PA security forces spokesman. "We follow these posts and the person who posts these things."
That attitude infuriates young Palestinians. "There is no democracy; there is no open-mindedness for youth saying what they want on Facebook," says Quzmar.
Quzmar and Atwan are part of a generation of Palestinians who have grown up since the signing of the Oslo Accord in 1993. Those agreements were intended to lead to a deal that would end the conflict between Israel and the Palestinians. The peacemaking failed, however, and the region erupted in violence in 2000. That conflict eventually petered out, but since then the region has remained volatile, and there have been periodic wars between militants in Gaza and Israel.
Atwan, like many of her peers, is obsessed with young Palestinians who have been killed by Israelis during what she considers acts of resistance, and she has catalogued their deaths on her Facebook page. Last fall, that activity drew the attention of the social media monitors.
"The Mukhabarat [Palestinian security forces] had been ferreting around the neighborhood, warning my father and others. They said I needed to calm down and stop criticizing the Palestinian Authority and Israel," says Atwan, who was arrested by Israeli police at 2 a.m. on April 19.
Atwan says that while she was being interrogated by police in Jerusalem, an Israeli officer slammed down 45 pages of paper with her Facebook posts dating back to 2005. "The first post they objected to was a post about the two guys who started the third intifada—Dhiaa al-Talahme and Mohanned Halabi," she says. Last year, on October 3, 19-year old Halabi stabbed to death two Israeli civilians who were on their way to pray at the Western Wall in Jerusalem's Old City. Israeli police shot and killed Halabi.
Atwan says she will continue to use Facebook as she has before. "I had a hard time in prison, but the support for me has been huge," she says. "I will keep fighting, even if I get arrested 100 times."