Israel PM Netanyahu Vows Hamas Will Pay 'Heavy Price': 'They Will Not Escape Our Strikes'
Israeli Prime Minister Benjamin Netanyahu vowed on Friday that the Palestinian militant group Hamas will pay a "very heavy price," amid escalated violence between Israel and Hamas.
In an address to the nation posted on his Twitter account, Netanyahu said that Israel "would exact a very heavy price from Hamas and the other terrorist organizations."
"We are doing so and we will continue to do so with great force. The last word has not been said and this operation will continue as long as necessary in order to restore the quiet and security to the State of Israel," Netanyahu said in his address, according to the Jerusalem Post.
Netanyahu added, "they will not escape our strikes."
According to the Times of Israel, Netanyahu also said that "Hamas leaders think they can escape from our grasp. They cannot escape. We can reach them everywhere — all of [Hamas's] people and we will continue to do so."
The comments made by Netanyahu on Friday come amid increased violence between Israel and Hamas.
On Thursday, Israeli officials said that Hamas had fired over 1,800 rockets at Israel while Israel's Defense Force (IDF) had completed more than 600 airstrikes across Gaza. The majority of rockets fired at Israel have been taken down by the country's Iron Dome defense system, officials said.
The health ministry in Gaza has reported around 119 Palestinian fatalities from Israeli airstrikes, including 31 children. As Hamas has continued to fire back at Israel, they have claimed around eight Israeli deaths.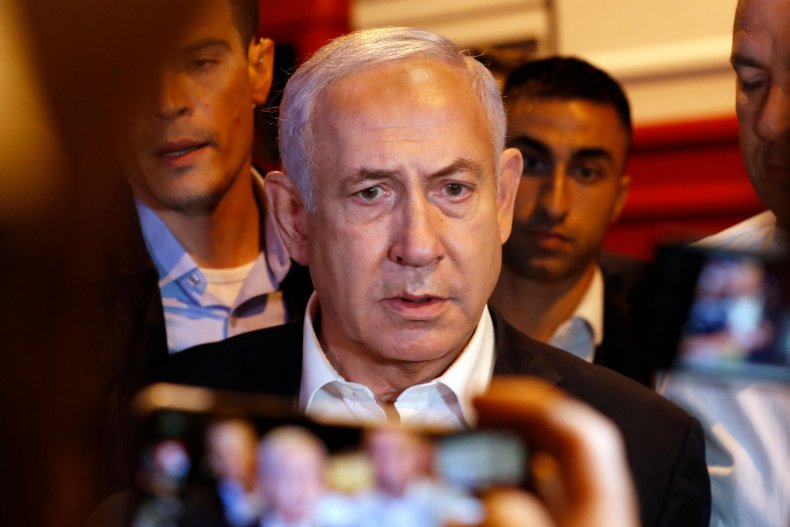 The increased violence stemmed from the potential removal of Palestinian families from east Jerusalem's Sheikh Jarrah neighborhood.
In addition to the continued airstrikes, Israel also recently announced that they plan to deploy 9,000 ground soldiers against Hamas. In response to Israel's announcement, Hamas military spokesman Abu Obeida told the Associated Press that doing so will give Hamas the opportunity to "increase our catch of Israeli soldiers."
Netanyahu made similar comments earlier this week when he warned outside nations that "whoever attacks us will pay a heavy price."
Despite the recent comments from Netanyahu, many officials across the globe have called for a deescalation of violence between Israel and Hamas.
"I spoke with @IsraeliPM today about the ongoing situation in Israel including rocket fire emanating from the Gaza Strip targeting Israeli civilians. Israel has the right to defend itself. Palestinians need to be able to live in safety and security. It's vital now to deescalate," U.S. Secretary of State Antony Blinken wrote in a tweet earlier this week.
Blinken also recently spoke with Palestinian Authority President Mahmoud Abbas and according to a readout of their call released by the State Department, Blinken "condemned the rocket attacks and emphasized the need to de-escalate tensions and bring the current violence to an end."
Newsweek reached out to Netanyahu's office for comment, but did not receive a response in time for publication.