Israel Ponders Bad Options to Ease Jerusalem Tension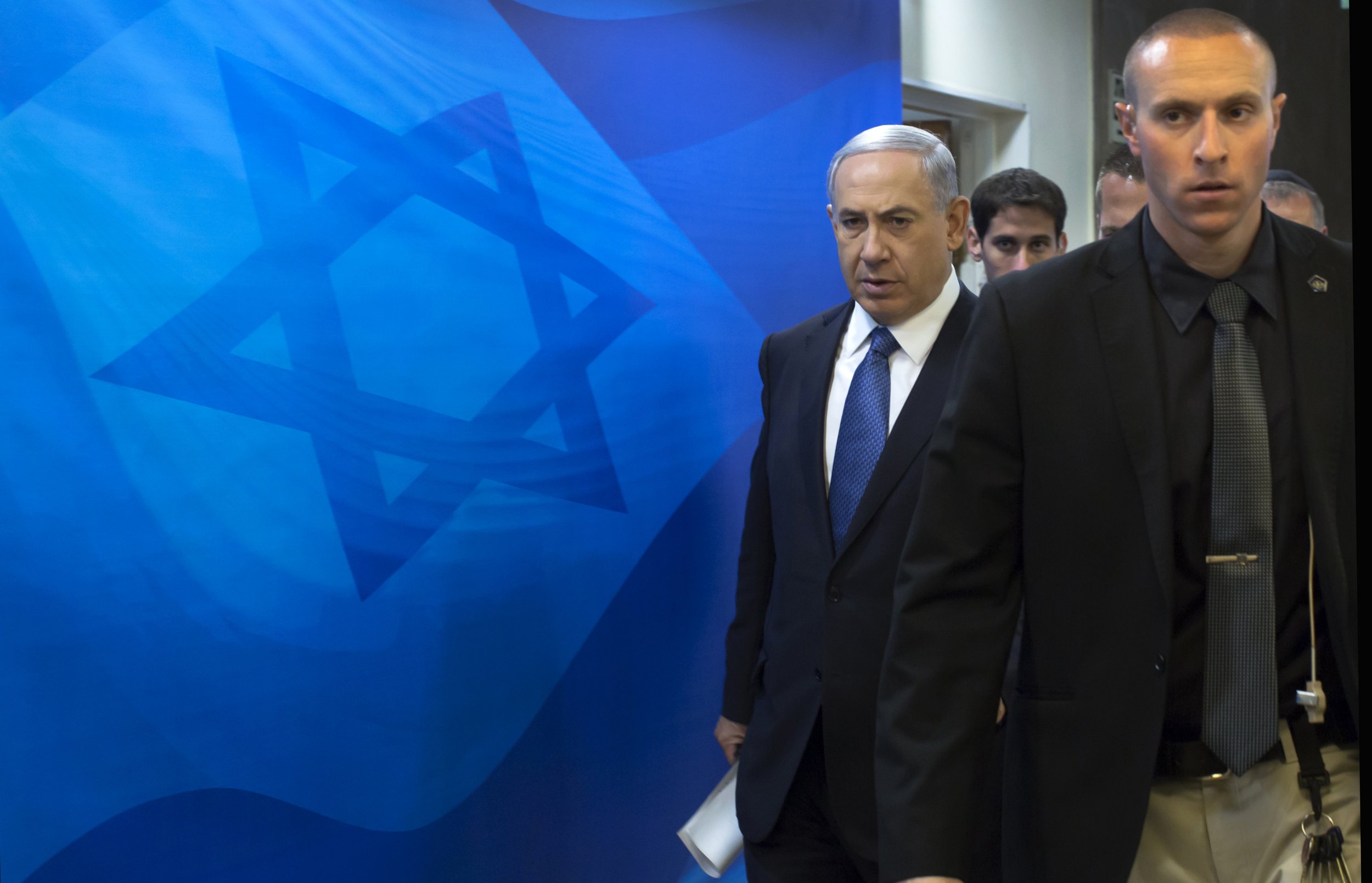 As Jerusalem, a city with a long history of religious wars, has been infected by the rising Islamist fervor of the region, Israel faces a short menu of options for lowering tensions in its capital. Worse: None of the items on that menu are very palatable.
In the wake of the deadly attack by two Arabs from Jerusalem's eastern neighborhood on a synagogue at the heart of a Jewish section in the city's west last week, Prime Minister Benjamin Netanyahu vowed heavy punishment, while left-wing Israelis said that harsh measures would fail to calm Arab anger.
Negotiations must resume to lower passions, they say—even as government officials warn that renewed diplomacy can only lead to more violence.
Even before the November 18 synagogue attack, several Arab residents of Jerusalem, who unlike West Bankers possess Israeli identification cards and license plates, rammed their cars into Israelis in Jerusalem train and bus stations, or used knives and guns in escalating "lone wolf" attacks.
As fear and frustration grow, left-leaning politicians have renewed calls to unseat the Netanyahu government by forcing early elections, or by composing an alternative, center-left governing coalition that would renew the drive to reach a peace agreement with the Palestinians. A new proposed law that would define Israel, based on its declaration of independence, as a "Jewish State," threatens to break up the current government, as several of its leading centrist ministers have threatened to vote against it.
But Netanyahu and members of his right-leaning government, who are still considered favorite to win any such elections, say that the would-be Palestinian peace negotiator, Palestinian Authority President Mahmoud Abbas, is the source of the troubles, rather than their solution. They think Abbas is making the most of Islamist sentiments, which, they note, are growing faster in the Palestinian territories than elsewhere in the Arab world.
A poll, published in mid-November by the Qatar-based Arab Center for Research and Policy, surveyed attitudes toward the Islamic State (ISIS) in eight Arab countries. Most Arabs, it found, oppose the jihadi organization. When asked "In general, do you have a positive or negative view of [ISIS]," the highest number of respondents who answered "positive" or "positive to some extent" (24 percent) were Palestinians.
Israeli policy makers are looking at several options to undermine motivation among mostly young Palestinians to act violently on such jihadi sympathies. Officials already announced that they would demolish the homes of families of those who commit terrorist acts, hoping that would make others think twice before committing future attacks. But security officials acknowledge privately that while such deterrence may work on some—who may want to die in martyrdom, but not have their loved ones suffer—it could at the same time increase the desire for revenge among many.
The same is true for other measures that would increase the pressure on Arab-populated areas of Jerusalem that are at the heart of the current violence. Proposals include the establishment of onerous checkpoints in the toughest neighborhoods, mass arrests of Islamist agitators and confiscation of weapons that are too readily available in Arab neighborhoods.
Security officials say that the most effective tool to deter future terrorists is the threat that their families would be exiled from Jerusalem. But unlike the destruction of homes, the Israeli Supreme Court declared illegal the exile of relatives who are not directly involved in the terrorist actions of a member of their family.
All these measures are further complicated in a city that Israel insists must remain united under its sole control. That means it cannot easily separate Arabs and Jews. And while past waves of violence, such as the second intifada in the early 2000s, were semi-organized, the current violence appears to be spontaneous and mostly committed by individuals armed with knives and axes—or cars that can run over pedestrians.
Containment, therefore, is much more difficult for Israelis than in the past, but the government believes containment is the only method available to it.
"Before we look at ways to put this genie back in the bottle, we must look at the way it was let out," Israel Minister of Intelligence Yuval Steinitz told me a few days after four worshippers and a policeman were killed in the Har Nof synagogue attack.
"Hamas had tried for months to call on its followers to ascend on Jerusalem and defend al Aqsa," Steinitz said. The Palestinian media also made similar calls, he added. But then, in late September, Abbas, widely known as Abu Mazen, urged Palestinians to go and protect the mosque, Islam's third holiest site, from Jews who, he said, were trying to contaminate it.
The Palestinian state-run media broadcast that Abbas clip 20 times, Steinitz says, adding, "What was really new was that Abu Mazen, in his own voice, made that call. And that was the starting point."
So now, he says, "First, we have to take very strong measures against the terrorists, and we are doing it." Also, "The prime minister said we are not going to change the status quo [on the Temple Mount,] and I hope reasonable people will listen," and lower tensions on the Palestinian side.
Netanyahu vowed last week that, "with a determined and heavy hand, we will restore security to Jerusalem."
But many have lost confidence in his ability to do so. "There are measures that can be taken to improve security in Jerusalem, but it won't solve the problem," said Ephraim Sneh, a former Israeli Defense Force commander of the West Bank who has also served in several center-left governments. "The [top] reason for what's happening now is total, absolute stalemate in political negotiations," he said.
As rightist members of Netanyahu's government openly say they oppose a Palestinian state, Sneh added, "The unavoidable outcome is despair, and despair leads to terrorism. You can bring thousands more policemen to Jerusalem, but this is all in the framework of the status quo."
And unlike Netanyahu, Sneh does not blame Abbas for failing to move on an agreement. "There is a deal to be made," he says. "All the details are well known, but the current [Israeli] government won't do it."
Last week, before the murders in the synagogue, U.S. Secretary of State John Kerry arrived in Amman, Jordan, where he very publicly met with Netanyahu and Jordan's King Abdullah to talk about lowering tensions in Jerusalem. Netanyahu made clear that he has no intention of allowing Jews to pray at the high plateau on the top of the Temple Mount, known to Muslims as Haram al-Sharif, or Noble Sanctuary, or otherwise change the status quo that existed there since 1967. The mosques are administered by a Muslim authority named by Jordan.
But Abbas was absent from that meeting, and instead he met Kerry separately on the same day in his Amman home. "It is not yet the right moment for the two sides to come together," Kerry said when asked about Abbas's absence from the other meeting. "They both need to see that things are changing," before appearing together in public, he added.
Ever since last year's collapse of the Palestinian-Israeli talks promoted by Kerry after nine months of fruitless negotiation, Abbas decided, much to Washington's chagrin, to move his efforts to the United Nations and other international arenas.
Frustrated Jerusalem diplomats watched as the Palestinians convened the U.N. Security Council time after time to accuse Israeli Jews of "desecrating" Muslim and Christian holy sites. The Palestinians also pushed for a resolution that would force Israel to leave the West Bank and Jerusalem within two years, which the United States threatened to veto.
Last week Palestinian U.N. ambassador, Riad Mansour, told me that to calm tensions in Jerusalem, the Security Council must "make the two sides, whether they like it or not, abide by" his proposed resolution. "I think that will be a great service to both sides and will [start] the process of diffusing the situation," he said. But on Monday the Palestinian foreign minister, Riyad al-Maliki, said that submitting the proposal for a vote would once again be postponed, due to little support at the council.
Even if, as Washington and the Israeli left clearly prefer, peace negotiations resume, rather than a U.N. dictate, there is no guarantee that Jihadi fervor would be abated. As many even on the Israeli left acknowledge, negotiations tend to bring out spoilers who try to sabotage them by committing terrorism. Also, the collapse of negotiations was followed in the past by renewed violence.
If nothing else, the renewed violence has focused the world's attention, and Israel's, back on the Palestinians.
"For years, Palestinian sources have been asking me, 'How do we get the attention of the Israeli public, how do we convince you guys that the occupation can't continue?'" says Gal Berger, Israel Radio's Palestinian affairs correspondent. "Now, with these attacks in Jerusalem, all of a sudden the Arabs of Jerusalem lead the news here, on Al-Jazeera and everywhere else, too."
Whether Islamist-motivated violence will improve Palestinian lives or worsen them, on the other hand, remains an open question.