Israel's Public Security Minister Hints at 'Large-Scale Military Operation' in Gaza Strip
Israel's Public Security Minister Gilad Erdan said Thursday that there is a "very high chance" a military operation will occur in Gaza in the near future.
Speaking with the Israeli Defense Force–operated Army Radio, Erdan said that the IDF would be forced to conduct a "widespread operation in the Gaza Strip," and claimed Hamas was provoking Israel.
The Israeli military conducted airstrikes on 25 Hamas targets in Gaza on Wednesday after 45 rockets and mortar shells were fired from Gaza into Israel, according to Israeli newspaper Haaretz. Hamas has denied that it had launched the weapons but praised the attacks.
"It's the Israeli occupation that started the escalation. The resistance has warned against continuing to target civilians, fishermen, farmers, and resistance positions," Hamas spokesman Fawzi Barhoum said, according to Al Jazeera.
"It's time to…present new rules of engagement: Bombing is met with bombing. Whoever began the escalation should be responsible for the consequences. The resistance is not interested in a new war at all, but we always want to defend the Palestinian people," Barhoum said.
During the interview, Erdan disagreed with this mentality. "Hamas is incorrectly assessing when our limit will be reached," he said. "Hamas doesn't want to get to a point of confrontation that will spell its end in the Gaza Strip."
Al Jazeera reporter Harry Fawcett told the outlet from Jerusalem that the balloons and kites flown from Gaza into Israel have caused fires.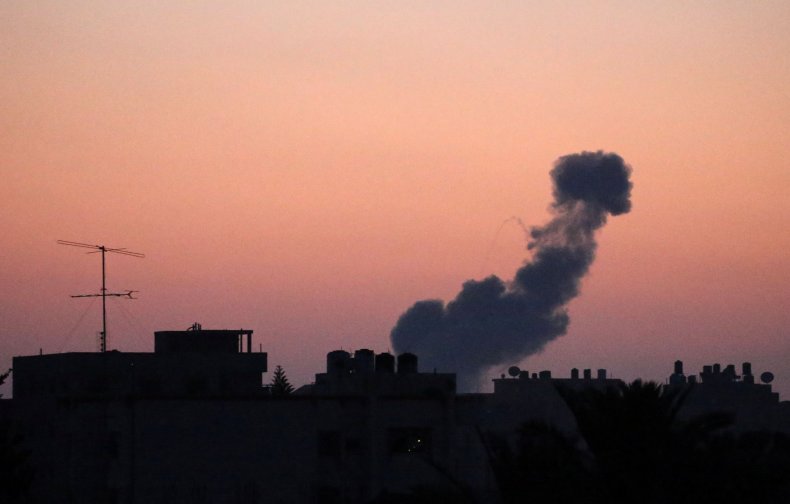 Erdan echoed Education Minister Naftali Bennett's statement earlier this week that soldiers should shoot the people flying weaponized kites. "Age doesn't matter. They're terrorists and the danger they create must be prevented," he said.
Erdan's remarks reinforce the statements of other senior government officials, including the country's defense and energy ministers and IDF chief of staff. On Wednesday, Prime Minister Benjamin Netanyahu warned that Israel would escalate its military response if deemed necessary. "The steel fist of the IDF will powerfully strike anyone who attempts to harm us," he said.
Tensions between Israel and Gaza have escalated since March 30, when residents of the Gaza Strip began the Great March of Return, which ended on May 15. Tens of thousands of Palestinians demonstrated to demand the right of return to the land they lived on before the state of Israel was founded in 1948.
At least 127 Palestinians have been killed and more than 3,000 others injured by Israeli troops since protests began, according to Al Jazeera.