Israel has relaxed its gun control laws and opened up firearm ownership to as many as 500,000 people in the hope that a better-armed population will help respond to terror attacks.
Around 145,000 people currently have gun permits in Israel, and the country's ministry of public security said the new legislation could quadruple that figure. The changes went into effect upon being announced Monday, according to The Times of Israel.
The new laws allow all citizens with a certain amount of military or security training to own a gun. This means that infantry veterans, certain emergency responders and former police officers will be more easily able to obtain licenses.
Army officers and commanders will no longer have to return their weapons when being discharged from the reserve service, and anyone who has continuously held a firearm permit for 10 years can keep the licence indefinitely, without undergoing periodic tests to show they still meet the requirements.
Israel's Public Security Minister Gilad Erdan said that the increase in trained gun owners will "contribute to the feeling of security." In a statement, he said armed citizens "are an important line of defense against 'lone wolf' actions and are used in a sense as a temporary force multiplier, thereby strengthening public safety."
Erdan began promoting relaxed restrictions following a series of Palestinian lone wolf terror attacks from late 2015 to 2016, most committed with knives or vehicles. The period of violence became known as the "Lone Wolf Intifada," and Erdan claimed that gun-owning citizens had helped the security services neutralize attackers.
Though the wave of violence has since died down, Erdan remains committed to the new measures. "The new policy balances between the need to protect the public that could find itself at risk and the need to protect the public safe from the misuse of firearms," he said Tuesday.
Opponents claimed the new regulations will make the streets more dangerous, not less. "We're talking about weapons of death of which there should be a willingness to reduce these as much as possible," said Israeli opposition politician Tamar Zandberg on Twitter.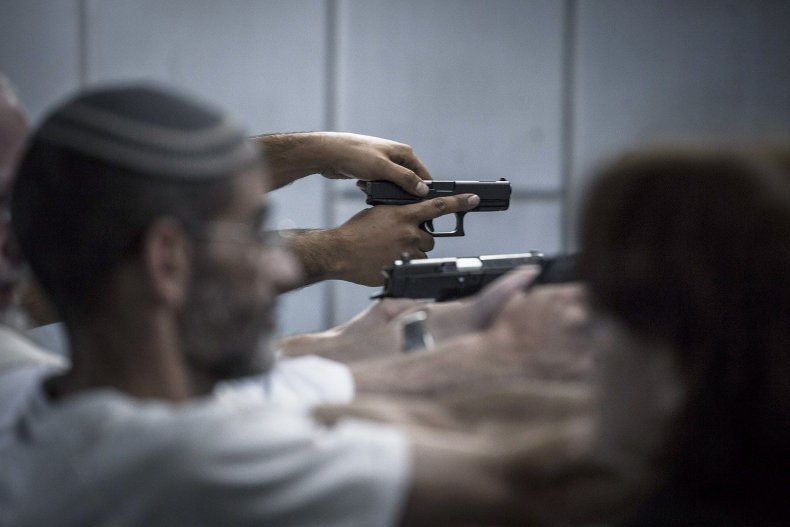 Israel's largest women's organization, Naamat, sent a letter to Erdan warning the new regulations could increase the number of women killed in domestic abuse incidents. "We fear that such a sweeping expansion of opportunities to receive guns could not only fail to create security for Israeli citizens; it could lead to the opposite," chairwoman Galia Volokh wrote. "We call on you, for the sake of protecting the community in general, and women in particular, to reverse this sweeping and dangerous decision."
Rela Mazali, a coordinator for the gun control group Gun Free Kitchen Tables—a coalition of 13 civil society and feminist organizations—told Newsweek Erdan's decision is not supported by research or any collected data sets. "We know from other countries that more arms in the public sphere mean more crime, more suicides, more accidents and do not increase public safety," Mazali said, adding that the terror incidents have fallen sharply since their peak in late 2015, making the policy moot.
Though guns are a common sight on Israeli streets, most are carried by soldiers and police officers, as well as a small number of permitted civilians. Before the new rules, citizens had to prove a need to carry a firearm and mental and physical health checks were required, as well as regular training. There are around 557,000 registered and unregistered guns in Israel, according to the 2017 Small Arms Survey—or 6.7 per 100 people.
A Gun Free Kitchen Tables investigation argued that many questions remain as a consequence of the failure to collect adequate information. The Loose Guns study estimated a total of 311,000 to 326,000 licensed small arms in Israel, as well as hundreds of thousands more illegal weapons.
Though Israel has not been overly proactive on gun control, a widely-accepted policy of what Mazali called "conservativism" has generally prevailed. But "this is a paradigm change," she said, warning that Erdan is overturning this approach "as fast as he is able," with more changes likely to come.
This article has been updated to include additional figures on the number of guns in Israel.