Israel Releases Footage, Claims Barghouti Sneaking Food during Hunger Strike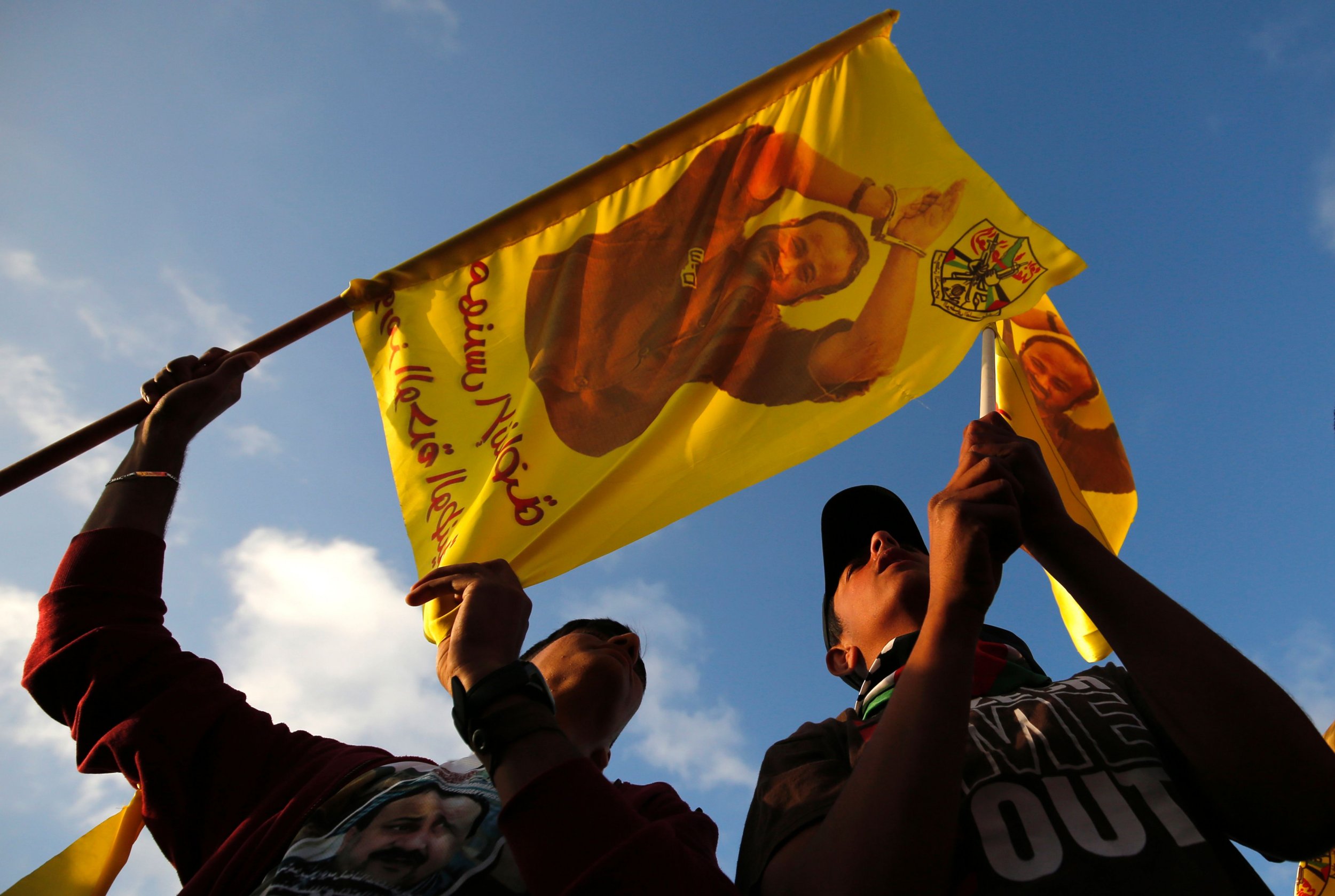 As hundreds of Palestinian prisoners neared their fourth week of a hunger strike, Israeli authorities released clips it claimed showed Marwan Barghouti, the Palestinian figurehead and leader of the mass strike, eating food in his cell.
The strike, initiated on April 17 for better prison conditions, has led to protests in the West Bank and clashes with Israeli security forces. The Israeli Prison Service said the footage shows Barghouti—a former lieutenant of late leader Yasser Arafat who is the most popular political figure in the West Bank—eating on two occasions during the strike, cookies on April 27 and a candy bar on May 5.
Israeli Prison Service spokesman Assaf Librati, speaking to Newsweek by phone, said the video showed Barghouti eating a "snack" in solitary confinement at the Kishon detention center in northern Israel. He would not divulge how Barghouti received the food, saying only that Israeli "intelligence knows how he got the snack."
Read more: If Israel lets Palestinian hunger striker Marwan Barghouti die, it risks a brutal Intifada
Symptomatic of the ongoing faultlines in the decades-old Israeli-Palestinian conflict, both sides offered differing accounts of the video's context. Israel said it showed Barghouti to be a liar who only sought to boost his popularity in the eyes of the Palestinian public as 82-year-old Palestinian President Mahmoud Abbas grows older and more unpopular.
"As we've said all along, the terrorists' hunger strike isn't about their prison conditions, but only about Barghouti's desire to bolster his status in preparation for the day after Abu Mazen," Israel's Public Security Minister Gilad Erdan, referring to Abbas, told Israeli newspaper Haaretz.
"Barghouti is cynically exploiting the terrorists for a hunger strike for which they are paying and will pay a heavy price, while he himself can't restrain his own appetites,." Erdan continued.
The Palestinians said the video was false, did not happen during the period of the strike, and was an attempt to smear Barghouti. One advocacy group suggested the footage was a decade old and Barghouti's wife Fadwa called the video fake.
Qadoura Fares, who heads the Palestinian Prisoners Club, told the Times of Israel that the video was a fabrication the other prisoners wouldn't believe.
"This is psychological warfare that we expected Israel to wage against the strike," Fareshe said. "The prisoners will not buy this account from the Israeli side, and they will continue their strike."
Librati, countering Fares' statement, said: " It's not fake. I am willing to give the original footage to anyone who wants to check it."
Some 6,500 Palestinians remain in Israeli prisons. Most of those participating in the strike belong to Barghouti and Abbas' Fatah party. Supporters of the prisoners have begun a campaign called the 'Salt Water Challenge,' where they drink a glass of water with salt, saying that is all the prisoners are surviving on.
Barghouti is a figure who continues to divide both sides of the conflict. For Palestinians, he's a figurehead of a national struggle against Israeli military occupation, one signified by a large mural on the separation wall at Qalandiya checkpoint that separates the West Bank from Jerusalem.
For Israelis, he is a murderer and a terrorist who is serving five life sentences for his role in suicide bombings and attacks against Israelis that killed five people during the Second Intifada, or uprising, that began in 2000.