Israel Reports First Case of Individual Infected With COVID, Flu at the Same Time
The world's first known case of one person infected with COVID-19 and the influenza virus at the same time was recorded in Israel.
The double infection—dubbed the "flurona"—was found in a new mother at Rabin Medical Center in Petach Tikva, Hamodia reported. Professor Arnon Vizhnitser, director of the hospital's gynecology department, told the Jerusalem news outlet that the woman tested positive for both viruses as soon as she came to the medical center and that they double-checked to confirm.
Vizhnitser added that the woman had not been vaccinated against either virus, but she did not have any especially strong symptoms. She had been feeling well and was expected to be discharged on Thursday.
Though this was the first documented case of someone infected with both viruses simultaneously, health experts believe there are others who have not been diagnosed. The Israeli Health Ministry is studying the case to see whether it could cause more serious illness, according to Hamodia.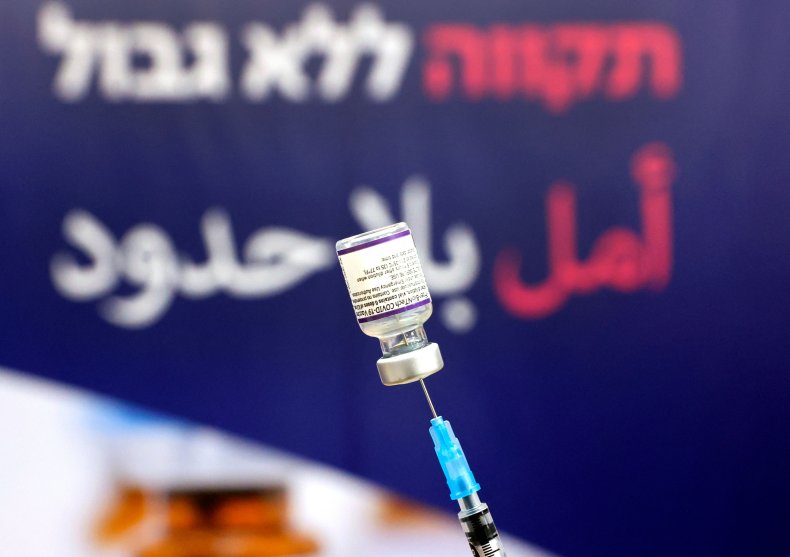 Cases of COVID-19 in Israel are currently rising, with about 2,308 new cases reported per day, according to Reuters. Over 16 million vaccine doses have been administered in the country since the pandemic again, meaning an estimated 92.3 percent of Israel's population of over 9.2 million has received two doses.
Despite its high vaccination rate, the Reuters data shows Israel is fourth in Asia and the Middle East in terms of total COVID-19 cases relative to the country's population, only behind Bahrain, the Maldives and Georgia.
The Jerusalem Post reported earlier this month that flu cases in Israel are rising. Israel Center for Disease Control (ICDC) data showed 280 people had to be hospitalized, with another 20 checking into other health clinics as of December 11.
Most of these patients were infected with a flu strain that is included in the flu vaccine, but many doctors worried that the public is experiencing "vaccine fatigue" after having to take two to three doses of the COVID-19 vaccine this year, according to The Jerusalem Post.
Four Israeli health services organizations—Maccabi, Leumit, Clalit and Meuhedet—reported only between 10.4 percent and 17 percent of its clients and members had received their flu shots this year. Each organization has hundreds of thousands to millions of members.
Vizhnitser told Hamodia thatCOVID-19 and the flu are similar diseases, as the viral infections "both attack the upper respiratory tract" and cause difficulty breathing.
The ICDC recommended that Israelis get the flu vaccine, adding that people over the age of 65, people with chronic diseases and pregnant women should prioritize getting vaccinated.