Israel's defence minister ruled out an inquiry into the Israeli military's handling of clashes in Gaza which left 17 dead and 1,400 injured, as a video emerged apparently showing an unarmed protester shot by Israeli snipers.
Hamas, the dominant Palestinian group in Gaza, said five of the dead were members of its armed wing. Israel said eight of the dead belonged to Hamas, designated a terrorist group by Israel and the West, and two others came from other militant factions.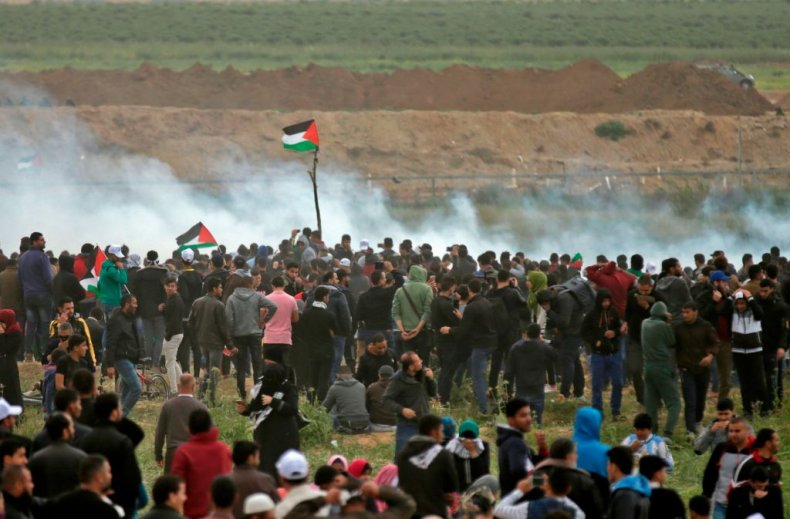 U.N. Secretary-General Antonio Guterres has called for an independent investigation into Friday's bloodshed.
His appeal was echoed by Federica Mogherini, the European Union's foreign policy chief, Amnesty International, and by Tamar Zandberg, leader of Israel's left-wing opposition party Meretz.
"Israeli soldiers did what was necessary. I think all our soldiers deserve a medal," the defense minister, Avigdor Lieberman, told Army Radio. "As for a commission of inquiry - there won't be one."
Videos have emerged that apepar to show unarmed protesters being injured or killed by Israeli gunfire.
At least two clips show a man running from Israeli positions carrying a tire, before he is apparently shot in the back and falls to the ground. A small group then gathers around the man. He has been identified by the committee that organized Friday's march as Abed el-Fatah Abed e-Nabi, 18.
An Israeli Defense Forces spokesperson told Haaretz that Hamas distributes many videos, and some show only partial footage of events, heavily edited and even fabricated.
Suhad Bishara, a lawyer with Adalah, the Legal Center for Arab Minority Rights in Israel, told Newsweek that the bodies of two protesters killed in the clashes had been seized by the Israeli military and not returned to their families.
She said that Palestinian medical personnel and protesters had not been allowed access to two bodies of protesters shot on Friday, and "we were not certain then whether they were injured or dead." She said the bodies were located "very close to the fence in the buffer zone area, the Palestinian side was not able to access them. And the day after it appeared that the Israeli army pulled them out and are holding them, according to the PLO [Palestinian Liberation Organisation]. Their policy in previous cases is that they are holding them for purposes of negotiation."
"We are going to be demanding that they release the bodies to the families in Gaza immediately and allow the families to bury their sons," she said.
The IDF did not immediately respond to a request for comment from Newsweek.
Tens of thousands of Palestinians gathered on Friday along the fenced 40-mile frontier, where tents had been erected for a planned six-week protest pressing for a right of return for refugees and their descendants to what is now Israel.
But hundreds ignored calls from organizers and the Israeli military to stay away from the frontier.
The military said some of those who were shot had fired at soldiers, rolled burning tyres and hurled rocks and fire bombs toward the border.
"The use of snipers was against specific people who were specific perpetrators of violence," said Lt Col Peter Lerner, an IDF spokesman.
Of the clips that apparently shows the protester shot in the back, he said "The fact that you have a video of 30 seconds showing this guy running away and being shot means you don't see the context or what he was doing beforehand."
Mogherini called for an independent investigation into the incident.
"The use of live ammunition should, in particular, be part of an independent and transparent investigation," Mogherini said in a statement on Saturday. "While Israel has the right to protect its borders, the use of force must be proportionate at all times."
The protest is scheduled to culminate on May 15, when Palestinians mark the "Nakba" or "Catastrophe" when hundreds of thousands fled or were driven out of their homes in 1948, when the state of Israel was created.
Israel has long ruled out any right of return, fearing it would lose its Jewish majority.
On Saturday, Israeli troops using live ammunition and rubber bullets shot and wounded about 70 Palestinians among demonstrators at the border, Palestinian officials said. Witnesses said stones were thrown at the soldiers.
Israel says Hamas is using the protests to deflect frustration among Gaza's two million inhabitants over deepening economic hardship.
Israel withdrew from Gaza in 2005 but, citing security concerns, still tightly controls its land and sea borders. Egypt also keeps its Gaza frontier largely shut.