Israel Says Some U.N. Members Would Be 'Happy to See a Greater Number of Dead Jews' in Gaza Conflict
Israeli Ambassador to the United Nations Gilad Erdan accused some members of the international body of wanting to see higher casualties on the Israeli side amid the conflict with Hamas.
During Thursday's convention of the General Assembly, Erdan criticized the "demonization" of Israel amid criticism that the country mounted a disproportionate assault in the Gaza conflict. He called the assembly out for its "hypocrisy" and stood by Israel's right to wage war against Hamas, who he stressed doesn't accept Israel's existence.
"We will never apologize for defending our citizens even if some of the countries here might be happy to see a greater number of dead Jews," Erdan said.
The death toll continues to rise, and the international community has widely condemned the high number of civilians killed in Gaza. Erdan acknowledged the loss of life but denied the current conflict was a war between Israel and the people of Gaza or Palestinians. It's a "war only between Israel and Hamas," Erdan said.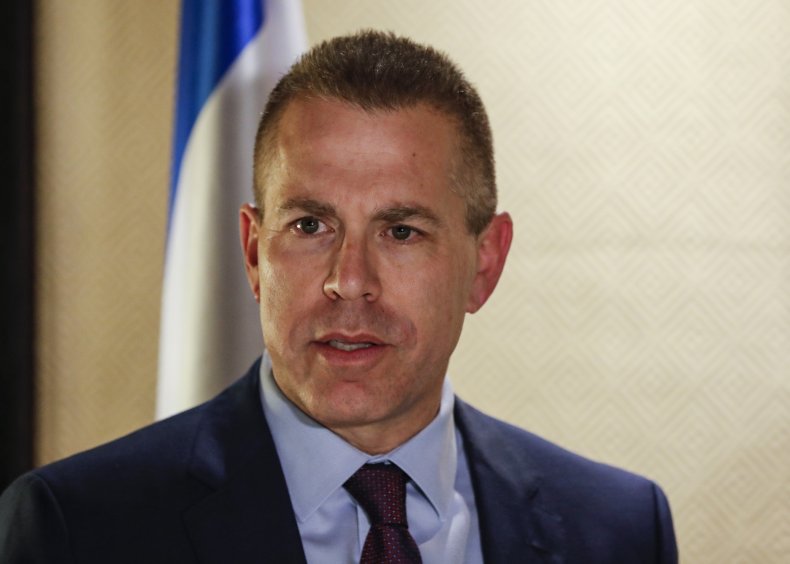 The Israeli ambassador criticized the United Nations for convening on the issue, pointing to the months-long delay in holding a meeting on COVID-19. As Prime Minister Benjamin Netanyahu has done in his remarks, Erdan posed the rhetorical question of what assembly members would do if rockets were being fired at their cities.
He also put the question in a historical context.
"Would it have urged [the Allied forces] to show restraint in the face of Hitler, the Nazi army and their supporters? I don't think so. Did the General Assembly hold an emergency debate to condemn coalition forces for acting disproportionately in their fight against ISIS?" Erdan said.
America's also among the chorus of nations that have urged Israel to be careful in its military actions, especially to avoid civilian deaths. Israeli officials have stood behind the airstrikes as being the result of precise targeting of Hamas and other militant members. Officials attribute the high number of civilian deaths to Hamas embedding itself in civilian life, making it impossible to entirely avoid casualties.
While America won't sign onto a Security Council statement calling for a cease-fire, President Joe Biden has publicly pledged his support to an end to the violence and told Netanyahu he expected immediate de-escalation.
Erdan thanked countries for their support of Israel's right to exist, specifically highlighting Biden as an ally, but said a cease-fire isn't so simple. Israel will only agree to a cease-fire after it "significantly" degrades Hamas, Erdan said.
"We are looking for a cure, not a Band-Aid and yet you have once again been calling on Israel to exercise restraint when facing hundreds of indiscriminate attacks every day," Erdan said. "There is nothing to discuss with a terrorist organization committed to your annihilation. So don't say we didn't warn you."