Israel Shoots Down Syrian Warplane That It Says Violated Airspace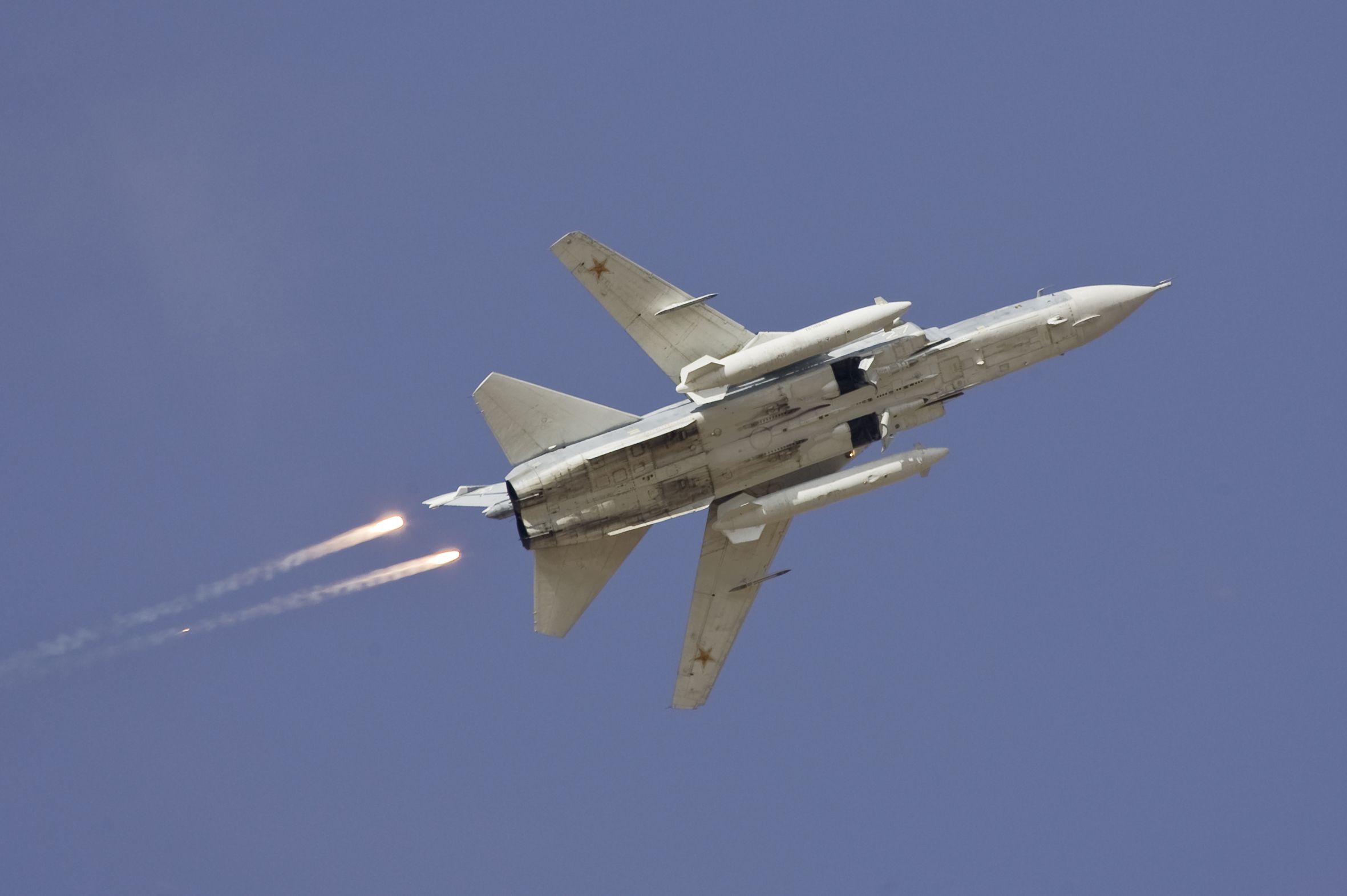 Israeli missile defenses intercepted a Syrian jet that allegedly strayed into the country's airspace.
The Israel Defense Forces said the Russian-made Sukhoi aircraft penetrated just over a mile into Israeli airspace before it was intercepted by two American-made Patriot missiles.
An IDF statement explained that its troops had been monitoring the plane before deciding to intercept it. Sky News Arabia said the remains of the aircraft crashed on the Syrian side of the border. There is no official word yet on the condition of the aircraft's pilots, though state-backed Russian media has reported that one of the crew members was killed.
"Since this morning, there has been an increase in the internal fighting in Syria and the Syrian Air Force's activity," the statement read. "The IDF is on high alert and will continue to operate against the violation of the 1974 Separation of Forces Agreement."
Video footage uploaded by Haaretz showed rockets racing into the sky to intercept the jet.
According to The Times of Israel, sirens sounded in the Golan Heights area before the plane was shot down, announcing the activation of Israel's missile defense network. The alarm sent locals running for cover as Patriot missiles launched.
The Syrian state-backed SANA news agency confirmed that a regime plane had been targeted, and that the aircraft was on a bombing mission against "terrorist groups." The agency also claimed the plane was in Syrian airspace when it was attacked, and that the pilots were attacking positions in the Yarmouk Basin, where ISIS fighters are entrenched.
This was the first time Israel has shot down a Syrian aircraft since 2014, when a Russian-made Su-24 aircraft was destroyed by Israeli Patriot missiles. On that occasion, the two crew members were able to bail out of the plane before it was destroyed. They landed in Syrian territory.
The latest shootdown comes a day after Israel launched David's Sling interceptor missiles at two Syrian surface-to-surface rockets. Israel's air defense systems initially believed the SS-21 ballistic missiles were headed for Israeli territory, but both eventually landed inside Syria. Both David's Sling missiles were ordered to self-destruct once the IDF realized the trajectory of the munitions.This was the first time that the system had been used since it came online in April 2017.
On July 13, Israel shot down a Syrian drone over the demilitarized zone between the two countries. Another drone made it six miles into Israeli territory before it was destroyed on July 11. The IDF said it allowed the UAV to travel so far before destroying it because it wasn't initially sure if it was Russian or Syrian, The Times of Israel reported.