In Israel, a Street Sign Named After Yasser Arafat Stirs Emotions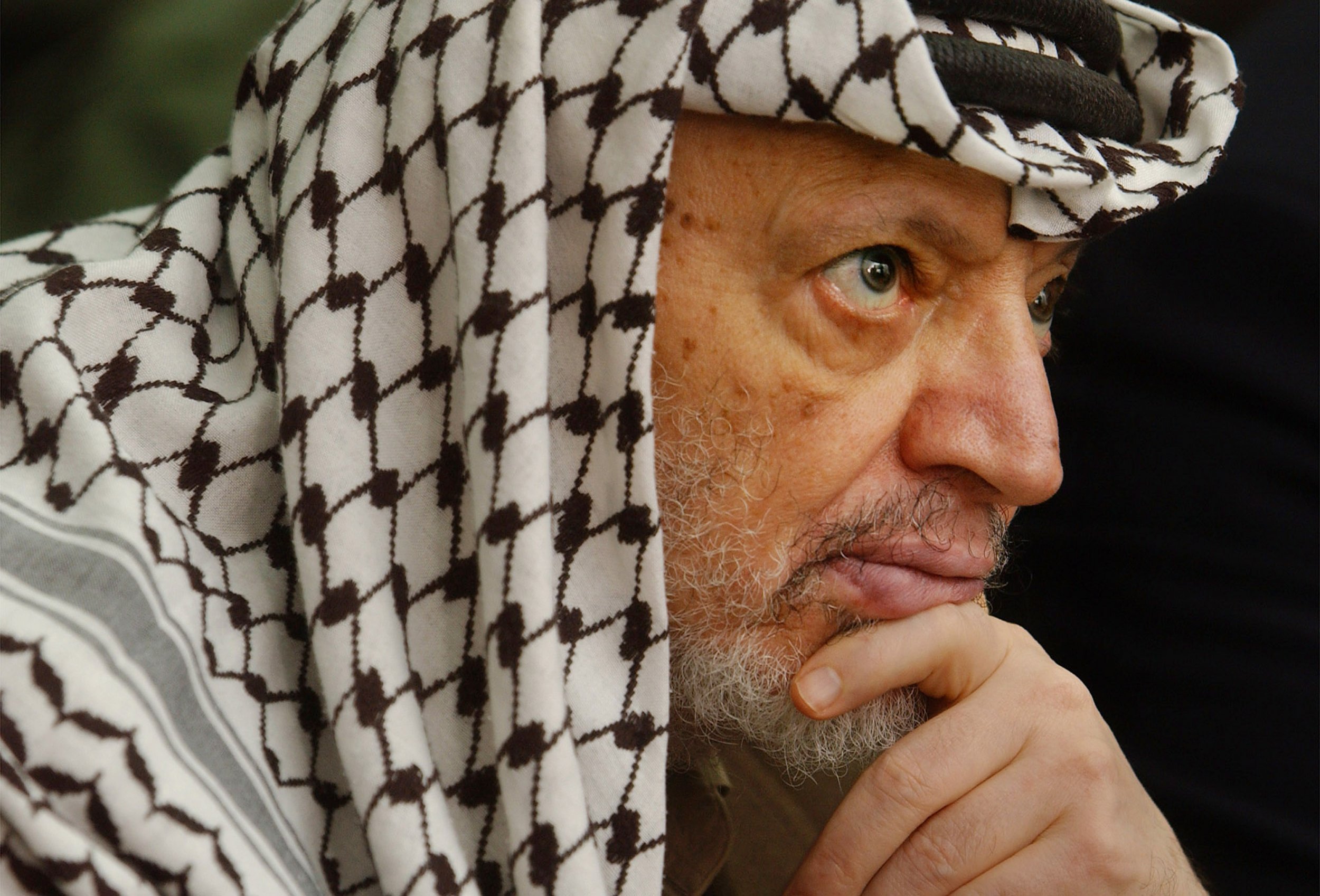 As deadly attacks, land appropriation and clashes push a peace deal between Israelis and Palestinians further from reach, a row over street signs has further stoked tensions between Arabs and Jews in Israel.
Israeli Prime Minister Benjamin Netanyahu Sunday announced Sunday he had asked Interior Minister Aryeh Deri to remove a street sign in the central Israeli Arab village of Jatt. The name on the white and pink road marker? Yasser Arafat, the late leader of the Palestinians.
Netanyahu told his weekly cabinet meeting that streets in Israel could not be "named after murderers of Israelis and Jews." He went further, saying he would table "new legislation if need be, so that this does not happen here."
In a country dogged by the politics of the region, road signs carry their own baggage. In the West Bank, which Israel's military occupies and the Palestinians have earmarked for any future state, the Arabic underneath Hebrew signposts directing drivers to Jewish settlements has previously been scrawled out, with words such as "revenge" daubed in Hebrew taking its place.
The Arafat sign, written in both Hebrew and Arabic and erected in 2008, struck a nerve with Jewish citizens, who protested to Deri for it to be removed after Israeli soldiers discovered the road on the Waze app, according to the Times of Israel. Deri subsequently wrote a letter to the local council of Jatt, telling them the ministry had not approved the name change years before and ordering it to remove the sign immediately.
Palestinians widely memorialize their former leader, who died in a French hospital in 2004. Arafat was and remains a symbol of what they call their national struggle for a sovereign state and the end of Israeli military occupation in east Jerusalem and the West Bank. His mausoleum lies within the Mukataa compound, his West Bank headquarters, in the city of Ramallah, and the Yasser Arafat Museum opened there in November.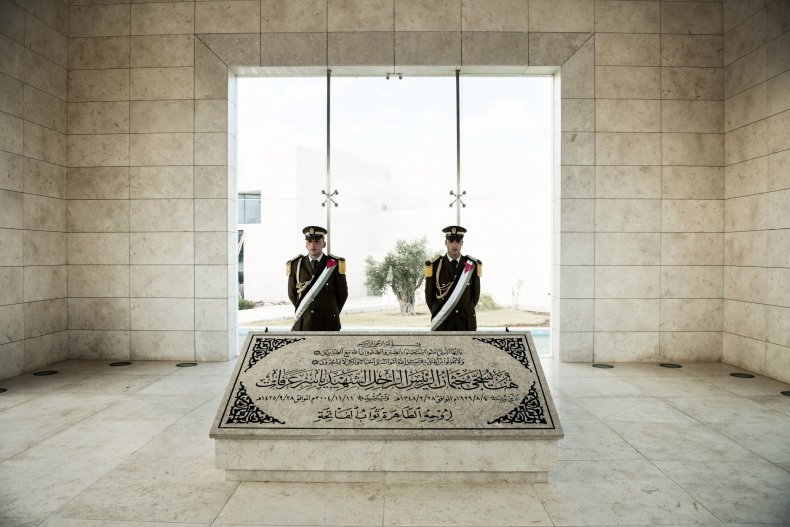 The late Palestinian president, recognizable for his khaki uniform and traditional keffiyeh head dress, won the Nobel Peace Prize in 1994, sharing the honor with Israeli negotiating partners Yitzhak Rabin and Shimon Peres for their roles in the Oslo peace accords. The desire to name road signs after the leader in Palestinian Arab communities therefore comes as little surprise.
"Yasser Arafat is not our enemy. He is the symbolic leader of the Palestinian people. We cannot accept the concept of Netanyahu," Ahmad Tibi, an Israeli Arab politician and one of the most popular domestic figures among the country's Arab community, tells Newsweek . "Maybe he will not be on this sign, but he is in the heart of Palestinians."
Ayman Odeh, the leader of the Arab Joint List, Israel's third biggest party, countered Netanyahu's justification for the order, arguing there are many street signs in Israel named after far-right politicians who discriminated against Arabs, and some named after assailants in attacks against Arabs.
Read more: Behead Arab-Israelis opposed to state, says foreign minister
Many Israeli Arabs and rights groups argue their communities encounter discrimination and racism in a country founded on the principles of Zionism, the ideological foundation of a Jewish state. They complain that the political elite does not represent them, but rather attempts to erode their culture, of which Arafat is a fixture.
The Israeli government-endorsed bill to limit loudspeaker noise from places of worship is a recent example of this, Israeli Arabs argue. They claim the bill, which still needs to pass three more readings before becoming law, is targeted at mosques and their traditional call to prayer, which is announced five times a day.
Mohammed Taher Wattab, the mayor of Jatt, which has a population of 11,000, questioned Netanyahu's involvement in the row about Arafat's street name row.
"Yasser Arafat signed a peace deal with Israel and it is a shame that the prime minister finds the need to waste his time on the name of a street in a small town like ours," he said, in comments made to Israel Radio on Monday.
"From our perspective [Arafat] is the official leader of the Palestinian people, with Israel recognizing him as a partner for [peace] negotiations," he said, adding that this meant "there is no legal, social or moral prohibition in naming a street after him."
Palestinians, like Israeli Arabs, are unsurprised by the Israeli government's move. Speaking to Newsweek on condition of anonymity, a relative of Marwan Barghouti, the jailed Palestinian figure who was a top leader under Arafat, responded simply to the furore over the use of Arafat's name: "What else would you expect of Netanyahu?"
But in the eyes of Israelis, Arafat is a murderer who wrecked peace hopes at Camp David in 2000, ordered a suicide bombing campaign against Israelis in the Second Intifada, or uprising, between 2000 and 2005, and contributed to the denial of Jewish history and belonging in the region. They hoped his death would bring a restart to relations with the Palestinians, but militant groups said his death only bolstered their determination to continue attacks against Israelis. Israelis say the Arab community knows the sensitivity of invoking Arafat's name and, as a result, it will only hurt their communities in the long term.
"Until this very day, Arafat was involved in terroristic activities, including two Intifadas," says Avraham Diskin, a political scientist at the Hebrew University in Jerusalem and the Interdisciplinary Center in Herzliya. "I am all for a Palestinian state, always will be, but he had the power to make peace with Israel. The fact that we don't have peace, it is Arafat.
"So do you believe that this is appropriate for Israelis to name streets after him? I don't think so."
He continues: "We want, I want, and I believe the majority of Israelis want, to live with Israeli Arab citizens as equals. So when they make such gestures, it is counterproductive. It hurts Israeli Arabs. It's a huge mistake."
Israel's government has railed against Palestinian incitement to violence and the veneration of leaders who justified violent acts against Israelis, or are accused of ordering such acts themselves.
Netanyahu's administration has condemned the Palestinians for naming squares and other public places after figures viewed as extremists, such as Dalal Mughrabi, the 19-year-old woman who led a squad that traveled from Lebanon by sea to the Israeli coast, hijacking a bus and driving another in an attack that left 38 Israeli civilians dead. Palestinians who attack Israelis are commonly revered as martyrs, an environment that Israel says will only lead to further attacks against Israelis.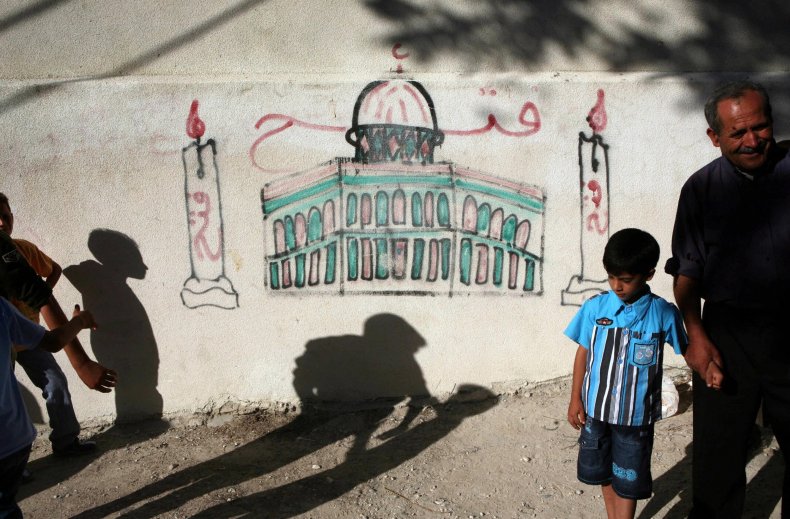 "We expect the Palestinian Authority not to call squares after terrorists, and here we find, inside the country, in an Israeli city a street named after Arafat. How is it possible?" Liran Baruch, a disabled Israeli soldier who lobbied the right-wing Israeli NGO Tirtzu to take the case to Deryeh, told The Jerusalem Post.
As Netanyahu's government takes the political battle to the Arab streets of Israel, the removal of road signs may only put a band-aid on the Arab desire to celebrate their heroes from neighboring lands.
"Maybe Netanyahu should know that in the same village there is a street called Palestine and a street called Mahmoud Darwish," says Tibi, referring to the revered Palestinian poet.
"I am aware that they will find the will to commemorate the memory of Yasser Arafat," he says, switching to the residents of Jatt. "If not in a street, maybe in a mosque, or another place."