Israel Testing if Second COVID Booster Could Fight Omicron
A test group of Israeli health care workers received a second COVID-19 booster shot on Monday as part of what has been labeled the "first major study" into whether an additional round of boosters can offer protection against the emerging Omicron variant, according to Reuters.
A spokesperson with the Sheba Medical Centre near Tel Aviv told Reuters the results of the booster trial will be submitted to the country's Health Ministry in roughly two weeks.
Last week, an expert panel from the country's Health Ministry recommended that Israel offer a booster to medical workers, citizens over 60 as well as those with compromised immune systems in the wake of a jump in hospitalizations amid the spread of Omicron. This would make Israel the first country in the world to administer a fourth shot to any members of its population.
While the Israeli government welcomed the initiative, the recommendation did not come unanimously, with some on the panel disagreeing over whether there is enough existing scientific evidence to justify the fourth shot, Reuters said. Health Ministry Director-General Nachman Ash would need to issue the final approval for the fourth jab, and he has not given that approval. Reuters also said that the Israeli media reported that he could limit the additional booster offering to those over 70.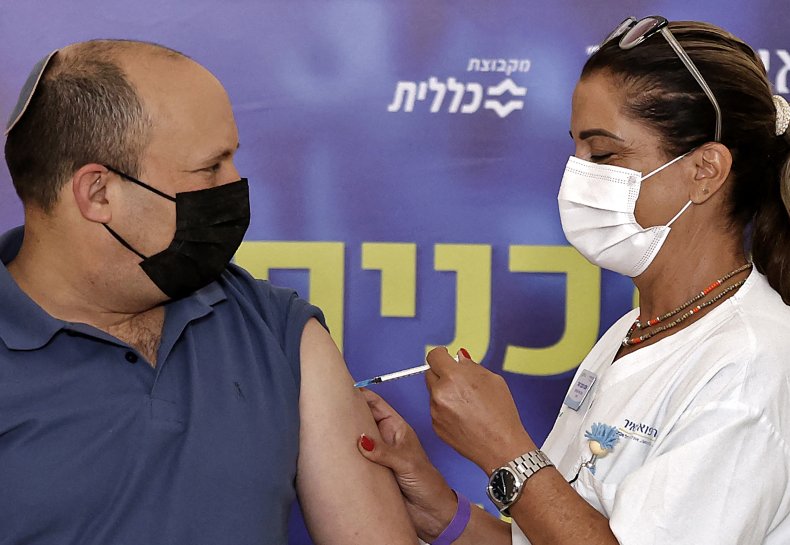 "The biggest question is, how significant is Omicron? It's clear to all that it is very contagious. But whether it causes very severe illness—that's the most significant question," Gili Regev-Yochay, who is in charge of the Sheba trial, told Reuters.
Israel has seen nearly 2,000 confirmed or suspected cases of the Omicron variant over the past week, Reuters said. And while 63 percent of the nation's 9.4 million citizens have received the first two vaccines, just 45 percent have taken the booster.
Pfizer has said that its booster shot appears to provide 25 times the protection against Omicron, which the company said is almost equal to the effectiveness of the initial two doses against the original COVID strain. Similarly, Moderna said its booster increases antibodies "37-fold," offering higher protection against Omicron.
In assessing the effectiveness of a fourth shot, a spokesperson from Sheba told Reuters that its study of 150 participants "will zero in on efficacy of the vaccine in producing antibodies, and safety, in order to ascertain if a fourth vaccine is needed in general."
Hagai Levine, an epidemiologist and the chairman of the Association of Public Health Physicians, told Reuters that more data is needed to determine whether there has even been a drop in protection offered by the initial COVID-19 booster.
"We can't blindly assume that another shot will solve it all, because it won't," he said.