Israel Troops Say Voices Still Heard in Turkey Earthquake Rubble Days Later
Israeli military personnel involved in rescue efforts in earthquake-hit Turkey said that voices could still be heard under the rubble some three days after the disaster.
The death toll of the 7.8-magnitute earthquake struck that originated in central Turkey on Monday is estimated at 19,300 people in Turkey and neighboring Syria. The catastrophe has sparked a wide-ranging international response from a number of countries, including Israel, which has dispatched some 380 personnel to Turkey aid in the effort.
Speaking to reporters Thursday, Israel Defense Forces Colonel Elad Edri, commanding officer of the Israeli military's Search and Rescue Brigade, said that, even 72 hours after the earthquake, voices "are indeed still" heard emanating from under the debris, "although it's more rare than it was yesterday or two days ago."
Edri said the other major source of information regarding the potential whereabouts of survivors were relatives, who "ask us to come to a building or structure or house and to rescue one of their family members."
So far, he said Israeli personnel have managed to rescue 17 people trapped underneath the rubble of destroyed buildings.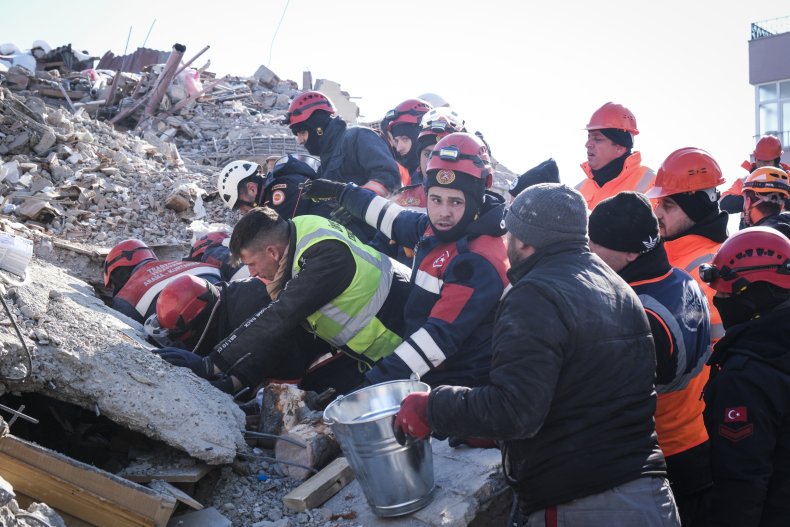 Edri also said nearly 30 countries have sent delegations to support emergency efforts in Turkey "and there is collaboration between the units."
"There is an operation room that encourages the action of the rescue teams, and we coordinate our operations with them," Edri said. "Each delegation gets its own site, so we will spread the workload."
And despite Israel's difficult relationship with Turkey and lack of any ties with some of the other nations that have sent rescue units, Colonel Liron Gershowitz, head of the IDF Home Front Command's Medical Division, said diplomatic problems have been a "non-issue" for the common goal of saving lives.
"All of the delegations are trying to save as much life as possible we're not here to solve our political issues," Gershowitz said in response to Newsweek's question. "This time, we're here to help the people of Turkey and anyone we see, we treat them with a lot of patience, as they towards us."
One video being shared online appeared to show an Israeli plane next to an Iranian one on the tarmac in Turkey.
The Turkish government has declared a week-long period of mourning since the earthquake struck on Monday as well as a three-month state of emergency for the disaster-hit regions.
Correction, 2/12/23, 11:50 a.m. ET: This article was updated to clarify that Israel lacks diplomatic ties with only some of the other nations that have sent rescue units.