Israel and U.S. Will Face 'Crushing and Devastating' Response, Iranian Military Leader Warns
Iranian leaders have vowed to take revenge after at least 25 people were killed in an attack on a military parade in the Islamic republic's southwestern city of Ahvaz on Saturday.
Speaking at a public memorial for the victims attended by thousands on Monday, Islamic Revolutionary Guard Corps deputy head Hossein Salami pointed fingers at Israel and the U.S., blaming them for the attack and promising a "crushing and devastating" response, Radio Free Europe reported.
Supreme Leader Ayatollah Ali Khamenei also accused the U.S. of involvement.
"Based on reports, this cowardly act was done by people who the Americans come to help when they are trapped in Syria and Iraq, and are paid by Saudi Arabia and the UAE [United Arab Emirates]," Khamenei said at the ceremony. He also vowed that Iran would "severely punish" those responsible.
President Hassan Rouhani had also quickly blamed the U.S. for enabling the attackers in the wake of the tragedy. His comments led to a swift condemnation from Washington, with U.S. Ambassador to the United Nations Nikki Haley suggesting Tehran take a "look in the mirror." Haley said that Rouhani had "oppressed his people for a long time," according to the BBC.
Iranian state media said that four gunmen began shooting during a September 22 parade in Ahvaz, which commemorated the beginning of the 1980–1988 Iran-Iraq war. It also reported that the attackers had been killed. The gunmen killed soldiers and civilians, including a 4-year-old child.
"The terrorists themselves have perished, our agents will identify their remnants and supporters to the last man. A major part of them have already been arrested," Intelligence Minister Mahmud Alavi told the crowd at the Monday memorial, according to Radio Free Europe.
Both the Iranian ethnic Arab antigovernment Ahvaz National Resistance and the extremist group Islamic State (ISIS) have claimed responsibility for the attack. In the wake of the assault, a television channel based in the United Kingdom (allegedly financed by Saudi Arabia) aired an interview with a leader from the ANR claiming responsibility and criticizing Tehran's oppression of its Arab minority. ISIS also later claimed responsibility. The extremist group released a video it said showed the attackers at the parade, just before they began their assault.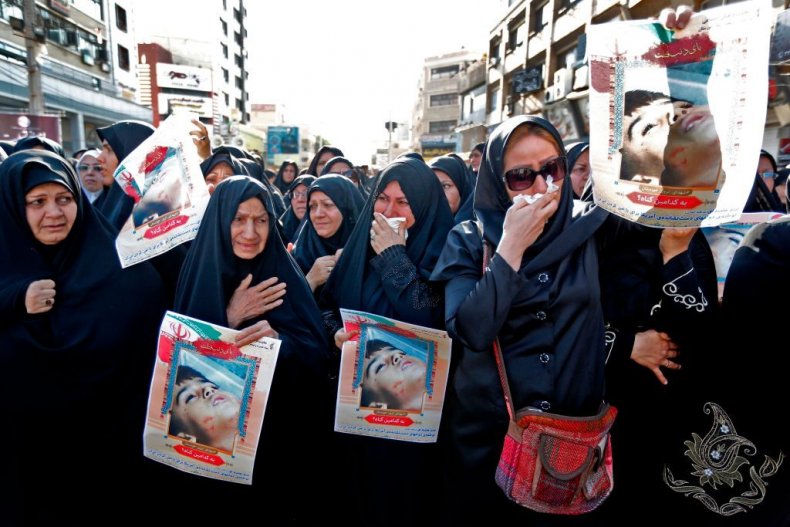 However, Iranian military spokesman Abolfazl Shekarchi insisted the attackers were not part of ISIS.
"They are not from Daesh [an Arabic acronym for the Islamic State group] or other groups fighting [Iran's] Islamic system…but they are linked to America and [Israel's intelligence agency] Mossad," he said, Qatar-based Al Jazeera reported.
Iran's president has traveled to New York for the U.N. General Assembly meeting in New York. He will address the world this week and has promised that he will "not let this crime stand."
"It is absolutely clear to us who committed this crime…and whom they are linked to," he said on Sunday before leaving Tehran, according to the BBC.