Israel to Use Electronic Tracking Bracelet to Enforce Quarantine Measures
Israel will use an electronic tracking bracelet to enforce coronavirus quarantine measures for residents returning to the country, according to a new bill passed Wednesday.
"Anyone who enters Israel, or anyone who arrives from certain countries and is obligated to enter quarantine, will be required to isolate at home with an electronic monitoring device, to ensure that the person remains in isolation for the duration of the mandatory quarantine period," Israel's Knesset said in a press release.
When returning residents arrive at Ben Gurion Airport, near Tel Aviv, they will be tested for the virus, the release said. If they receive a negative test, they will have the option to wear the electronic tracking bracelet or quarantine in a state-run hotel.
"The bracelet will monitor the wearers' location via Bluetooth and GPS technology and connect to the users' cell phone," the release added. "The bracelet monitor will notify authorities should they violate the mandatory isolation period."
If residents present proof that they have been vaccinated for COVID-19 or that they have already recovered from the virus, they will be released from quarantine after undergoing a serological test.
The bill states that the tracking bracelets are monitored by a private company, SuperCom, that will inform authorities if a person violates the country's quarantine measures, according to The Jerusalem Post.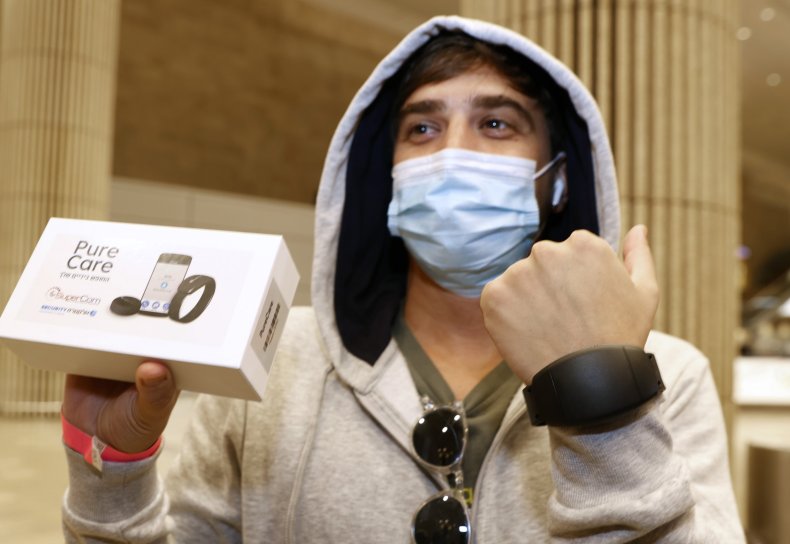 The bill's passage comes shortly after Israel conducted a pilot program with the electronic tracking bracelets. Earlier this month, the program involved 100 participants arriving at Ben Gurion Airport who got the bracelets, according to The Times of Israel. The pilot program was implemented as an option instead of isolating travelers for two weeks at a state-run hotel.
On March 5, SuperCom said the program had been successful. "We are very pleased with this pilot, utilizing our proprietary technology with persons under home quarantine in Israel, and we are proud to help Israel validate an important strategy to help mitigate the spread of the coronavirus," Ordan Trabelsi, president and CEO of SuperCom, said in a press release.
Residents returning to Israel that participated in the pilot program expressed "very positive and comfortable experiences with a high rate of satisfaction for choosing the program," the release said.
Newsweek reached out to a Knesset spokesperson for comment but did not receive a response in time for publication.