Israel Warned of 'Explosion' As Tensions Rise Over Jerusalem Holy Site Measures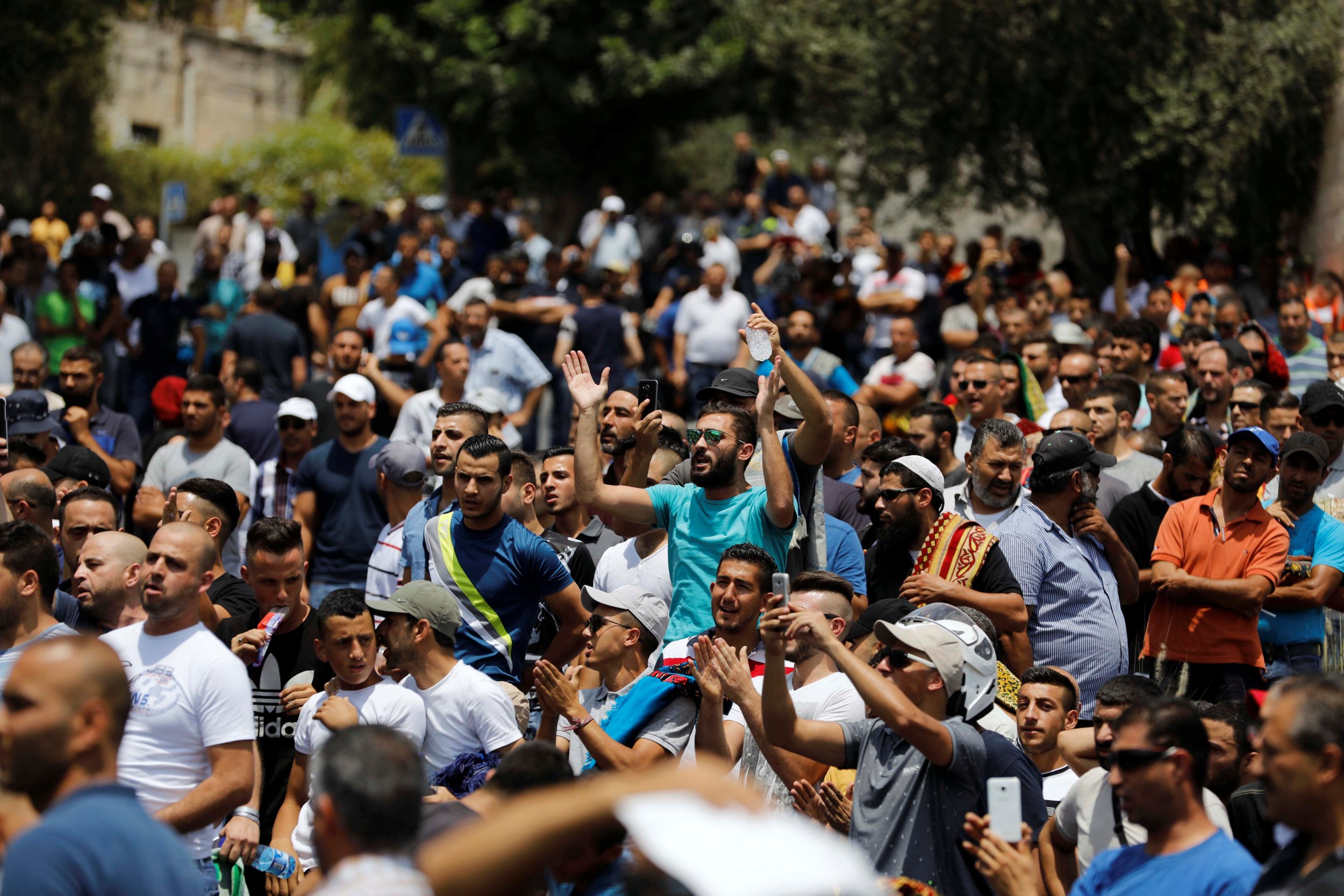 The Imam of the revered mosque at the center of the contested Jerusalem complex—with ongoing clashes between Palestinians and Israeli security forces—has warned Israel of an "explosion" if controversial metal detectors, placed at the site following a deadly shooting attack, are not removed.
Sheikh Ikrima Sabri, the spiritual leader of the Al-Aqsa Mosque, which sits in the compound known as the Temple Mount to Jews, and the Haram al-Sharif, or Noble Sanctuary to Muslims, said the new security measures could lead to an escalation in the decades-long conflict if they were not removed ahead of Muslims descending upon the site for Friday prayers.
"I want to tell Israel and the world that if Israel wants peace, they have to immediately remove the metal doors and other security obstacles they put in the last week," he told regional news site Middle East Eye on Thursday.
"And that's to happen today and before the Friday prayer. Otherwise the situation will explode and all the possibilities are open. And don't say we didn't tell you."
The site is considered the third-holiest in Islam and the holiest in Judaism, although Jews are not permitted to pray at the East Jerusalem site because of religious sensitivities. Israel captured the territory in the 1967 Six-Day War, but the complex is governed by a Jordanian-Palestinian waqf, or Islamic trust.
Palestinians perceive the new measures as an attempt by Israel to broaden its control of the site. Muslim leaders called for protests, holding a "Day of Rage" on Wednesday. The following day, Hamas leader Ismail Haniyeh warned Israel that "Al-Aqsa Mosque and Jerusalem are red lines."
Israel's installation of the metal detectors came after three Palestinian gunmen killed two Israeli policemen at the entrance to the site last week. The three men from the Palestinian town of Umm al-Fahm smuggled weapons into the complex before launching their attack.
The last concerted spasm of violence followed alleged moves by Israel to alter the status quo at the site in September 2015, which led to a spate of Palestinians launching stabbing, shooting or vehicle assaults against Israelis in Jerusalem and other Israeli cities, as well as the West Bank.
Palestinian President Mahmoud Abbas protested the metal-detector installation to the U.S. administration, calling on President Donald Trump's son-in-law and adviser Jared Kushner to push the president to "intervene urgently."
The Israeli government says the metal detectors are necessary to prevent another attack, but top Israeli security officials warned against imposing the new measures as they could heighten tensions that lead to a renewed spiral of violence.
Israeli police spokesman Micky Rosenfeld was not immediately available for comment. Police say the metal detectors will be used selectively.