Israeli Airstrike Destroys Building In Gaza City Containing AP, Al Jazeera News Bureaus
An Israeli airstrike has destroyed a building in Gaza City which contained offices for the Associated Press and Al Jazeera.
The Associated Press reported that the strike on Saturday came an hour after the Israeli military ordered people to evacuate the building.
The strike demolished the 12-story structure.
The Associated Press reported that an on-air anchorwoman on Al Jazeera, speaking after the strike, said: "Al Jazeera will not be silenced.
"We can guarantee you that right now."
Al Jazeera shared footage of the building being hit and tweeted: "Israeli air raid flattens building that houses Al Jazeera and other international media outlets in Gaza City."
In comments reported online by Al Jazeera, its reporter Safwat al-Kahlout said: "I have been working here for 11 years. I have been covering many events from this building, we have lived personal professional experiences now everything, in two seconds, just vanished.
"All my colleagues, despite the sadness, they didn't stop a second—they were looking for an alternative just to keep Al Jazeera on top of the news."
Al Jazeera published a statement which said it "strongly condemns" the destruction of the offices.
"Al Jazeera condemns in the strongest terms the bombing and destruction of its offices by the Israeli military in Gaza and views this as a clear act to stop journalists from conducting their sacred duty to inform the world and report events on the ground," this said.
"Al Jazeera promises to pursue every available route to hold the Israeli government responsible for its actions."
A statement from Associated Press President and CEO Gary Pruitt said: "We are shocked and horrified that the Israeli military would target and destroy the building housing AP's bureau and other news organizations in Gaza. They have long known the location of our bureau and knew journalists were there. We received a warning that the building would be hit.
"We are seeking information from the Israeli government and are engaged with the U.S. State Department to try to learn more.
"This is an incredibly disturbing development. We narrowly avoided a terrible loss of life. A dozen AP journalists and freelancers were inside the building and thankfully we were able to evacuate them in time.
"The world will know less about what is happening in Gaza because of what happened today."
Newsweek has also contacted Al Jazeera for further comment.
White House Press Secretary Jen Psaki said in a tweet: "We have communicated directly to the Israelis that ensuring the safety and security of journalists and independent media is a paramount responsibility."
The strike comes amid continued conflict between the Israeli military and Hamas.
According to the Israeli military, Hamas has fired some 2,000 rockets toward Israel since Monday. Most of these have been intercepted.
The Associated Press reported that in Gaza at least 139 people have been killed since Monday night, while eight have been killed in Israel.
The latest escalation in violence began as a legal battle over attempts to evict several Palestinian families from buildings in the Sheikh Jarrah neighborhood of East Jerusalem. Israeli officials describe it as a private real estate dispute between Jewish owners and Palestinian tenants or squatters that is being resolved in the Israeli courts.
Palestinian leaders and their supporters around the world view the expected evictions as a symbol of the wider Israeli strategy of building Jewish settlements on land Palestinians want for a state.
Following the strike on Jala Tower, the Israel Defense Forces (IDF) tweeted some details on targeting tall buildings.
It said in a thread: "Here's some important context to the headlines you're seeing about Israel Defense Forces operations in the Gaza Strip.
"Hamas has turned residential areas in the Gaza Strip into military strongholds.
"It uses tall buildings in Gaza for multiple military purposes such as intelligence gathering, planning attacks, command and control, and communications.
"When Hamas uses a tall building for military purposes, it becomes a lawful military target.
"The Israel Defense Forces struck a number of such buildings in recent days, but before we did so, we took steps to try and ensure that civilians would not be harmed."
Its thread added: "All the multi-story buildings targeted by the IDF were used for military purposes within each building."
In a further statement shared with Newsweek, IDF said: "A short while ago, IDF fighter jets struck a multi-story building which contained military assets belonging to the intelligence offices of the Hamas terror organization.
"The building contained civilian media offices, which the Hamas terror organization hides behind and uses as human shields. The Hamas terror organization deliberately places military targets at the heart of densely populated civilian areas in the Gaza Strip.
"Prior to the strike, the IDF provided advance warning to civilians in the building and allowed sufficient time for them to evacuate the site."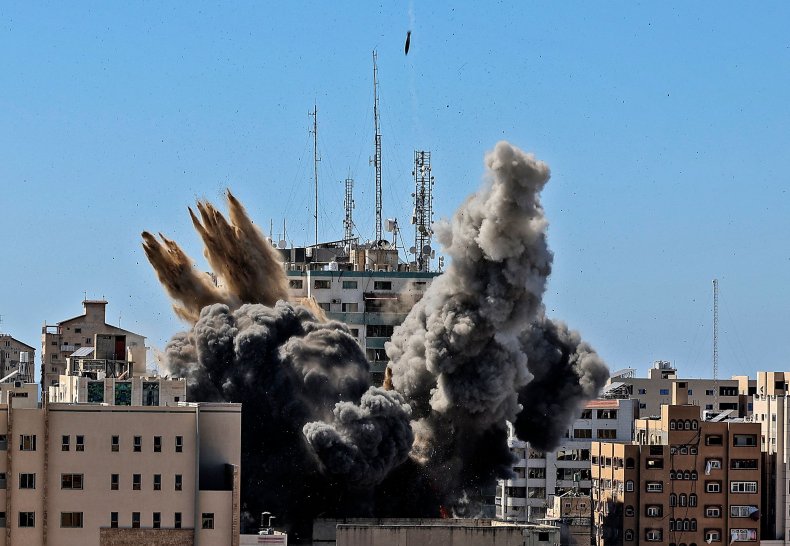 Update 05/15/21, 09:14 a.m. ET: This article has been updated to include photo and new details.
Update 05/15/21, 09:52 a.m. ET: This article has been updated to include more details of the airstrike, including responses from an al Jazeera reporter and the Israel Defense Force.
Update 05/15/21, 10:23 a.m. ET: This article has been updated to include a statement from Associated Press President and CEO Gary Pruitt.
Update 05/15/21, 11:14 a.m. ET: This article has been updated to include comments from White House Press Secretary Jen Psaki and Al Jazeera.