Israeli Artists Post Noose Images on Social Media to Protest Coronavirus Shutdown
Several Israeli artists posted an image to their social media accounts of a music note being strangled by a noose in an effort to protest another shutdown of businesses due to the coronavirus.
The image, which circulated social media platforms Tuesday, was meant to show how "the culture industry in israel is being shut down because of corona," according to a now-deleted post by Eurovision star Netta Barzilai.
On Monday, government officials issued new restrictions in an effort to curb the rising number of positive coronavirus cases, including the shutdown of event halls, cultural venues, bars and nightclubs.
Israel, which was initially praised by world leaders for its swift handling of the virus outbreak, has seen a rapid increase in cases within the last month, after the government had allowed large gatherings to resume in late May.
Monday's decision to reinstate lockdown-esque measures included a stipulation that Israel's Finance Ministry must introduce a compensation package to aid those who might be financially harmed by the new regulations, The Times of Israel reported.
According to a Wednesday press release, Israeli Prime Minister Benjamin Netanyahu is "currently holding economic consultations with the Finance Minister and the economic advisers on a 'corona package,'" which will be announced next week.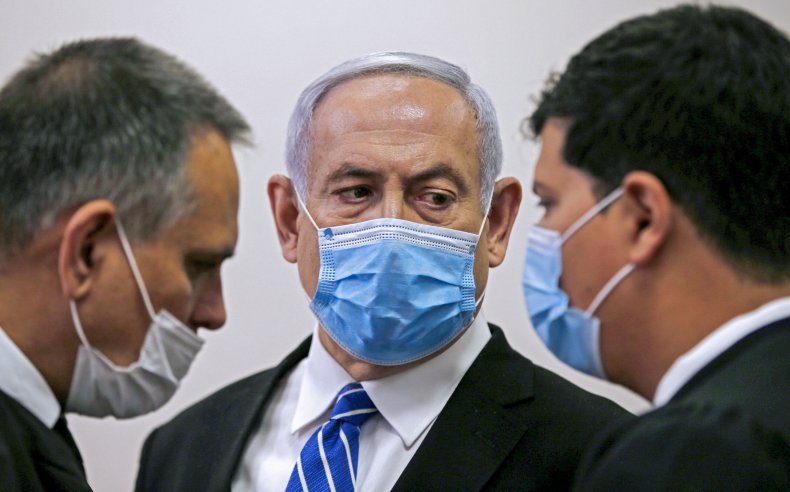 The financial effects of these new shutdowns are a particular concern of Israeli artists and entertainment industry employees.
"There is no real financial support for music indusrty [sic] workers...and many of my friends and colleagues here won't be able to support themselves soon," Barzilai wrote in a post, which featured the noose image. "A lot of them have mortgages go [sic] pay and children to feed."
Despite the apparent intentions behind the image, backlash across social media was swift, with "commentators expressing surprise at the tone deafness of the protesters," The Jerusalem Post reported.
The noose image brings with it a "history of lynching in America, particularly in the South after the Civil War, when violence or threat of violence replaced slavery as one of the main forms of social control that whites used on African-Americans," according to the Anti-Defamation League (ADL).
The noose also became associated with the Ku Klux Klan and is classified by the ADL as a "general hate symbol."
The symbol has reignited conversation around the world amid protests of police brutality and systemic racism, which were initially spurred in the U.S. after the May 25 death of George Floyd, an unarmed Black man who died while in Minneapolis police custody.
Barzilai, who had initially posted the image on Monday after the restrictions were announced, deleted the post from her Instagram account the following day and issued an apology via an Instagram story.
"The post has been removed by me, because alot [sic] of people were triggered and offended by the logo, and I obviously didn't want that," Barzilai said.
She reiterated the financial struggles that many of her friends and colleagues are enduring because of the coronavirus shutdown.
"Art and entertainment are not a luxury," her story read. "Art is a NECESSITY."
Newsweek contacted Barzilai for comment but did not hear back in time for publication.